TFWM Web-Only Content
This page contains a list of articles that you will not see in the print version of TFWM.
A Dozen Tips to Better Church Sound & Team Work 
Hector La Torre shares some tips he's picked up over the years that will make your church audio sound better.
Social Media Time-Savers
As social media becomes more important to your House of Worship, the amount of time you spend maintaining your online presence grows. However there are several ways you can spend less time monitoring your social media ministry while maintaining and increasing your online network.
Social Media Aggregators
When it comes to social media and ministry, it's safe to say that every house of worship, no matter how large or small, needs to be on it. Today's society is an online one, and a majority of communicating and relating is now done via social media
Product Review: NewTek TriCaster 850 EXTREME
I have had the opportunity to review NewTek's TriCaster 850 EXTREME for other publications where the focus was more on general use. With a background in technology design for houses of worship, though, I wanted to review the TriCaster 850 EXTREME with an eye towards its use in this growing community.
Top 10 Apps for Pastors & Ministry Leaders
Mobile tech can be really helpful to pastors and those in leadership at houses of worship by increasing organization and productivity. Here's a list of my 10 favorite apps (in no particular order) for those in ministry leadership.
How Does Google+ Fit Into My Strategy?
Many people wonder about the value of Google+, since it seems to duplicate the functionality of Facebook. However, there are some really unique aspects to Google+ that may mean it's worthwhile for your house of worship to spend some time on it.
Gear Watch: Blackmagic Design Cinema Camera
You may have recently heard about Blackmagic Design surprising the industry with the launch of their DLSR camera at NAB 2012.
We had a chance to catch up with Dan May, President of Blackmagic Design, to ask him a few questions about why they brought this product to fruition, and they effect he thinks it will have on the worship market.
To Pin or Not to Pin: Should Your House of Worship Join Pinterest?
Ask yourself or your staff honest questions:
– How is my house of worship currently involved in visual culture?
– Are we pleased with our web, print, and video design?
– Do we ever receive compliments about how things look, or do we hear nothing at all?
Winter NAMM 2012 Show Report
We're on the edge of a major revolution in technologies for worship and this year's event proved that to be true.
Identify Yourself: Six Steps to Establishing Your House of Worship's Online Identity
The temptation of any online activity is to become someone you're not. Why is this so often the case?
Product Review: Autocue SSP17 Teleprompter
Just about anyone can get video to a world audience now, thanks to the Internet. Video technology is more affordable than ever and hardly any training is needed to post a video online.
Mike Nann, Director of Marketing and Communications, Digital Rapids
This special extended "5 Minutes with…" includes the full interview with Mike Nann of Digital Rapids, and is only available on-line!
Product Review: Cerwin-Vega Rocks
Terry Wilhite reviews Cerwin-Vega's new speaker line – the "one-up" solution.
World Class Sound at Your Fingertips
Terry Wilhite tells us why Grammy-winning artist Alicia Keys says virtual piano is as good as the real thing, and reviews the soft synth version of Alicia's Keys, from Native Instruments.
Product Review: Song Show Plus
Aaron Pratt takes us through an excellent overview of SongShow Plus.
Let's Loop America's Worship Centers
David Myers tells us that by making assistive listening hearing aid compatible, churches are leading the way to doubled hearing aid functionality for people with hearing loss.
Batteries for Church Audio
Here's an article compiled from a series that has been running in our audio e-newsletter- which you can sign up for by clicking HERE.. The series garnered much attention from readers and so we decided to repurpose it for those of you who may not have seen it. Happy reading!
A Look to the Future: Multisite Forecast
Jim Tomberlin provides us with his intriguing commentary about the patterns of multisite growth in the worship community.
Knowing the Signage
Many churches struggle trying to understand how to use digital signage because it's a new technology, and there are many types of messages that can be communicated. Understanding where to place displays, along with knowing the type of messages to communicate and how to build them is crucial. Here are some tips to help you get started…
Recording to Go
The need to record audio "on the go" is the common denominator of churches and ministries of all sizes. Terry Wilhite focuses on two options: recording with a small digital recorder and with a laptop computer.
It's Not Like You're Buying a Refrigerator
Buying a sound system, or video projection system, or lighting system, just isn't as simple as some want to believe. It's not like you're going to go out to your favorite discount store to buy a refrigerator, throw it in the back of your pickup and take it home with you. Curt Taipale tells us why it's important to plan ahead!
Digital for Everyman
For most of the audio world, the digital revolution is long over. Even live sound, one of the last bastions of analog mixing, has seen a shift in recent years, with more and more digital consoles turning up on tours and in permanent installations. But for many small and mid-sized churches, the move to digital has been a challenge….
Sharing the Vision: Digital Signage in the Worship Environment
There are many creative ways that digital signage can be applied in a worship environment. In addition to Web sites, electronic newsletters, and social media, they're turning to electronic displays to not only enhance communications with congregants, but to improve their internal operations and communications as well. Maria Porco tells us more…
Saving Beyond the Sanctuary
Michael Jouaneh discusses how a lighting control retrofit can yield big energy savings.
Color Rendering for Outdoor Illumination
Few topics have been more confusing than color rendering, and with the rapid advancement of power LEDs in lighting applications, it's clear that there's much work to be done and that the specification community should take care in approaching the subject.
Connect Your Church Through Private Member-Only Online Communities
Lauren Hunter, a freelance writer, communications consultant, and blogger dedicated to the faith-based technology market, discusses different ways churches can connect through online communities.
Lincoln Brewster CD Release Tour is Educational Too
Singer, songwriter, worship leader, and guitarist, Lincoln Brewster released his first studio album in six years, Today is the Day (Integrity Music) in September and mounted a tour in support of the CD, Sept. 24th to Oct. 8th, playing 12 church sanctuaries in four western states…
So God Gave You A Song!
There is no doubt that we are living in one of the most prolific and creative times for worship music in the history of Christianity. It reminds me of something a pastor once told me… during times of spiritual awakening there is a renewed passion for God's Word, a changed lifestyle devoted to prayer and the outpouring of new worship songs…
Wireless Mics – An Interview with Bob Lowig
This is a short interview with Bob Lowig, Regional Sales Manager, beyerdynamic, regarding Wireless Mics.
TFWM E-Newsletter Lessons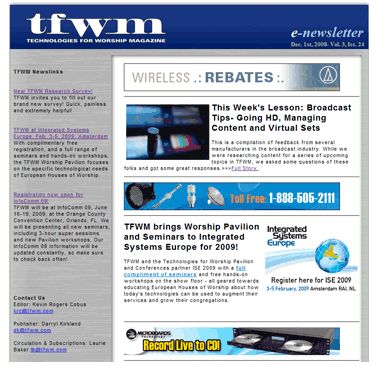 The TFWM Newsletter, produced bi-weekly, offers our readers an excellent way to stay on top of emerging trends and technologies, as well as providing relevant lessons with every issue. These lessons are also archived below, but the best way to stay current is to sign-up for the newsletter, free of charge.
You'll be happy you did!
TFWM E-Newsletter Lessons 2009
Production Switcher Terms
November 2, 2009: Production switchers are central to the professional television production environment. Installed in television studios, cable broadcast facilities, commercial production facilities, and mobile production trucks and OB vans, the production switcher not only enables cuts between different video sources, but also gives the operator the flexibility to perform these transitions with efficiency, accuracy, and creativity in the live production setting.
File Based Broadcasting for Churches
October 19, 2009: Small screen video displays are popping up everywhere within churches – from the main auditorium to class rooms and corridors. In many cases they are replacing printed signs. Why? Cost and dynamics.
Digital Signage for Worship Facilities: The Software Layer — Part Three of a Three Part Series
October 5, 2009: The first two segments in this series provided advice and insight into establishing a single-site digital signage system and then scaling to multiple sites. The third and final segment focuses on building a true digital signage network via the software layer.
Digital Signage for Worship Facilities: Scaling to Multiple Sites — Part Two of a Three Part Series
September 21, 2009: The first segment of this series was a primer on a digital signage system for users who operate within a single facility or site. The goal was to provide insight on the technology, entry costs, integration, staffing, operation and most importantly, the new opportunities that digital signage deliver to worship facilities.
Digital Signage for Worship Facilities: The Single Site System — Part One in a Three-Part Series
September 7, 2009: Clear communications is an art that brings people together. Whether strictly informational or something on a more emotional level, communication is imperative to creating a relationship between the messenger and a group of message recipients.
My Most Embarrassing Moment: Confessions from Behind the Board, part 3
August 24, 2009: This week's lesson sees a continuation of the popular 'Confessions from Behind the Board' series. It seems that everyone has at least one funny and embarrassing story to tell — whether it's about weird sound loops, annoying and unexplainable feed back, or even stories about 'devilish dads'.
Automation Definitions
August 10, 2009: Automation plays a critical role in the reliable, efficient, and accurate playout of programming at most broadcast facilities today. The definitions provided here represent fundamental systems and concepts involved in broadcast automation.
When to Say When: Upgrading Production Systems
July 27, 2009: Short of major equipment failure, there is no set imperative by which every congregation plans and invests in new production and display systems. For some houses of worship, an increase in membership is the driver for realizing more flexible delivery of video, be it in-house, to a remote campus, or to a church Web site.
You Can Webcast
July 13, 2009: The project seemed daunting: The leadership of 13 congregations, spread across the metro area and in to the southern part of the state, needed ongoing training. But the long (and expensive) drives to meet together were just one more thing to shoehorn in to the busy schedule of a lay leadership that had full time jobs, families, and community obligations.
Why Use Intercom?
June 29, 2009: The answer to this question is that form follows function. Intercom was invented to solve live production requirements. It is designed specifically for the challenges and situations inherent to this type of environment. Any other communications systems you try to implement for live production in your facility will always be a "workaround."
After the Doors Close on Sunday: The Role of Remote Access Management in Houses of Worship
June 15, 2009: Utilizing an IP-based control system offers numerous advantages to any organization. Primary among these is that the system can provide Web-accessible control of virtually any electronic device, allowing the organization to manage almost every aspect of its facility, including A/V systems and lighting, from anywhere in the world via the Internet. For houses of worship in particular, remote access can be an invaluable asset, as churches often sit unoccupied for several days during the week.
My Most Embarrassing Moment – Confessions from Behind the Board, part 2
June 1, 2009: This is a continuation of an early 'Most Embarrassing Moments' lesson from Curt Taipale from the ChurchSoundCheck Discussion Group.
Designing Versatility into Your Next Sound System
May 18, 2009: Contemporary worship programs place more demands than ever on today's sound reinforcement systems. For a church's ministries to reach out and connect with all age groups in order to make the worship experience meaningful, the necessity of having the right sound reinforcement system is critical.Contemporary worship programs place more demands than ever on today's sound.
Blu-ray Disc: What's New with Subtitling & Closed Captioning for Blu-ray
May 4, 2009: Since Blu-ray is now accepted (for the most part) as the new HD disc format standard, many questions have come up about closed-captioning and subtitling for Blu-ray Disc (also referred to as BD).
Social Networking: Crafting A Web Strategy
April 20, 2009: The world of web development is enormous, complicated, and ever changing with a multitude of options for creating your online space. Churches especially struggle with how to present themselves online and often face financial as well as technological barriers that ultimately prevent them from having a website that not only represents their organization well, but acts as an effective communication tool.
Basic Lighting Concepts: Know Your Layers
April 6, 2009: At LDI 2008, we had the chance to connect with the former LD for Lakewood Church, as he began his new position at SeaChanger Ocean Optics. Bringing with him a wealth of experience and technical prowess, he became an appropriate person to put together some lighting tips for TFWM.
Finding a Lighting Designer Job
March 23, 2009: This article is made up of excerpts from email correspondence between a TFWM reader and two editorial contributors. We have reformatted the discussion here so that more readers can draw from the information.
Interview with a Drummer
March 3, 2009: It's a fine science, laying down the beats that flourish into becoming a foundation for the rest of the band. Every drummer embodies this talent differently. We caught up with Bryan Boyd, drummer for Drew Bodine (Lead Worship Pastor at Central Christian Church, Las Vegas, NV) and asked him a bit about technique and philosophy.
Technologies for Church Finance
Feb. 23, 2009: Looking to a technology to solve a church finance problem is a bit like looking to material things to bring happiness. Increased income probably won't fix current problems either, any more than they do in a marriage.
My Most Embarrassing Moment: Confessions from Behind the Board
Feb. 9, 2009: Last year I wrote to our ChurchSoundcheck Discussion Group to ask about their Most Embarrassing Moment serving on the tech team in their church. Doesn't matter if we minister on the sound, video, lighting, or music ministry — we all have them.
Featured Resource…
Jan. 26, 2009: Every songwriter is looking for ways to be heard. Some are looking for booking opportunities. Some are hoping to submit songs for projects with the hope of landing a publishing deal. There are a number of websites available that provide opportunities to connect writers with film and music projects or to find opportunities to play live.
Tips to Grow Church Membership
Jan. 12, 2009: Most churches want to grow their membership, but few want to spend a lot of money on advertising and other marketing efforts to reach potential members.