It's a fine science, laying down the beats that flourish into becoming a foundation for the rest of the band. Every drummer embodies this talent differently. We caught up with Bryan Boyd, drummer for Drew Bodine (Lead Worship Pastor at Central Christian Church, Las Vegas, NV) and asked him a bit about technique and philosophy.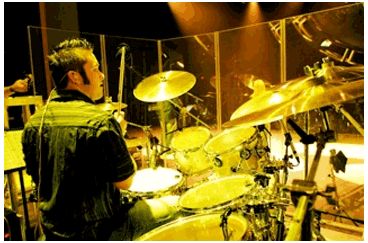 TFWM: Do you play by feel, or are you versed in music theory?
Bryan Boyd: I definitely know music theory, but I try to play by feel when it comes to playing live. Playing by feel is much more difficult than it sounds. It allows you to not worry about anything else but playing music. It's tough to play by feel if you don't know the tune, because you're constantly thinking of what comes next.
TFWM: As a drummer, do you prefer in-ears, or stage monitors?
BB: As a drummer, I definitely prefer in-ears over wedges. I've been a fan of Ultimate Ears in-ear monitors for over 6 years now. I own the UE 10 Pro's and UE 11 Pro's and wouldn't change for the world. The worst thing about stage monitors is that you can lose your hearing quickly. The battle between playing the drums and being able to hear the stage monitor can get extremely loud. The Ultimate Ears monitors are custom-molded just for your ear.
TFWM: What in your opinion is a good solid practice schedule?
BB: I went from playing five days a week, two hours a day, to whenever I can find time to practice. It's tough when you have a full-time job and other commitments to find time to practice. But, if you really want to improve your skills, you'll find the time to practice.
TFWM: What are some ways around practicing if you can't play a full acoustical kit all the time?
BB: You can purchase a practice pad, or get a pair of sticks and keep them in your car. Another thing that is really good is playing on a pillow while watching TV. It's not loud and it allows you to really rely on your wrists and not as much on the bounce of a drum or pad, which ends up being good practice.
TFWM: Have you ever had to play on digital drums?
BB: Yes, and it was the worst experience ever. I am not an electronic drum fan. There's something about playing on actual acoustic drums that makes playing more fun.
TFWM: Can you play many different styles of music?
BB: I can play a few different styles, but I never really got into jazz, hip-hop, R&B, etc… I always find myself going back to rock. My suggestion for other drummers is to find a style that you love and make that your foundation. It's good to get out of your comfort zone and learn other styles, too.
TFWM: What do you think about taking drum lessons?
BB: I think it's always a good thing to learn new things from people you admire. When I grew up I probably learned new techniques from 12 different people. I still learn new things from others. You can never stop learning. The one thing I try to tell my students is just to have fun. If they're not having fun then drumming becomes a chore, not a passion. It's not always going to be fun though, it takes a lot of practice, and there will be a lot of frustrating moments. In the end, it all pays off.
As you can imagine, Bryan's preference for acoustic drums has no bearing on TFWM or any other drummer for that matter- it's a matter of personal preference. Could make for another good discussion topic, though.
Make sure to catch Drew Bodine and rock solid beat-master Bryan Boyd as they hit the Quiet Stage during the TFWM Pavilion at NAB 2009 – booth number C12338!
Take a listen here: http://www.digstation.com/AlbumDetails.aspx?albumid=ALB000027318