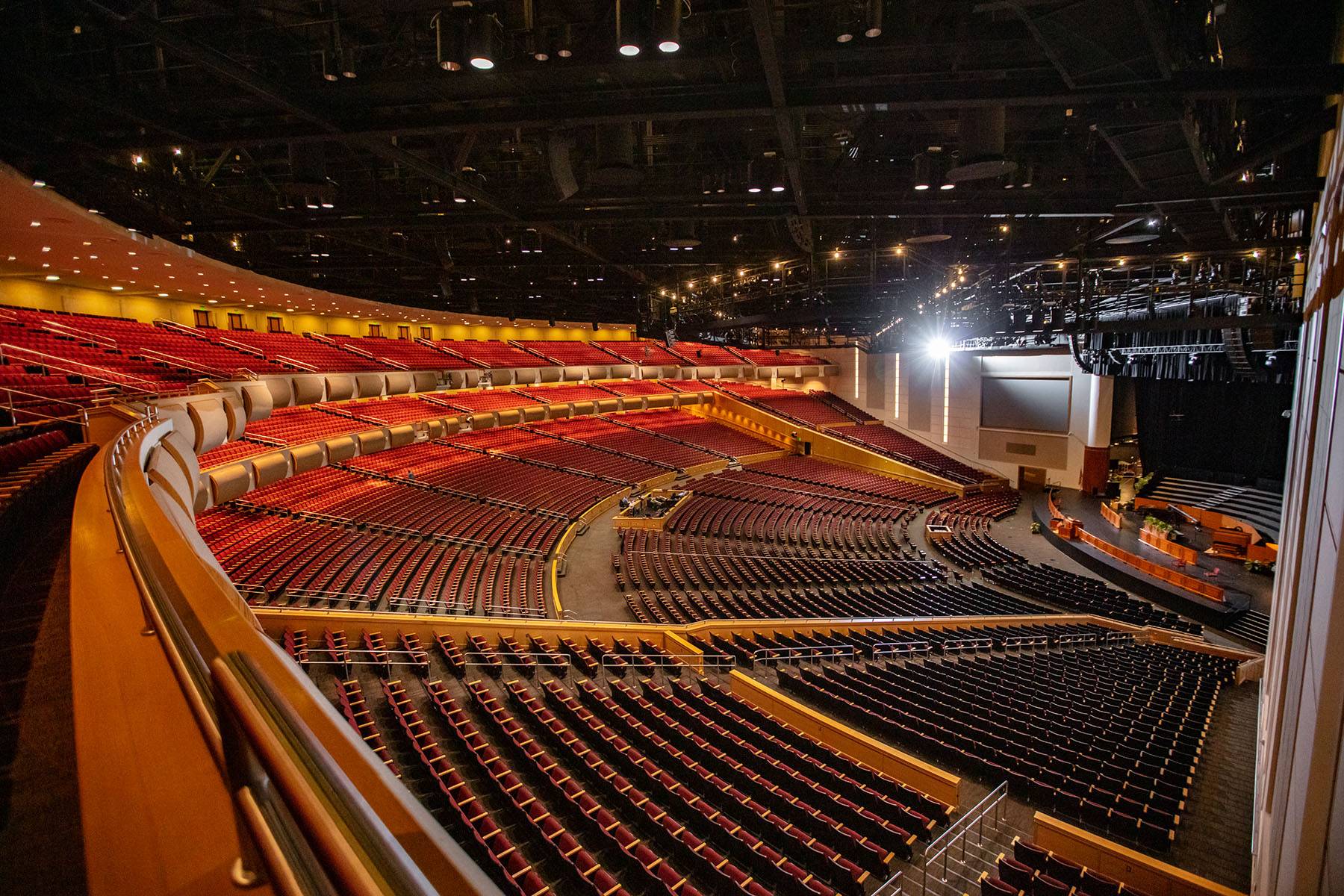 The BYU-Idaho Center, on the western edge of Brigham Young University-Idaho's Rexburg campus, is an architectural marvel. Dedicated in December 2010 after three years of construction, the "I-Center" is a 435,000-square-foot facility combining two distinct gathering places: a large athletics center equipped with ten multi-use sporting courts and a 15,000-seat auditorium used for student devotionals, ecclesiastical meetings, graduation exercises, and select artistic and cultural events. Recently, the auditorium became more intimate sounding when an L-Acoustics loudspeaker system was installed by Clearwing Systems Integration.
The fan-shaped venue with its 7,500-square-foot stage is one of the largest production theaters in North America, offering only 6,000 fewer seats than its sister facility, the LDS Conference Center at Temple Square in Salt Lake City. Familiar with L-Acoustics loudspeakers installed at other LDS facilities—including the Conference Center, Salt Lake Temple, and Provo's BYU Marriott Center—BYU-Idaho called on L-Acoustics House of Worship Application Manager Josh Maichele to conduct a product demo in its auditorium. L-Acoustics Certified Provider (CPi) Clearwing Systems Integration had both the inventory and available personnel to assist and was committed to investing the time to fine-tune the demo system to ensure that it would be optimized for the space.
When the fastest swimmers in the United States met last month at CHI Health Center Omaha to determine who would go on to Tokyo, Riedel's Artist and Bolero intercom systems helped Dodd Technologies orchestrate the event for broadcast and streaming to fans around the world. The Riedel systems provided flexible, reliable communications throughout the swim trials, which ran from June 4-20, as Dodd managed the in-house show and addressed the requirements of its broadcast partners and supporting production trucks.
"We needed a flexible intercom system that was both easy to use and extremely advanced, and Riedel met all those requirements," said Caleb Cassler, Audio Systems Engineer at Dodd Technologies. "The Artist and Bolero systems handled the immense quantity of signals involved in production while providing better range than other solutions, without as many antennas. Any other solution would have been much more complicated, but the Riedel gear kept comms flexible and manageable without dedicating a role solely to comms."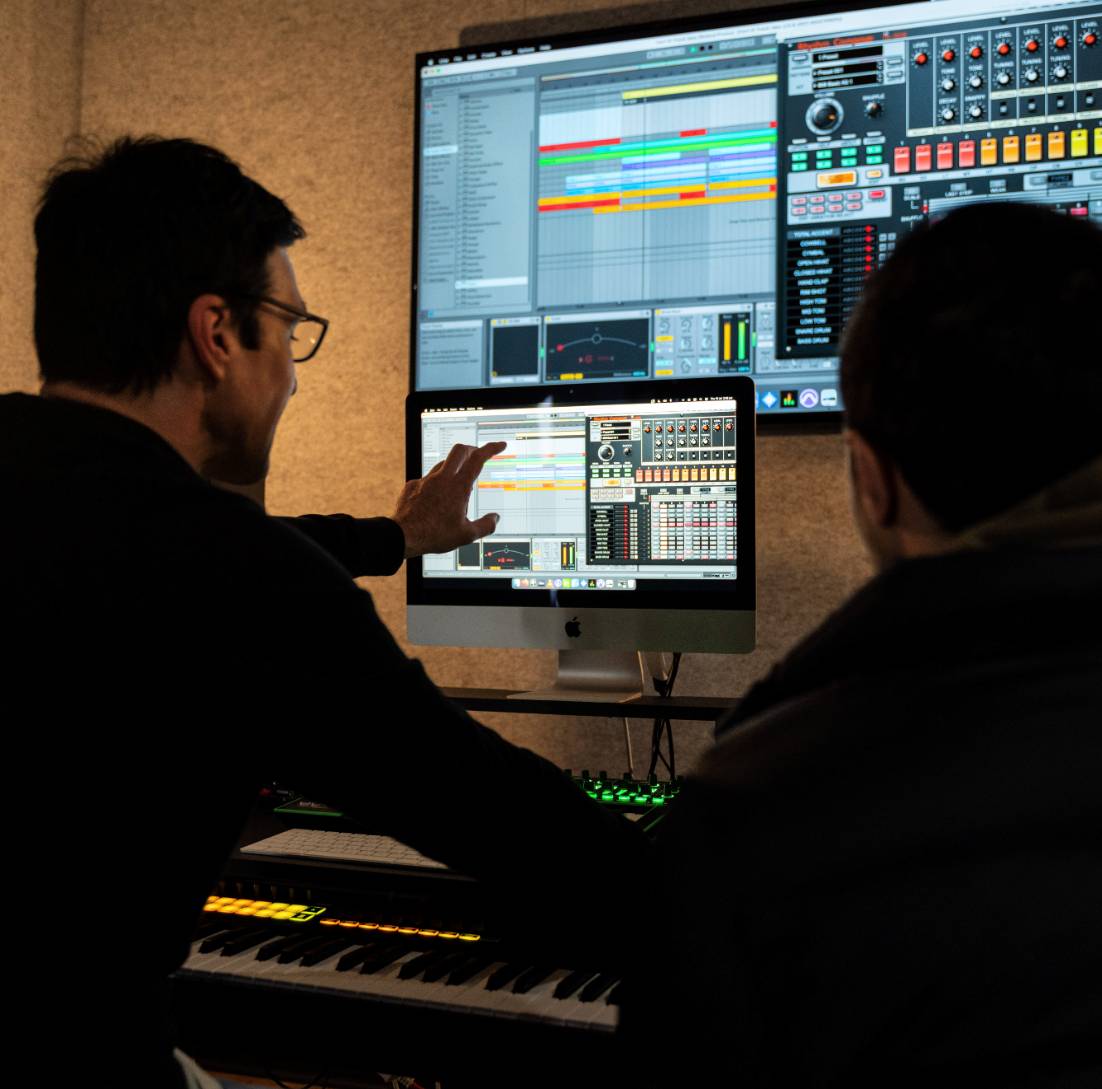 Roland
, the world-leading electronic musical instrument, music software, and professional video products creator, and JMC Academy, Australia's leading Creative Industries institution, are proud to announce a partnership that will see Roland Cloud, Roland's evolving cloud-based platform offering more than 50 authentic Roland software synthesizers and sound libraries, integrated across JMC Academy campuses, starting in September 2021.
With three campuses in Sydney, Melbourne, and Brisbane, and over 2,000 students each year, JMC Academy offers courses including audio engineering and sound production, music production, and songwriting, among others. To support JMC Academy's mission of ensuring the highest quality of education for its students, Roland is giving students access to the full suite of Roland Cloud instruments. These include software versions of legendary synths like JUPITER-8 and JUNO-106, classic rhythm machines such as the TR-808, TR-909 and TR-606, and the music creation app Zenbeats. Additionally, Roland's ZEN-Core Synthesis System will allow students to program sound contents in the ZENOLOGY Software Synthesizer and move those sounds around a selection of ZEN-Core hardware products such as the latest FANTOM workstations and popular GROOVEBOX models like the MC-707 and MC-101.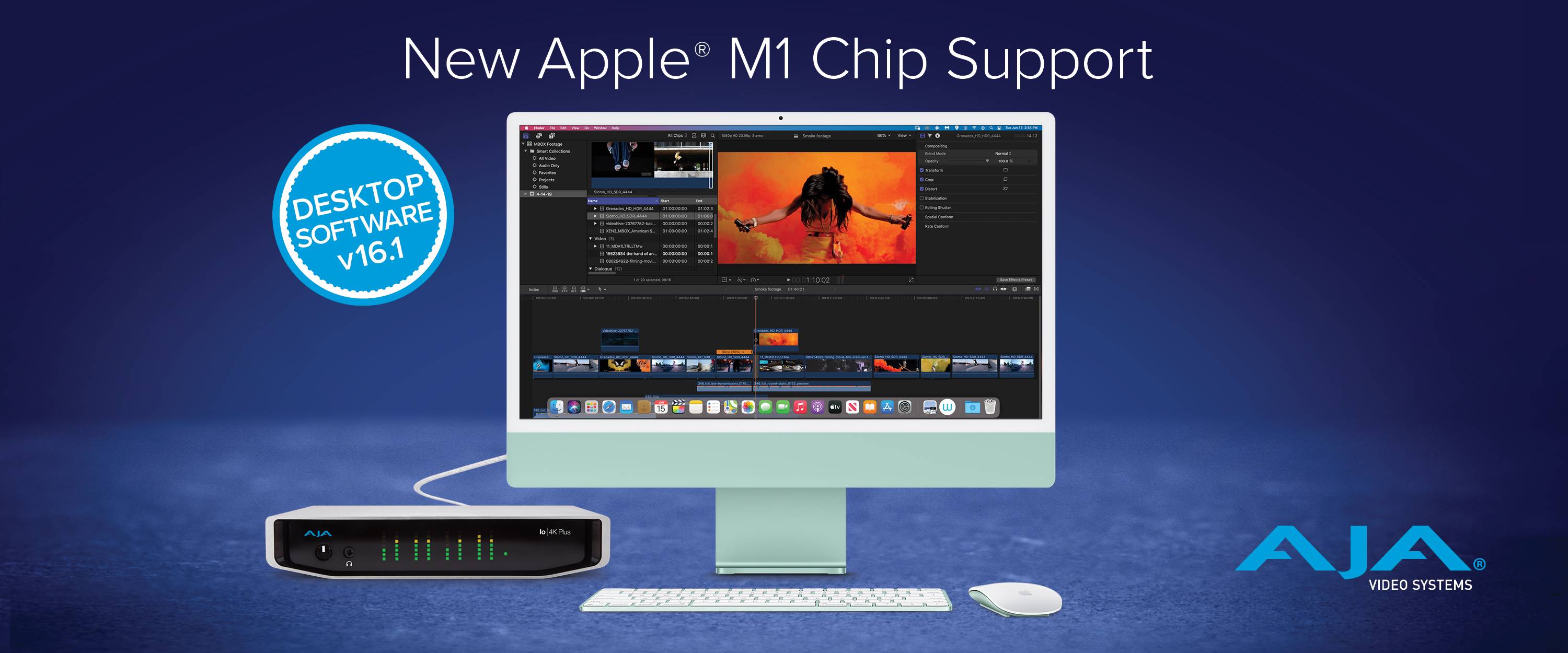 AJA Video Systems today rolled out Desktop Software v16.1 for KONA, Io, and T-TAP Pro products, alongside AJA SDK v16.1 for Developer Partners. Both releases include native support for the powerful Apple® M1 chip, and feature enhancements that optimize audio, broadcast, and production and post workflows, and third-party tools built with AJA Developer Partner solutions.
Broadening system compatibility, the latest AJA Desktop Software and AJA SDK updates allow AJA KONA, Io, and T-TAP Pro users and Developer Partners to harness the power and cost-efficiency of Apple M1 compatible systems for professional video I/O tasks, in addition to existing support for Intel-based systems from Apple, as well as Windows, Linux Ubuntu and Linux CentOS systems. Desktop Software v16.1 expands the available options in AJA MultiChannel Config, enabling 12G-/6G-SDI input support as well as extended audio input support for AJA KONA, Io, and T-TAP Pro products with Telestream Wirecast. AJA Control Panel also receives an upgrade via the latest update with additional GUI feedback added for situations where "Auto" has resulted in signal modification, making it easier for creatives and technicians to understand results. V4L2 updates in AJA SDK v16.1 for KONA HDMI bring expanded controls for Developer Partners using Video for Linux, while 64-channel audio support for NTV2 SDK provides greater flexibility for Developer Partners using Corvid 44 12G or KONA 5 in 8K workflow solutions.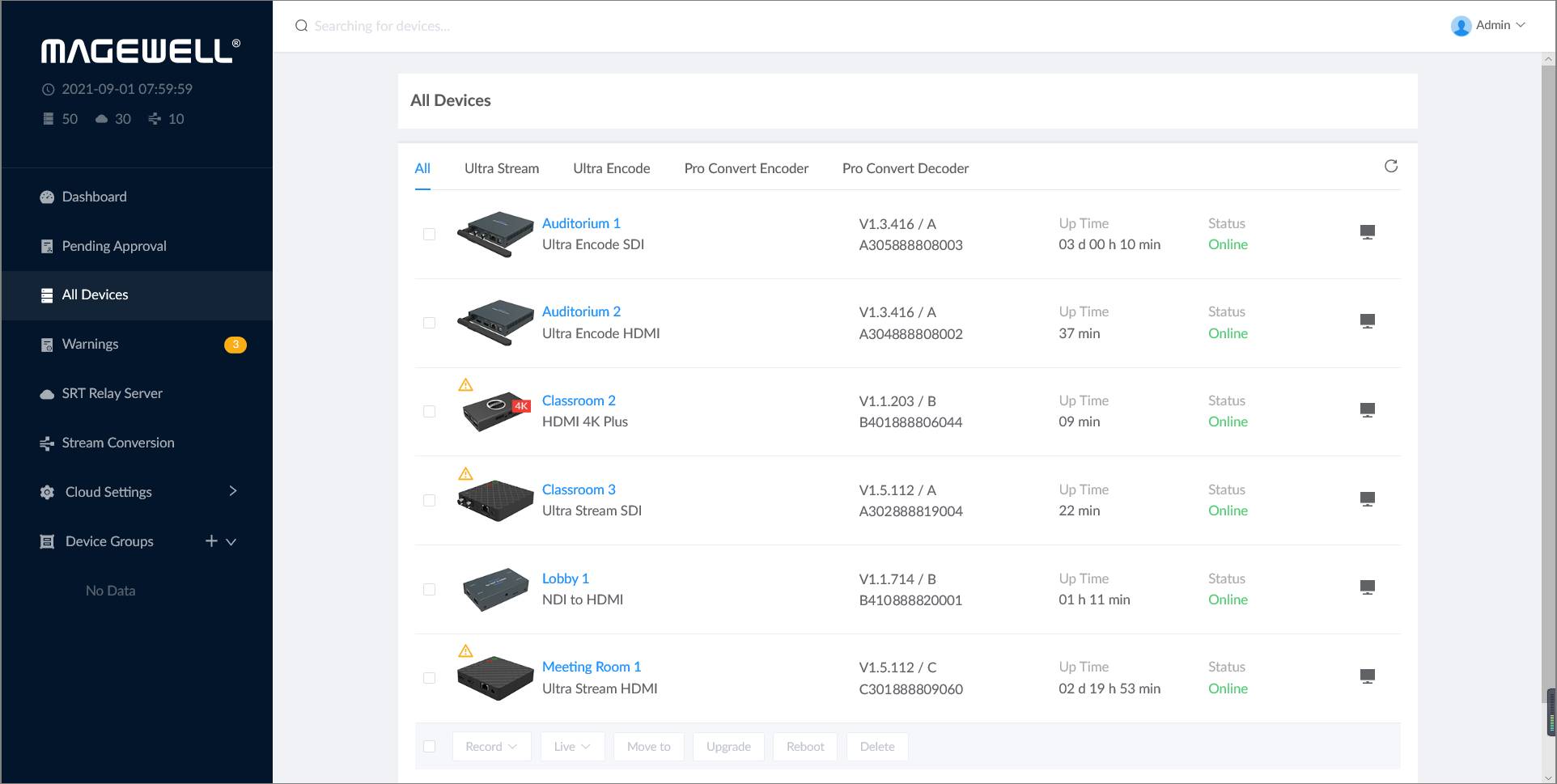 Video interface and IP workflow innovator
Magewell
today announced its new
Magewell Cloud
multi-device management software. Available free of charge for installation on an on-premises server or cloud hosting platform, the
Magewell Cloud
software provides centralized configuration and control of multiple Magewell IP encoders and decoders plus powerful stream management features including protocol conversion and SRT gateway functionality.
"While Magewell streaming and IP conversion solutions all have their own intuitive user interfaces, customers with multiple Magewell devices or systems integrators supporting Magewell solutions across several end-user installations may wish to manage them all remotely from a single dashboard," said James Liu, VP of Engineering at Magewell. "The
Magewell Cloud
software makes it easy for integrators, administrators, and IT staff to configure and manage multiple Magewell IP devices across any number of sites through an intuitive, browser-based interface while also providing workflow-simplifying stream management functions."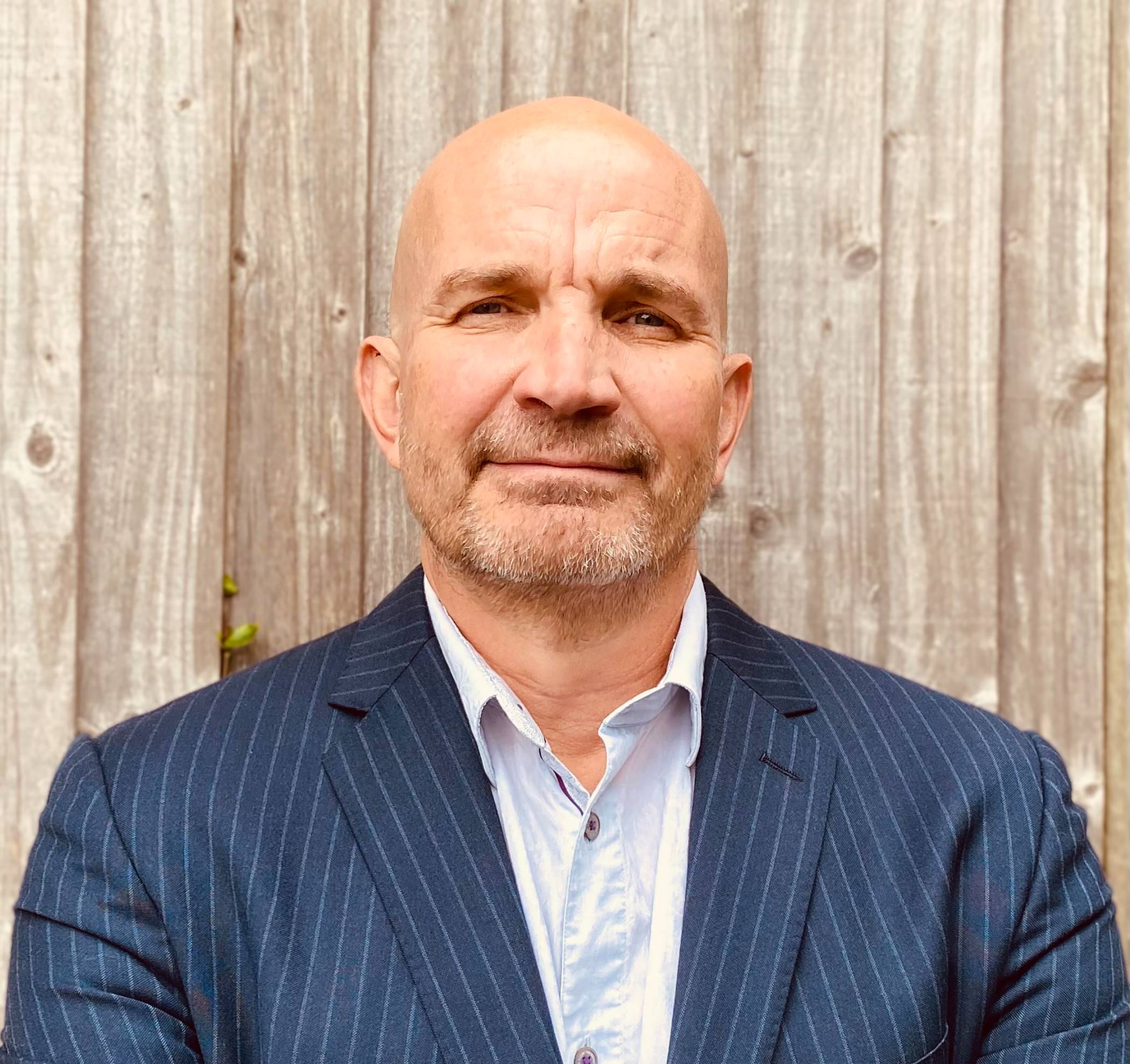 ACT Entertainment, the new entity formed by the ACT Lighting, RapcoHorizon and AC Power Distribution brands, announces the appointment of David Johnson to the new post of Senior Vice President Sales. Johnson is well known for managing the Live Design International (LDI) franchise.
"When we rebranded as ACT Entertainment, it was clear that we needed strong leadership in the sales department to bring all our world-class sales forces together across the organization and ensure their continued success and the high level of customer service for which we're known," says Ben Saltzman, CEO of ACT Entertainment. "David has 30 years' experience in the industry and is a proven team leader. He's well liked and has a broad knowledge of all the disciplines in which ACT Entertainment operates in. He knows the business front-to-back and side-to-side and understands the playing field in all its dimensions."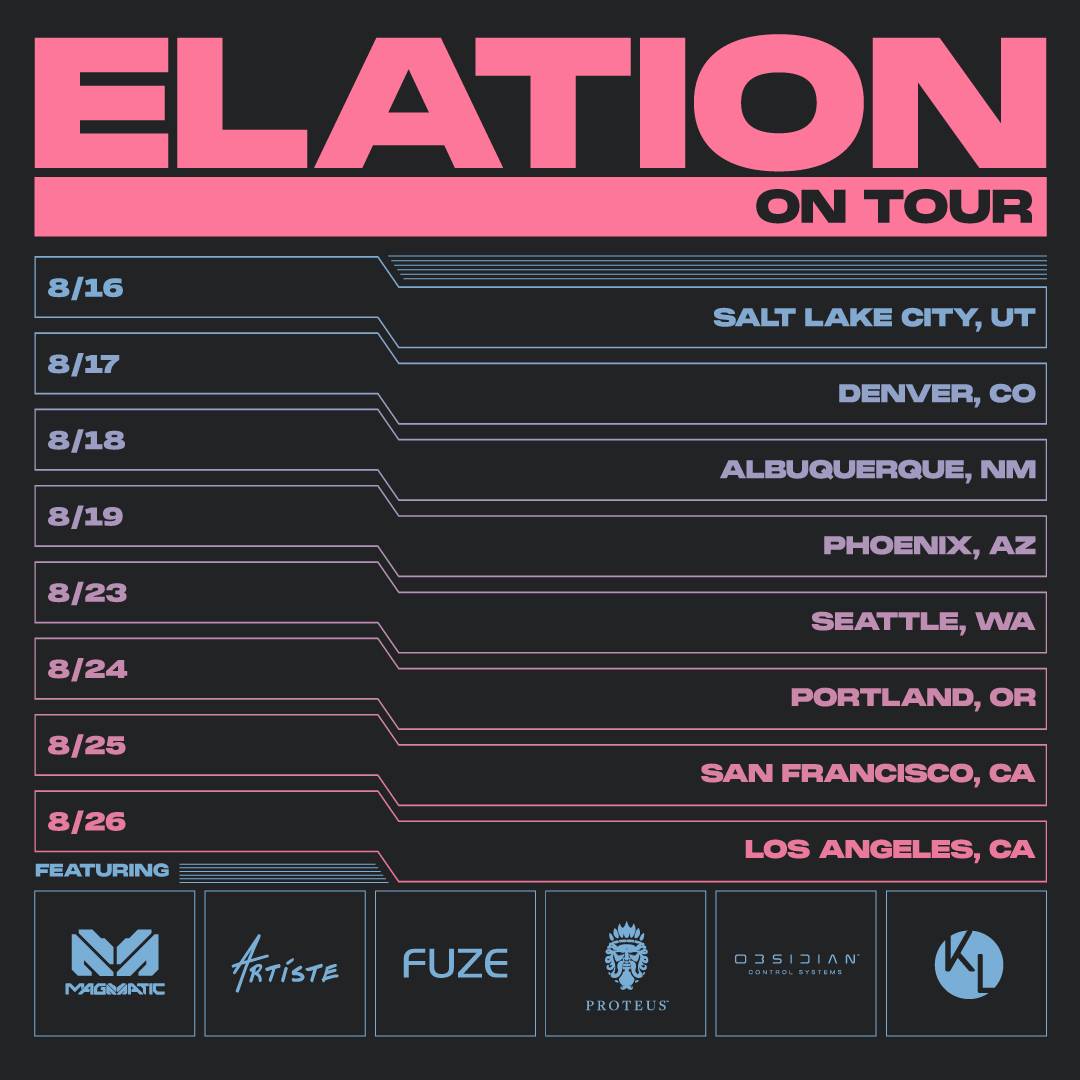 On the road again…again! Elation Professional is extremely pleased to announce the 2nd leg of our very successful ELATION ON TOUR. The Elation US team will be back on the road again this August meeting clients and demoing products on Elation ON TOUR LEG 2 across the western US.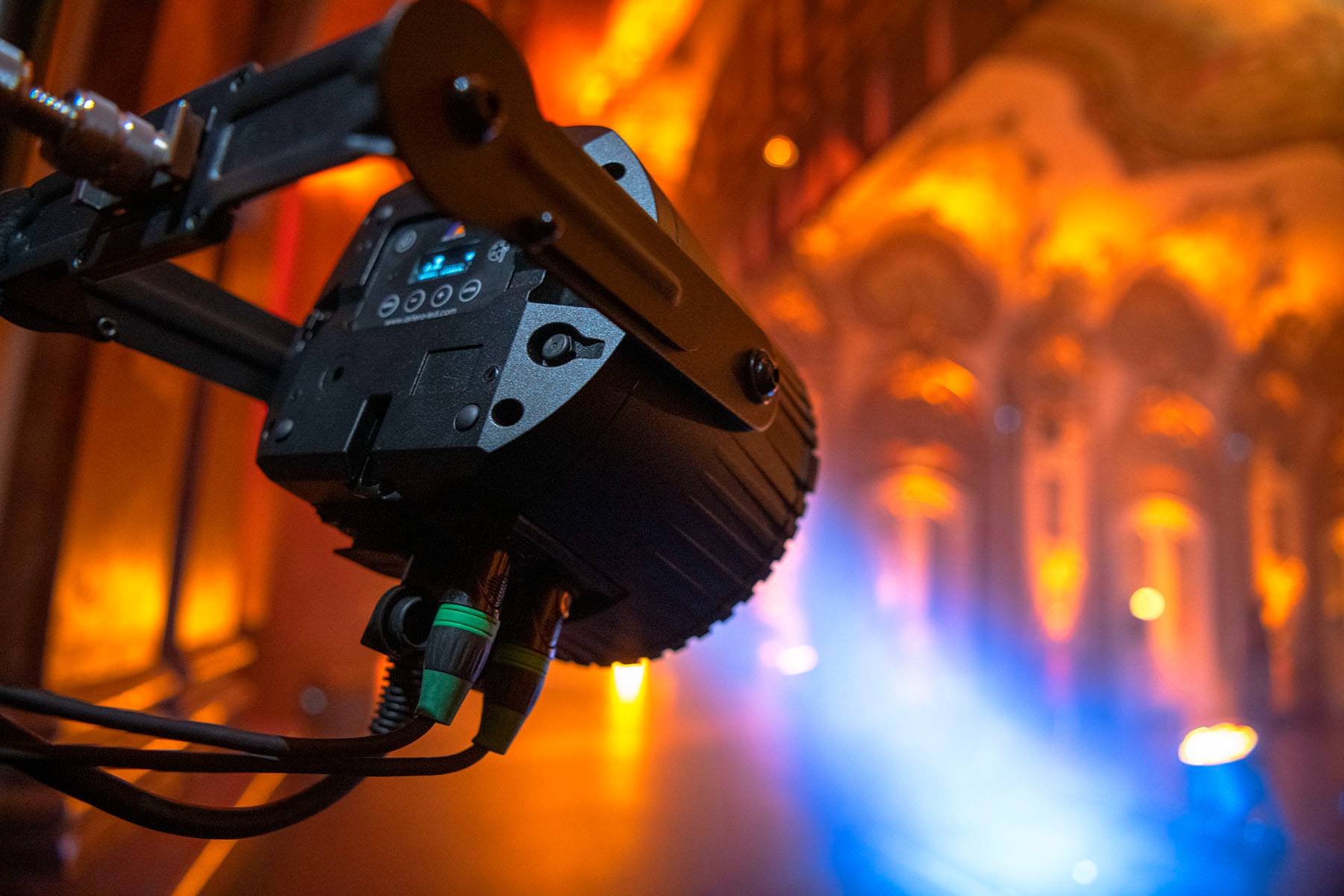 Wireless LED lighting specialist Astera launches another new product – the AX9 PowerPAR.
As the name implies, the AX9 is a high-intensity, rock-solid, all-purpose everyday LED lighting fixture with all the advantages of Astera, including battery operation, wireless control, and quality engineering. AX9 is the 'big brother' of Astera's hugely successful AX5 TriplePAR which became an industry-standard LED PAR. AX9 is bigger, brighter and benefits from all Astera's latest innovations, like the Titan LED engine, an optimised bracket with Airline Track, a Titan-style keypad for fast and easy local control and direct control via the versatile AsteraApp.
Effectively it is a three-in-one solution. Offering a wireless PAR light source that can also be run as a wired PAR for longer-term installations and an elegant up-lighter, with the fixture's 105 Watt output offering over 3000 Lumens of beautifully homogenised light.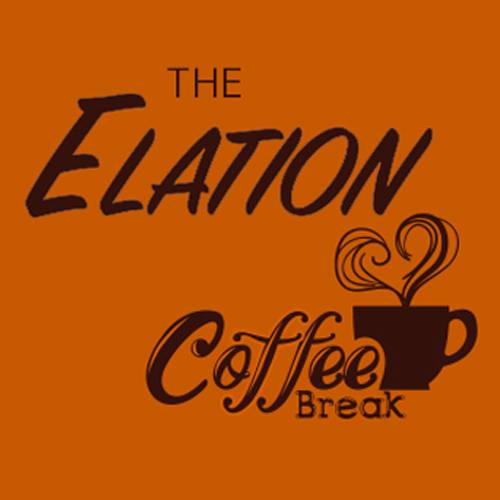 As lighting professionals the world over increasingly discover the benefits of IP-rated lighting, Alistair Smyth and Frederik Afif will use the July 29th Elation Coffee Break to talk about environmental protection beyond water and moisture, and reveal some of the tips and tricks pros can use to get the most out of their ingress protected luminaires.
With Elation offering the market's leading line of IP65-rated luminaires, and the Proteus range now synonymous with weatherproof lighting, there's no more qualified team to present an IP65 special. Join Alistair and Frederik as they provide tips for weathering temporary outdoor installations such as festivals, while covering topics like marine grade coating, sun protection mode, and IP testing gear. And remember, sealed IP-rated lighting keeps out particulates like dust, sand and grime and has a host of benefits for indoor use as well.