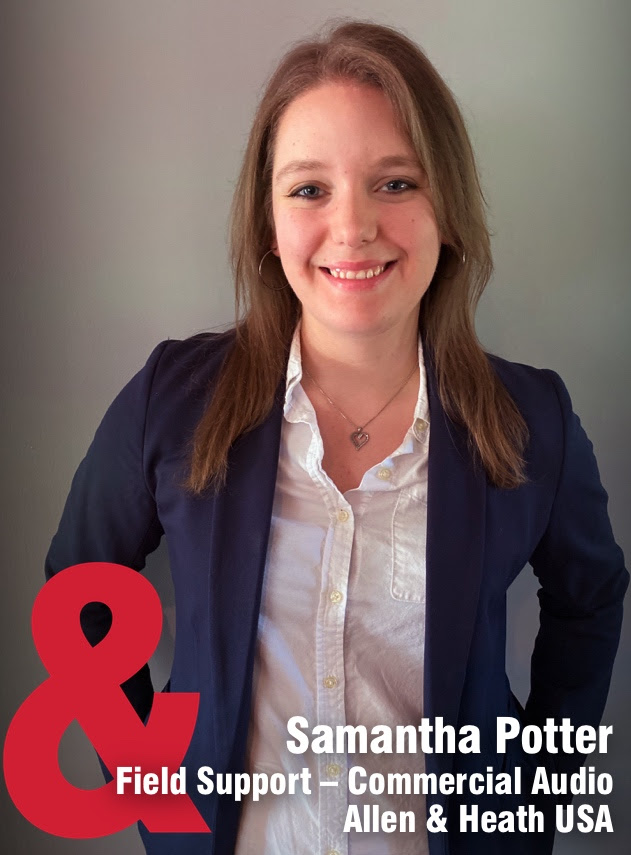 Allen & Heath USA has made a key appointment as part of its increased expansion into the commercial and install market. Based in Kansas City, Missouri, Samantha Potter has been tapped to fill the Field Support - Commercial Audio role. Working under the American Music & Sound (AM&S) umbrella, Potter will assist and support further adoption of Allen & Heath solutions in the United States installation market across all verticals. With a long history of hands-on live audio mixing as well as successful stints as a freelance System Design Consultant, Technical Producer, and IT Media Supervisor, she has established herself as an industry thought leader.
"My work as an author, editor, and educator with ProSoundWeb, Church Sound Magazine, Church Sound University, and many other pro audio industry publications has really helped me form a good 'lay of the land' across the pro audio industry," said Potter. "I'm excited to pair up my background with the stellar audio pedigree and install product offering at Allen & Heath and take us to the next level."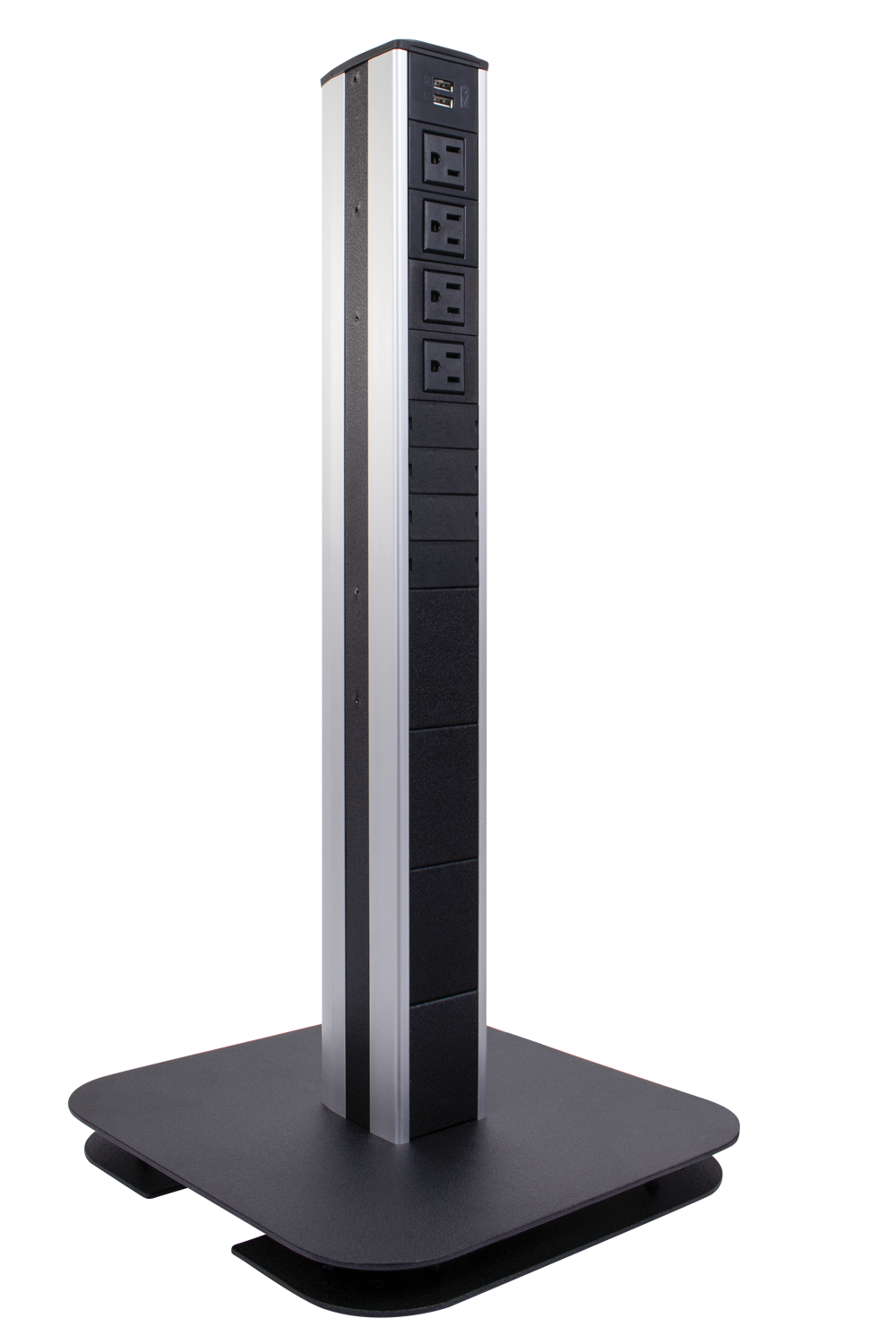 FSR, a leading manufacturer of a wide variety of infrastructure solution products for the audio/video, Information and Communications Technologies (ICT), education, corporate, hospitality, and government markets, has released its new Symphony Pedestal, extending the company's popular Symphony Collection of power and charging solutions. The new Symphony Pedestal power and charging tower makes waiting areas and workspaces an inviting place to plug in, offering 4 AC outlets for users to remain charged and ready!
The new Symphony Pedestal offers a form factor that allows for customization options to connect a CAT6, 6a or 7 along with AV cables to bulkhead AV connections. This floor standing unit provides AC power and USB charging, along with snap-ins and a cable passthrough. A 9' AC cord supplies power from a standard 125VAC 15A outlet. Sized to fit under a desk or table, the pedestal can give people peace of mind in waiting areas, at home or at work.
Studio Connections will be the new home for Point Source Audio's unique range of award-winning microphones and headsets in Australia. The move is a result of Point Source Audio looking to build on its already strong reputation in the country with the appointment of a new distributor dedicated to the market.
Point Source Audio microphones and headsets have been available in Australia for a number of years. Various products have featured on a number of international touring productions over the years, creating an ever-increasing demand and the need for a new partner that was dedicated to this territory. Following an extensive search, Point Source Audio has decided that Studio Connections Australia is the perfect partner to meet this brief.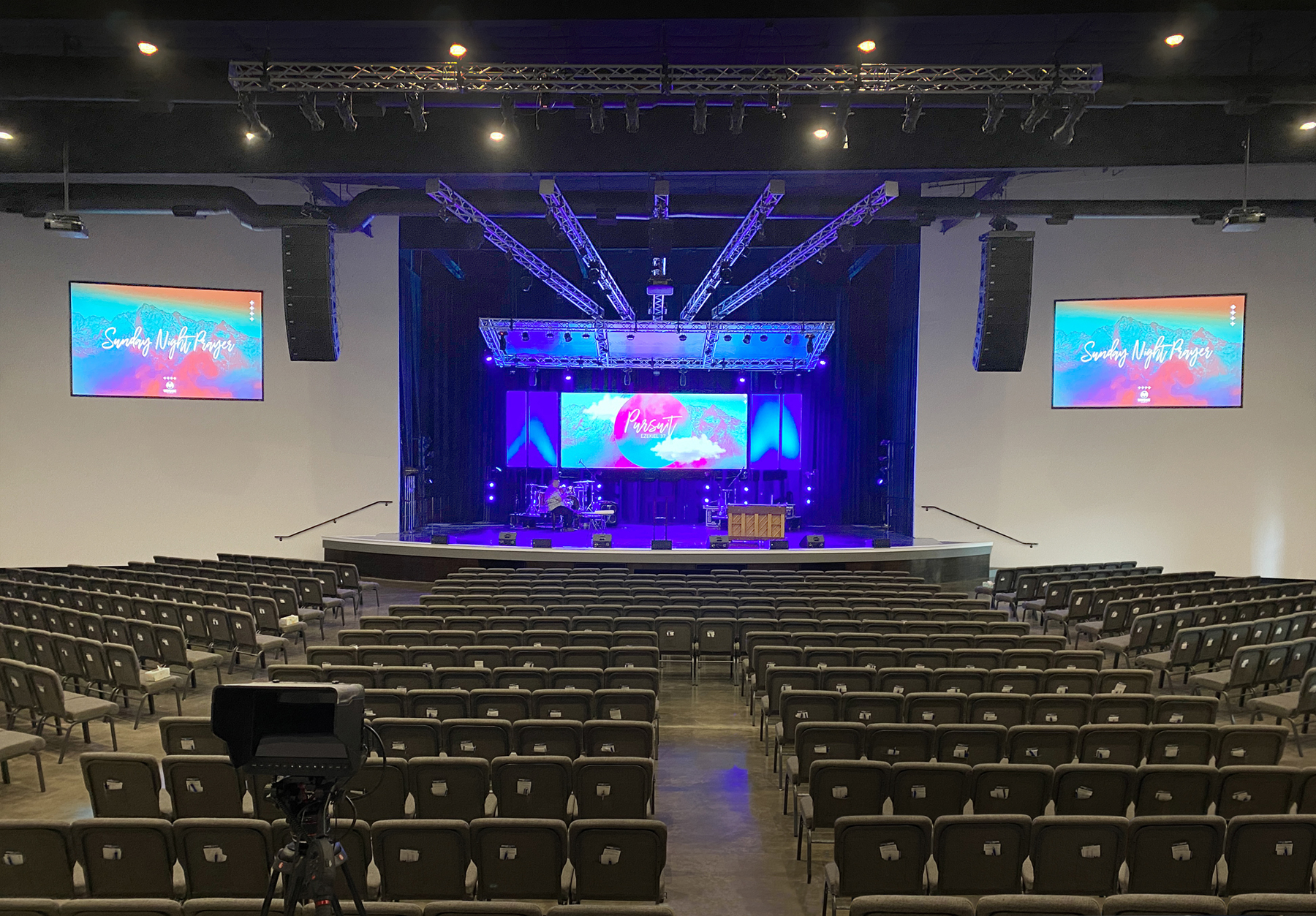 With over 50 years of ministry and community service, Tabernacle Church, located just outside Nashville, in Clarksville Tennessee, decided in 2017 that to keep up with their tremendous growth, they would undergo a monumental change with a grand new construction project, to reemerge as Mosaic Church—adding 65,000 square feet to their campus, including a 1,500 seat performance space.
When audio and integration firm, Holly Media was asked to oversee the expansion of the performance space, owner Fred Holly, with over 30 years of pro audio experience, led the design effort. "With new dynamics and changing needs, the scope of the ministry has changed—it's become a new work," said Holly. "Tabernacle seemed old fashioned. The name didn't match the demographic of our church because it's very diverse—and it's thriving. The new Mosaic Church wanted to reflect that."
The original structure was a smaller sanctuary and was insufficient space for many years. The church adapted for larger congregations by expanding Sunday services to four per day. Recently through COVID, the church was mobile, moving its worship service to a local high school, setting up and tearing down in the parking lot each week.
To enhance its new facility with pristine sound for worship services and other events, Tauranga Elim Church selected a state-of-the-art HARMAN Professional audio solution that includes JBL Professional loudspeakers and Crown amplification.
Among Elim Church's several locations throughout New Zealand and other countries, Tauranga Elim recently moved to a new facility. A move that was nearly two years in the making, the new location is much larger than the previous building and includes an auditorium that is able to accommodate 550 people. Wanting to offer guests and attendees an engaging experience with great acoustics to support the live modern contemporary music, along with crystal-clear speech intelligibility, Tauranga Elim required a premium sound system that delivers consistent tones at all volume levels with smooth, even coverage across the entire facility.
After holding services in makeshift spaces for literally decades, the parishioners of Ascension of Our Lord Catholic Church were elated to finally have a 700-capacity church of their own in La Place, Louisiana. The year was 2001, but there were issues almost immediately. "The original sound reinforcement design was terrible, and they had it replaced within two months by a different contractor," explained Matt Dupuy, installation technician with Assurance AV Solutions. Dupuy, who also was a member of the church member as a child, continued, "The new system was better, but not at all great. They limped along with it for nearly two decades. There were always complaints, but it remained a backburner issue." Dupuy is a member of the Assurance AV Solutions team that recently replaced the problematic system with Danley Sound Labs SBH10 column-form, point-source loudspeakers, finally giving the church the sound reinforcement system it had always dreamed of.
"The church was frustrated," said Chuck Breaux. "They had been dealing with complaints from the start, but now the system itself was getting old. Ascension of Our Lord's sanctuary is pretty standard for a Catholic Church – lots of hard surfaces and a high ceiling and, thus, lots of reverberation. The church's sound tech is knowledgeable and, between him and Dupuy, they had done the very best they could with the old system. We designed a Danley point-source system using Danley Direct modeling software and presented it to the church with a quote."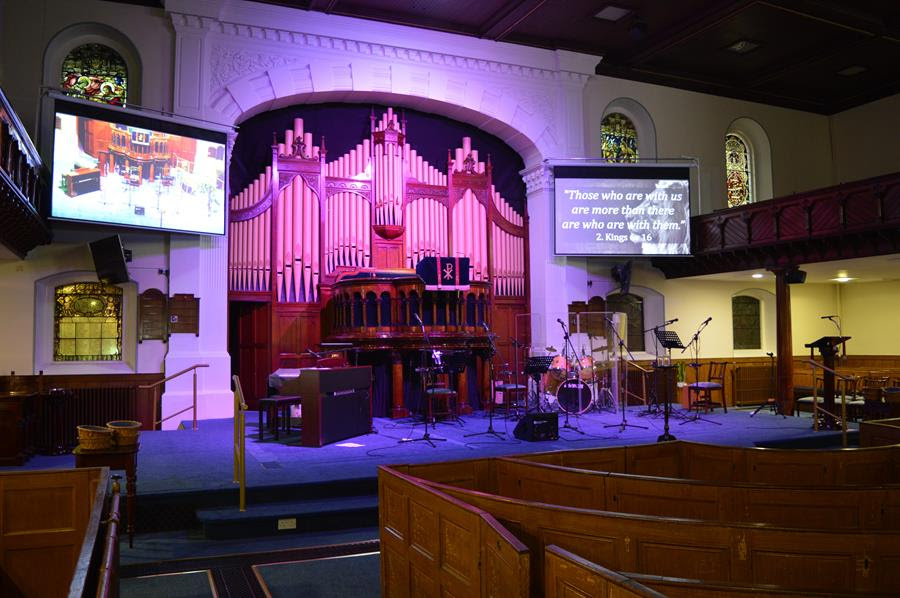 Originally dating back to 1623, the present First Bangor Presbyterian Church in Northern Ireland is a superb example of a traditional, early-Victorian Presbyterian meeting house.
When Rea Sound, who are based nearby, were first contacted by church manager George Monaghan, they were surprised both by the high level of organization, how specific the church was with its requirement, and how realistic it was with the large budget that would be needed to achieve this.
"In addition to a new sound system they wanted full AV and lighting as well," stated Rea Sound project manager, Roger McMullan.

Xilica® is proud to announce its sponsorship of NSCA's 2020 Pivot to Profit Virtual event (2020 P2Pv)and its companion year-long platform for helping integrators through business transformation conversations at a critical market juncture.
To support integrators as they evolve in a constantly changing market, Pivot to Profit began in 2016 as a two-day event focused onall-important business-transformation strategies, such as shifting to service business models and identifying revenue opportunities related to emerging technologies.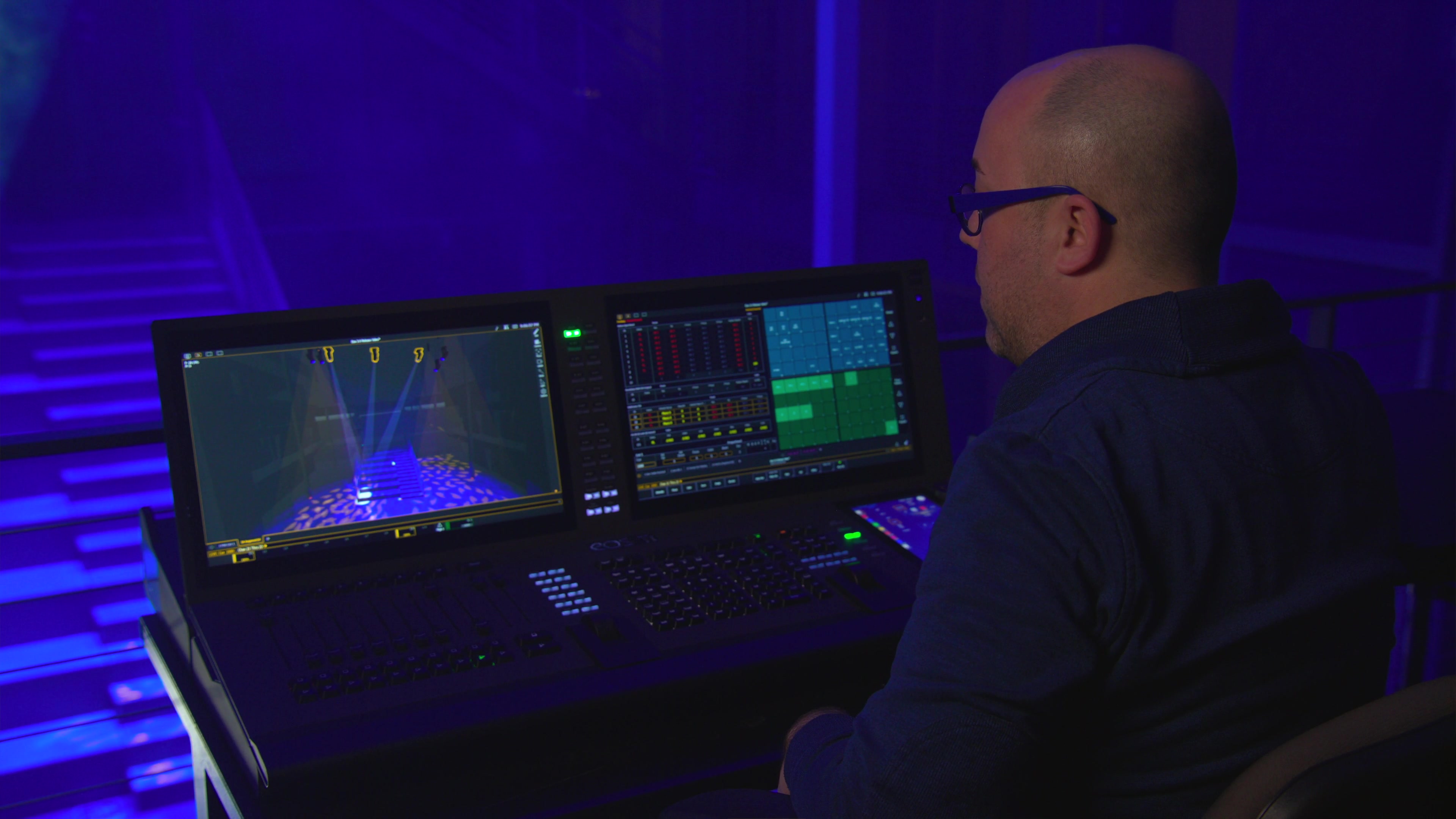 ETC officially released the
Eos v3.0
software, bringing powerful three-dimensional programming and augmented-reality control to the Eos platform. This update marks the official integration of the much-anticipated Augment3d toolkit into Eos. With Augment3d, users can program moving fixtures with unprecedented speed and ease, visualize their cues in an imported model of their space, and even position lights with a flick of an augmented-reality smartphone "focus wand." Over 5,000 beta users tested the software in recent months, and their feedback has helped to build one of the most exciting new Eos feature sets yet.
The new software runs natively on all the latest Eos Family hardware and can be used with the
ETCnomad software
on Mac and PC. Educators, students, and those wishing to learn the software can download the latest ETCnomad software for free and make use of the Augment3d programming space to create virtual design projects in offline mode. ETC has also created a virtual light lab show file to help students use Augment3d to learn about lighting.