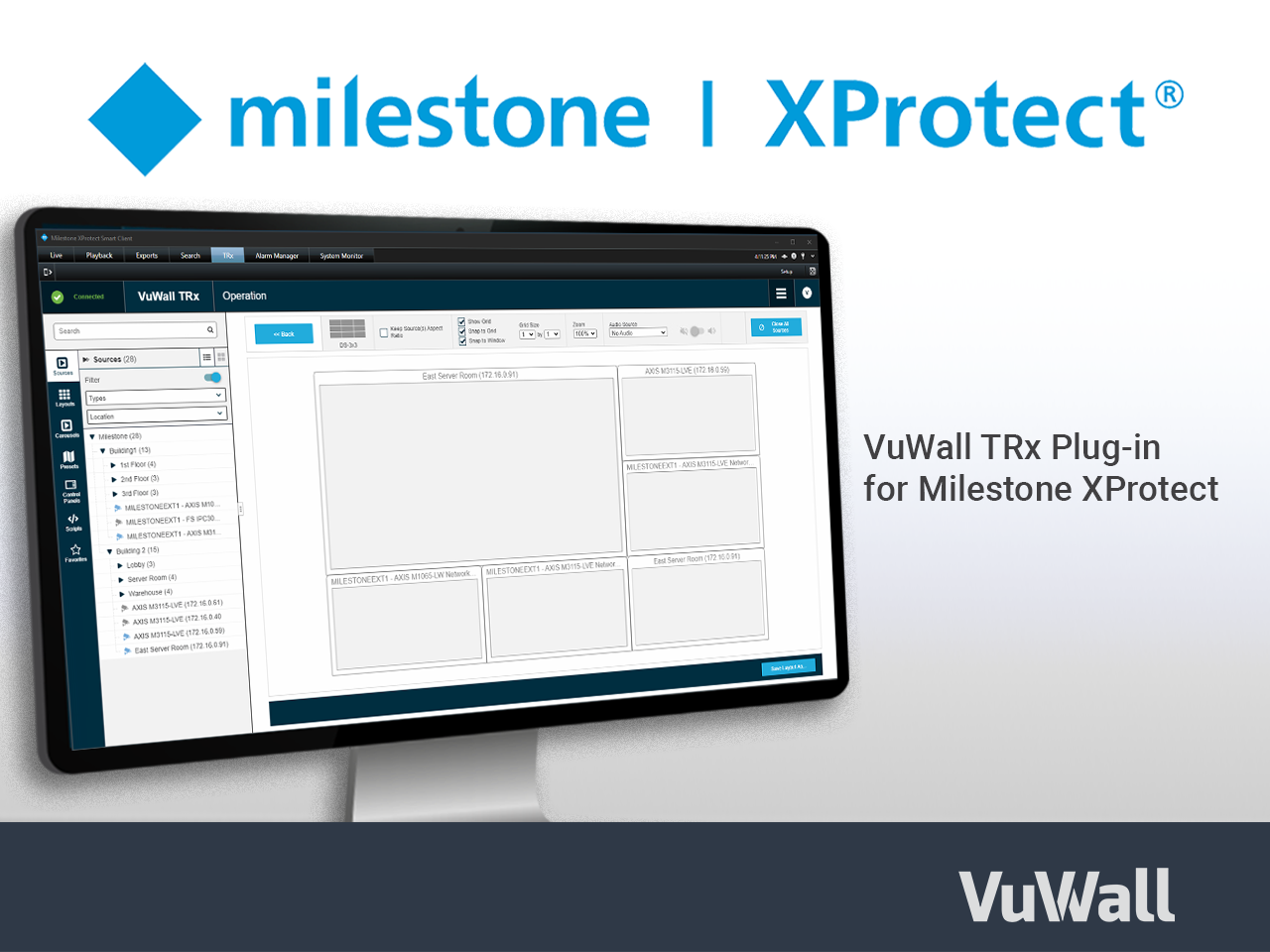 VuWall
, a technology leader in video wall control systems and unified visualization solutions, has expanded its software feature set with a plug-in for Milestone XProtect video management software (VMS). Available as part of the newly released
TRx™ 3.3 centralized management platform
, the Milestone plug-in enables control room operators to control content and manage video walls directly from the XProtect interface while benefiting from all of TRx's powerful features.
"When we introduced the Milestone XProtect plug-in four years ago, our goal was to bring a comprehensive approach to security and surveillance," said Fadhl Al-Bayaty, vice president of product management. "This update brings all the powerful features and the latest enhancements of our TRx platform to the already-familiar Milestone software interface. Operators will find it even easier to streamline workflows and make decisions."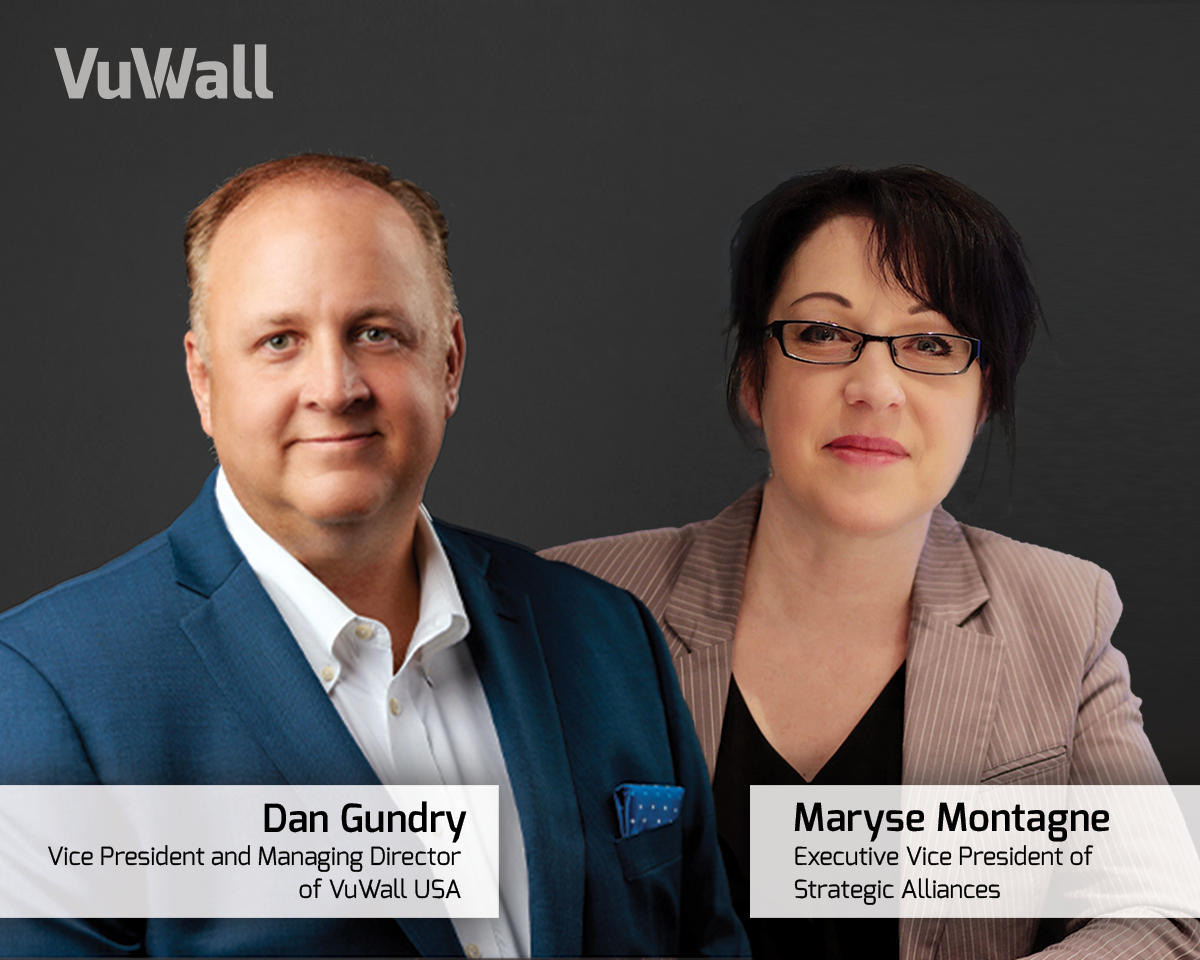 VuWall
, a technology leader in video wall control systems and unified visualization solutions, continues its growth and leadership in the industry with expansion into the United States and the appointment of key staff. As part of the company's U.S. investment, VuWall has appointed Dan Gundry as the new vice president and managing director of VuWall USA. In addition, Maryse Montagne has been promoted from vice president of sales, North America, to executive vice president of strategic alliances.
"In the last few years, VuWall has grown significantly and gained market shares internationally and in the U.S.," said Paul Vander Plaetse, founder and CEO at VuWall. "As American customers seek out our state-of-the-art ecosystem of video wall controllers, encoders, decoders, and software we want to ensure they have a robust regional presence that will continually serve and support them. Additionally, as more and more customers and technology partners operate globally, we strive to provide them with coordinated attention and resources. Our investment in Dan and Maryse is part of those efforts and will help accelerate the adoption of VuWall solutions."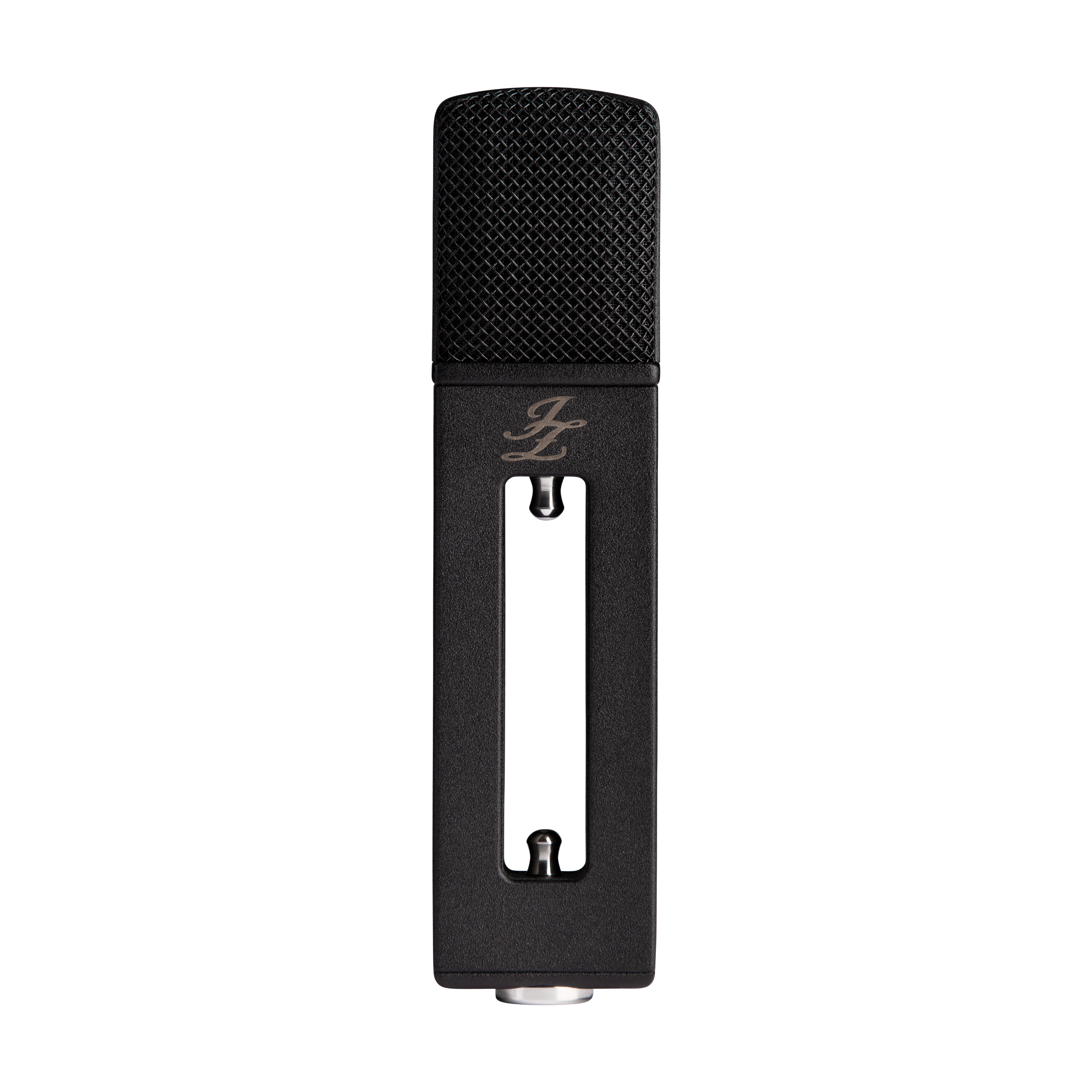 Excellent clarity and full richness are how industry professionals describe the sound of the Black Hole series microphones BH2 and BH1S. These premium-level handcrafted studio microphones are designed for engineers and producers demanding only the best and give true confidence in any kind of recording situation! The Black Hole Series is the result of relentless improvement of technology, spanning more than 30 years and it has repeatedly questioned the status of the all-time classics. All JZ Microphones products have been designed with strict "no-compromise" rules and are manufactured and tested in Latvia (EU) by a team of highly qualified experts! Click headline to learn more.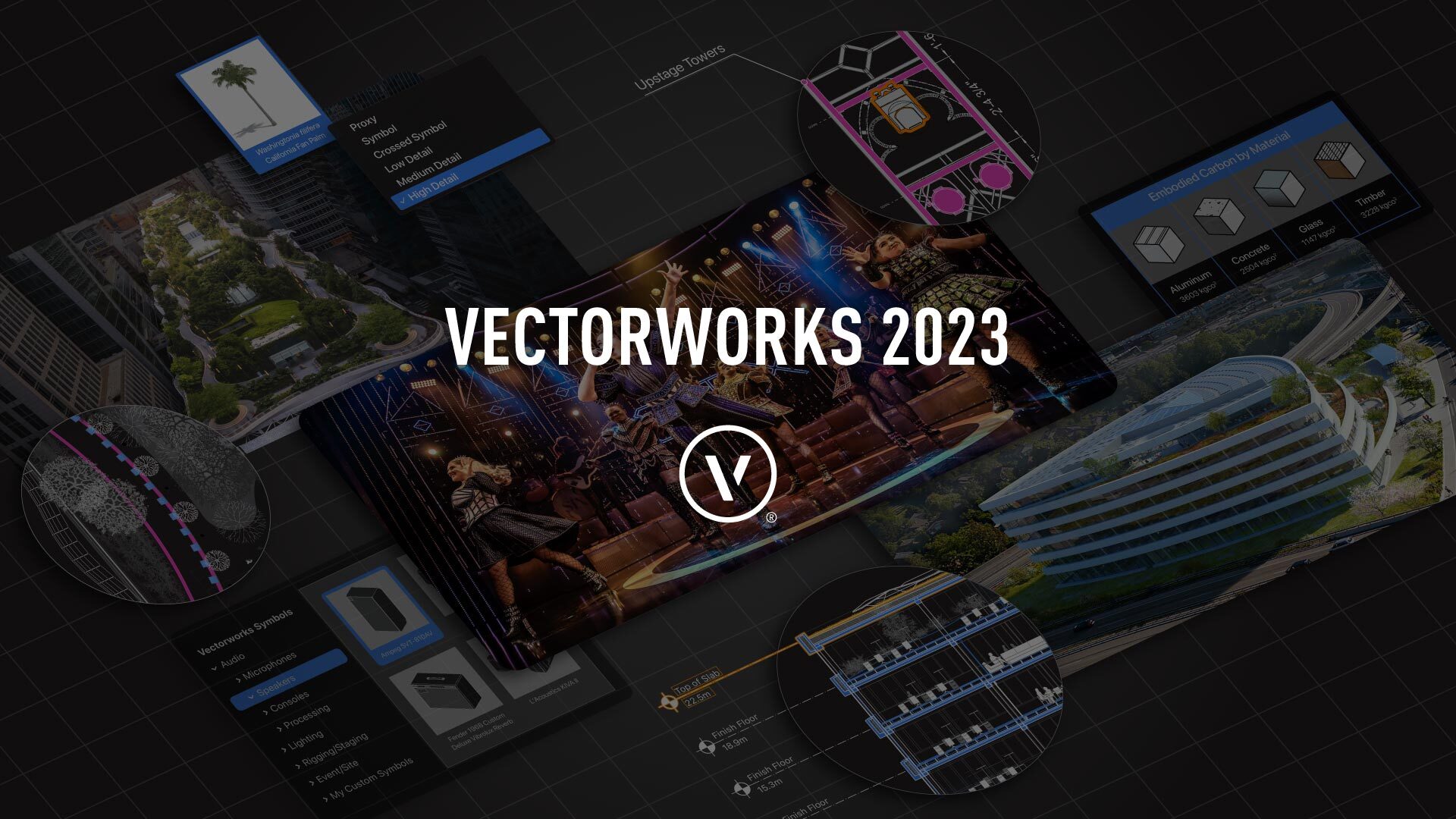 Global design and BIM software provider
Vectorworks, Inc.
releases
Vectorworks 2023
, featuring performance improvements and tools developed to give users more time to design. The 2023 release includes Vectorworks Architect, Landmark, Spotlight, Fundamentals, Braceworks, ConnectCAD and Vision with the English-language editions of these versions available today.
"We understand the importance and value of time and we're excited to give some of this critical resource back to designers with Vectorworks 2023," said Vectorworks Chief Technology Officer Steve Johnson. "In our continued effort to empower our users to design without limits, our latest release boasts upgrades to essential tools that will lessen the need for manual work. With the freedom to model anything with fewer steps, more automated operations and more ways to collaborate with others, users will be able to supercharge their workflows and maximize their productivity."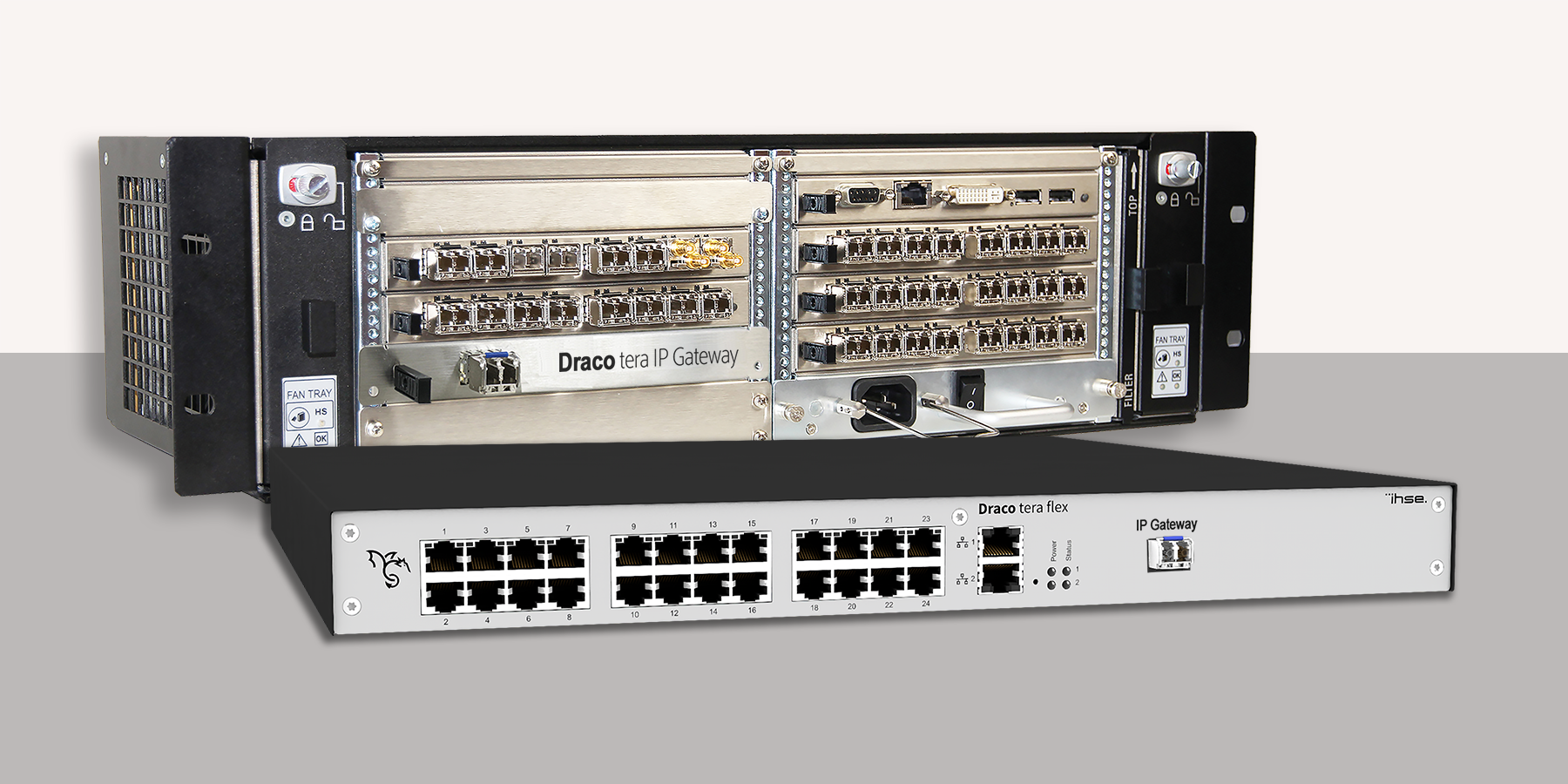 IHSE USA has announced a groundbreaking new solution:
Draco tera IP Gateway
. The Draco tera IP Gateway provides users with the ability to bridge multiple KVM matrices over existing IP networks within buildings, across campuses, and between remote corporate offices. Integrating the high levels of security and performance of the Draco tera KVM system with the flexibility and ease of connectivity inherent in IP-based communication, users can access remote computers and interact in real time with minimal latency and no visible artifacts.
"Now you can securely expand and connect multiple KVM systems across geographical locations with ease," said Dan Holland, marketing manager of IHSE USA. "Via a LAN or WAN, users have the ability to connect globally to KVM systems as one flat matrix. Whether organizations need a solution for intrabuilding connectivity, campus networks, intracity networks, or intercity networks, the Draco tera IP Gateway is the perfect link."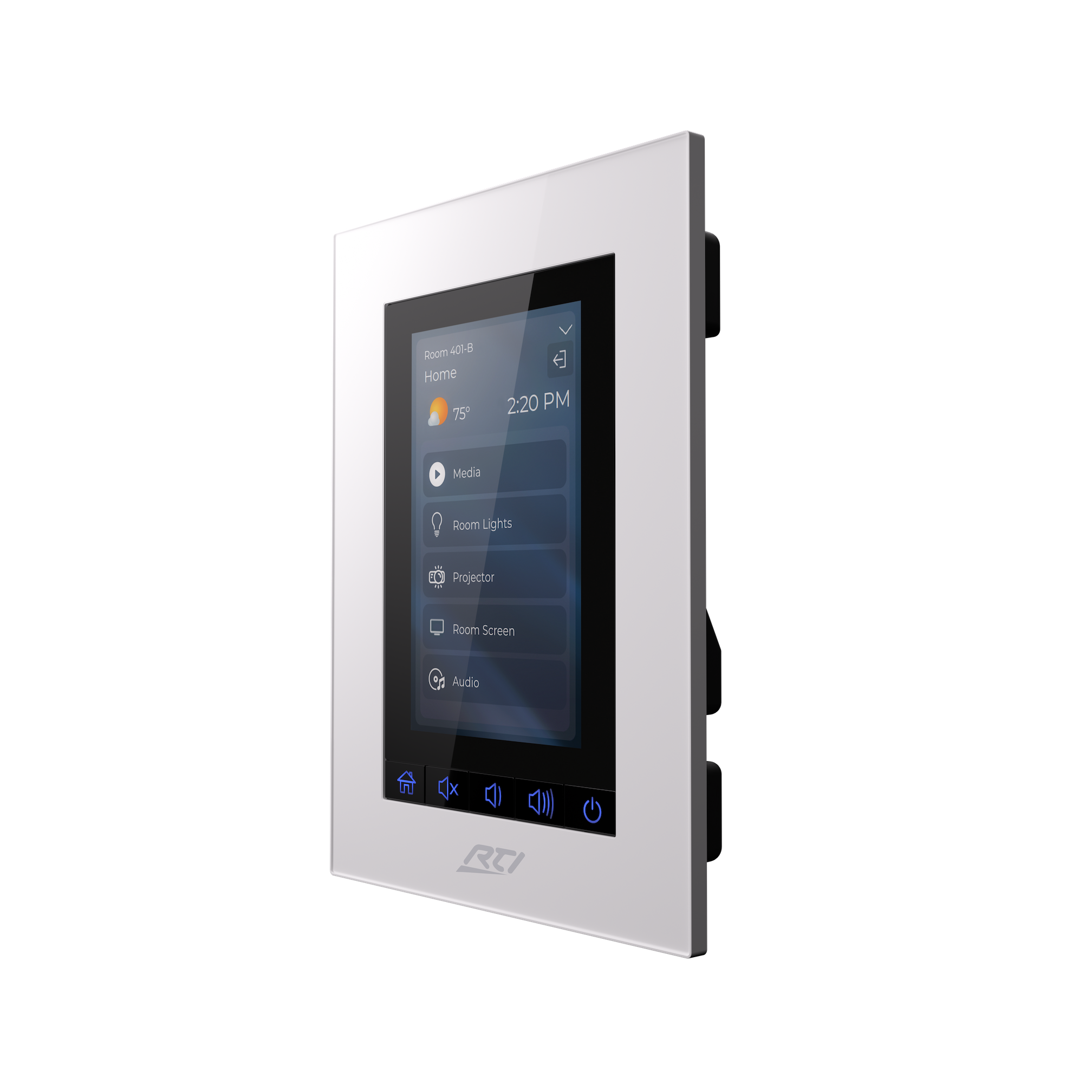 Leading control and automation manufacturer
RTI
today announced the new KX4 touchpanel with built-in processor to simplify single-room commercial installations from boardrooms to lecture halls that require both on-wall control and processing power to control multiple devices. Shipping Nov. 1, the KX4 combines a 4-inch capacitive touchscreen and five-button interface with a control processor for fast and cost-effective installations in all single-room environments.
RTI Image"Single-room commercial control is our fastest growing category, and the KX4 is designed to meet this need with an easy-to-deploy solution," said RTI Product Director Robert Lawton. "Combining an in-wall touchpanel with hard-button control and an integrated processor gives commercial integrators the opportunity to create faster installations with the fully customizable control their clients demand."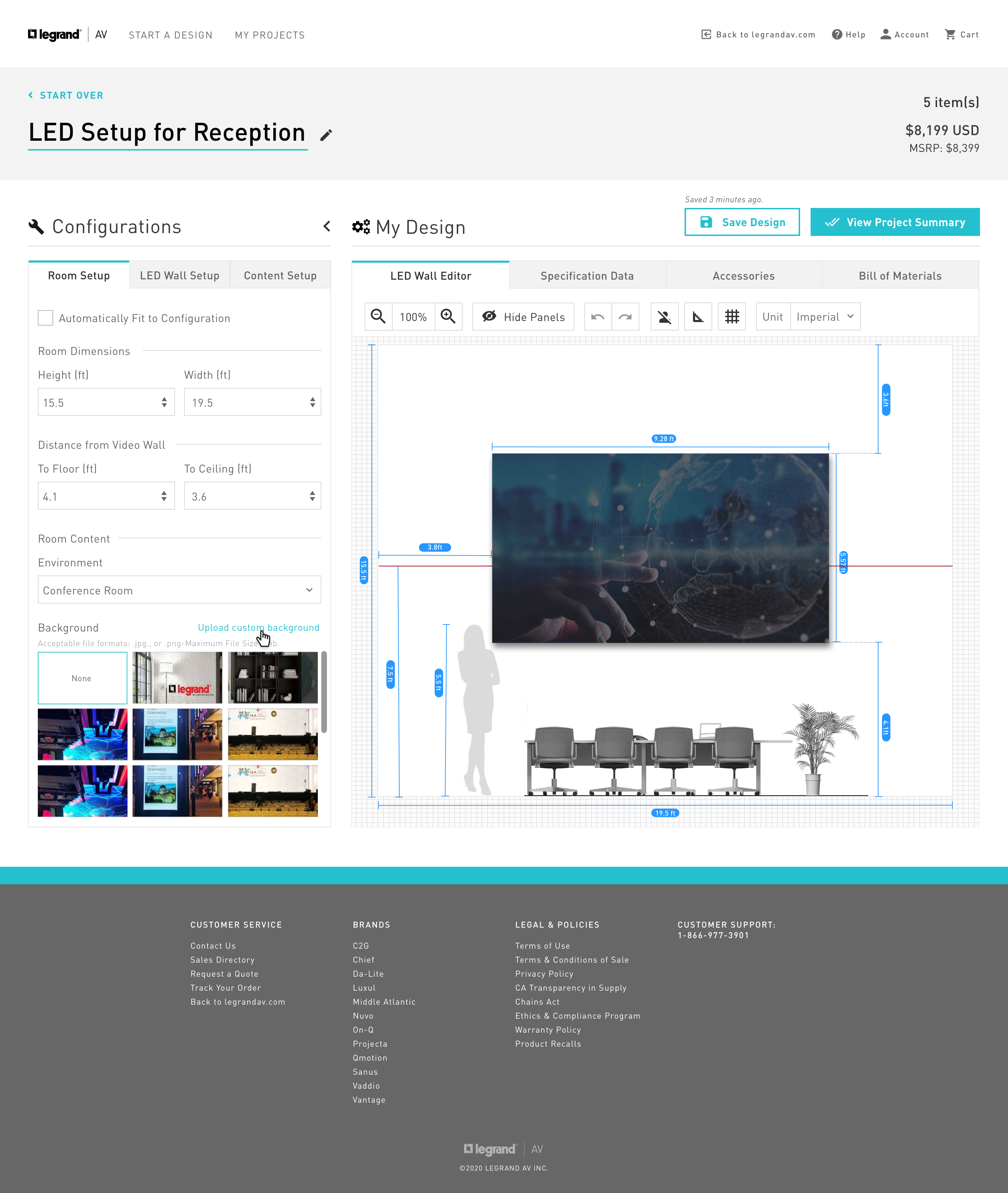 C2G
is helping alleviate the pain points of designing and configuring video walls. The company's range of IEC to NEMA, HDMI, and networking solutions are now part of
Chief's new video wall configuration tool
for TiLED™ direct view LED Mounting Systems. The TiLED Web Tool is designed to help visualize and customize creative video walls, supporting standard content resolutions and unique free-form designs, and is backed by proven C2G cable and connectivity options to create a reliable foundation.
"Of course, a great video wall experience begins with a great foundation, which starts with Chief's range of mounts and our broad portfolio of high-performance options to get it all powered up and connected," said Robert Mays, Associate Product Marketing Manager, C2G, A Brand of Legrand. "This self-service tool not only provides the necessary visualization resources but also creates a fast, seamless ordering experience. The best of the best is all in one place, eliminating the headaches that come with video wall projects."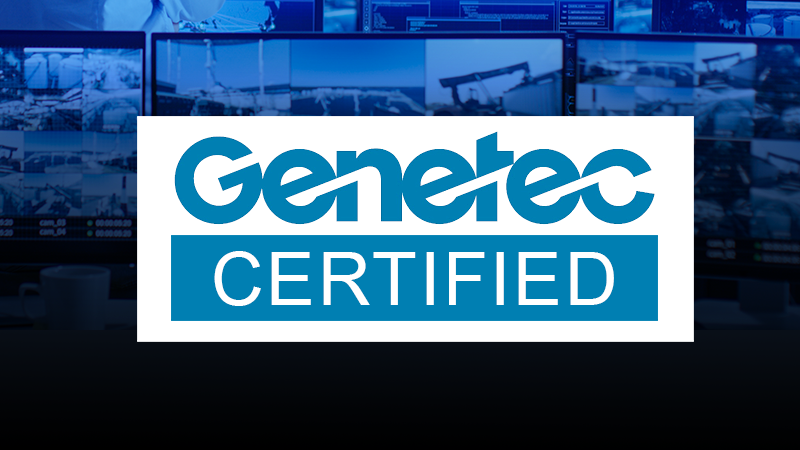 VuWall
, a technology leader in video wall control systems and unified visualization solutions, today announced that its TRx centralized management software is certified by the
Genetec™ Development Acceleration Program
to run with Genetec™ Security Center 5.10. The new plug-in allows Security Center operators to control content and manage video walls directly from the familiar Security Desk interface without switching between applications, improving operational workflow and efficiencies.
With a simple drag-and-drop operation, operators can remotely display and control layouts from any source on video walls directly from Genetec's interface — such as live video camera sequences as well as play back streams from a video server. In addition to IP content, the plug-in can manage video wall content that is not directly related to the Genetec system, such as control data; HDMI inputs; and local applications, including maps and web pages. The greatest benefit is the ability to mix all the sources together, where all content can be viewed on one large canvas or video wall.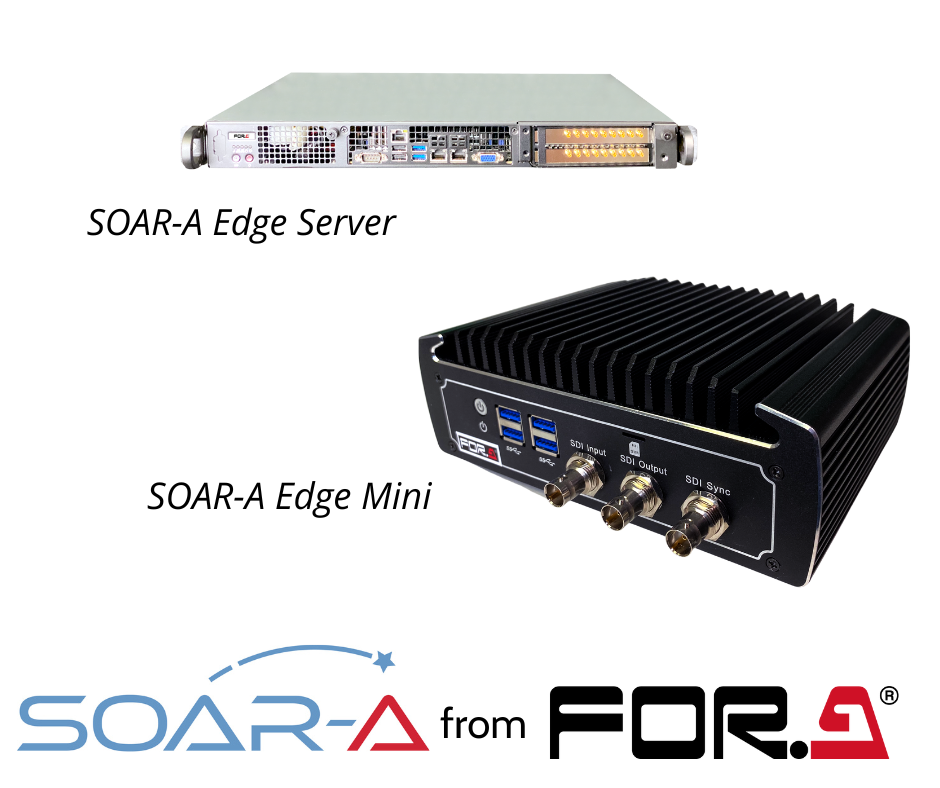 New at IBC this year will be the first two introductions in a new product category from FOR-A – the SOAR-A series. The name stands for Software Optimized Appliance Revolutionized by FOR-A and marks the company's direction toward a software-based strategy for a variety of applications. First out of the gate in the SOAR-A line will be SOAR-A Edge – highly secure IP transport appliances from two- to 16-channels; and SOAR-A IPTV – an ultra-low latency, web distribution service that provides streaming from one location via WebRTC to any number of remote browsers or set top boxes. Detailed information on SOAR-A line is available here:
https://www.for-a.com/products/soara/
FOR-A will exhibit in Hall 2, Stand A51 during the IBC show.
With a combination of new and expanded partnerships and an emphasis on software-defined advances, FOR-A has created a complete solution that addresses a variety of live video production applications, such as broadcast, sports, corporate, and houses of worship. The SOAR-A system serves content creators transitioning to all flavors of IP, including SMPTE ST 2110; live event producers looking for a 12G 4K video production solution; as well as those looking for a workflow with low latency, software-based services.