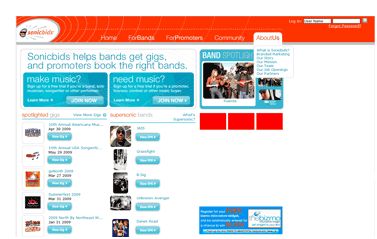 Every songwriter is looking for ways to be heard. Some are looking for booking opportunities. Some are hoping to submit songs for projects with the hope of landing a publishing deal. There are a number of websites available that provide opportunities to connect writers with film and music projects or to find opportunities to play live. Here are just a few of the top sites to check out.
www.Taxi.com – TAXI helps unsigned bands, artists and songwriters get record deals, publishing deals and placement in films and TV shows. For a membership fee of $ 299.95 a year, Taxi provides access to real opportunities for writers.
www.Broadjam.com – Broadjam is an international web community dedicated to independent musicians and their friends. Broadjam members can enter song and music contests, submit songs for TV and Film opportunites and much more. You can join for FREE and pay a $ 20.00 per submission fee or you can join for an annual membership $ 199.95. This gives you a substantial savings on submissions to projects and allows you to upload up to 250 songs and allow you to sell music downloads.
www.Sonicbids.com – Sonicbids helps bands get gigs and promoters book the right band. They offer a trial membership for one month with a monthly fee of $ 5.95. Through this website you can establish an Electronic Press Kit or submit your EPK to booking agents looking for independent artists.
www.Indieheaven.com – Indieheaven is a website for independent Christian musicians/singers/songwriters/band/worship leaders/performing artists to join and present their content in a professionally designed and safe profile where fans, consumers, industry and others can discover them and engage in their content and purchase their music through ordering CDs via mail order or downloading single songs or the entire album. Through a recent partnership with Indelible Music Group members of Indieheaven.com have the opportunity to submit songs for the Top 20 Indie Worship Project. The monthly membership fee is $ 19.95.
While not all of these sites are Christian specific, they do offer unique opportunities that would be of interest to the worship community. In future we will continue to highlight opportunities for independent writers to promote their songs to the growing world of digital distribution.
Holland Davis is a published songwriter, worship leader and conference speaker. He serves as the Devotional Arts Pastor at Ocean Hills Church in San Juan Capistrano with his wife Roxie and kids – Austin, Chase and Madison.