Product Review: NewTek TriCaster 850 EXTREME
By Tim Siglin

Editor's Note: As of NAB 2012, NewTek has replaced TriCaster 850 EXTREME with TriCaster 855 as part of a move to a next-generation line of TriCasters. The new TriCaster software platform includes a complete overhaul of critical media-handling processes that offer even more real-time production capabilities. However, some key features and functionality of the TriCaster 850 Extreme, discussed here, remain in the current TriCaster 855 model.
I have had the opportunity to review NewTek's TriCaster 850 EXTREME for other publications where the focus was more on general use. With a background in technology design for houses of worship, though, I wanted to review the TriCaster 850 EXTREME with an eye towards its use in this growing community.
To do so, I enlisted the help of Chris Chapman, Media Director at Sisk Memorial Baptist Church in Fort Mill, South Carolina. Chris and I grew up together, running soundboards at a local church near Charlotte, NC, for radio broadcast and distribution on cassette and CD. While I've since tuned most of my consulting to streaming delivery for multi-campus churches, Chris has continued to set up and run media production at two churches over the past decade. His hands-on experience, plus the first-time exposure to the TriCaster 850 EXTREME, made Sisk an ideal location to test the TriCaster in a TFWM-friendly environment.
"I was very impressed with the ease-of-use of the TriCaster 850 EXTREME," Chapman said, summing up his five-week test period with the TriCaster.
For those who may not be familiar with NewTek's family of products, the TriCaster line of live production systems is comprised of desktop and rack-mount models used to create multi-camera video programs for live broadcast, recording, projection and Web streaming—all in a single, compact platform—with a range of creative tools, effects and hardware capacity to suit anyone from the novice to the seasoned production veteran.
For his testing of the four-rack-unit (4RU), HD-capable TriCaster 850 EXTREME, Chapman chose to set it with two cameras, using the TriCaster to match the output quality of two fairly disparate cameras.
"We use 2 different types of cameras at Sisk," he said. "One is a Sony HVR-HD1000U and the other is Canon GL2. I was very surprised how the two cameras were very close in the picture quality, especially after doing some adjustments to the TriCaster's input settings. Those settings allowed us to tweak the input images to get the cameras a little visually closer for seamless switching between cameras."
In addition to Chapman, there was another tester at Sisk: the weekly operator of the TriCaster was Troy Tyson. The operator feedback was critical to our testing, as Troy picked up on several benefits as well as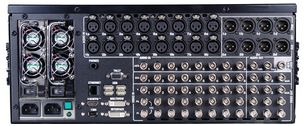 areas that he'd like to see NewTek improve upon.
"We had plenty of options for correction while recording," said Tyson, "I see the TriCaster as a one-stop-shop for recording and streaming, and it's especially great for churches that do not have a lot of space for equivalent equipment."
His only major complaint, a known issue with a 4RU unit that's more geared toward installation in a separate control room, is the noise level.
"If we could put it in a separate room, and have a touch-screen interface, that would be ideal," said Tyson. "Then the noise issue wouldn't be as big of a deal as it is when we have our sound and video equipment in the balcony overlooking the sanctuary."
Chapman also tried out several other options, including the Live Text and digital disk recorder (DDR) functions.
"Live Text is a great tool to use for a lower third title," said Chapman. "Our Children's Program at Sisk watches the service in another room and we are able to use Live Text to additional advantage, using the lower-third as a place to put bullet points from the sermon directly in to the broadcast. This provided the Children's Program viewers a way to take notes and pay closer attention to the message than we've been able to do before."
Sisk provides video announcements before the sermon, so the DVR feature was used to play these videos in sequence.
"We do an announcement video before our service," said Chapman, "and DVR provides a much better way than we've normally done—pointing a camera towards the projection screen to capture the output. The DVR function lets us have the video announcement recorded onto our media with no extra effort, other than switching from a camera input to the DVR input."
In addition, the Sisk team used the live stream feature to tie in to their Sermon.net account.
"We use sermon.net for our live stream feed," said Chapman, "which we've done up until now with a Mac running a software-based encoder. Since the TriCaster has a setup for sermon.net, we were able to easily set up the feed using the better-quality and graphics-rich TriCaster feed for our live streams on Sunday morning."
There was only one drawback to the TriCaster 850 Extreme, in Chapman's opinion: the audio portion of the TriCaster wasn't as robust as the video mixing side.
In Chapman's opinion, the only drawback to the TriCaster 850 EXTREME was that the audio mixing of the system was not quite as intuitive as the video mixing side, but all in all, he walked away from the testing experience a true believer.
"While the TriCaster TCXD 850 EXTREME is a little overkill for what we do at Sisk," he said, "I am looking into one of their other smaller scale HD switchers. I know that several other models also come with the Live Text and Live Stream features so that will serve my purposes well."
As of press time, NewTek has announced several new models including the TriCaster 8000, a 24-channel live production and media publishing system for programs of any scale that can deliver anywhere, including directly to social media sites. In addition, NewTek's TriCaster next-generation line includes TriCaster 855 and TriCaster 455. TriCaster 455 is HD-capable with four video inputs. We'll keep an eye on these models and provide a follow-up review on one after we've had a bit of time to test these new devices.
Tim Siglin is Chairman of Braintrust Digital, Inc., a production and system design company, and co-founder of consulting firm Transitions, Inc. He's been involved in worship media distribution for more than 25 years.