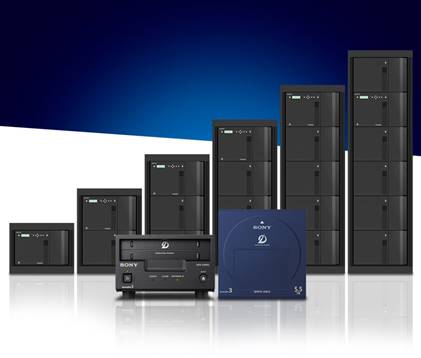 Sony Electronics Inc. announces the launch of Generation 3 ("Gen3") PetaSite Optical Disc Archive technology, which is now shipping. The high-capacity archival storage solution scales from 165 TB*1 to 2.9 PB*1 of immutable optical storage in a standard 42U Rack. This launch follows Sony's recently announced Gen3 high-capacity USB desktop drive units (ODS-D380U), fibre-channel library drive units (ODS-D380F) and 5.5 TB media cartridges (ODC5500R).
Sony's enterprise optical disc archive solution provides secure, immutable data preservation for a wide variety of applications and industries, including: corporate IT, state and local governments, surveillance, banking, education and healthcare, among others.
In keeping with Sony's commitment to its customers and focus on long-term archive solutions, The Gen3 enterprise class eight-channel, dual-sided optical drive is write compatible to Generation 2 and backward read compatible to all Optical Disc Archive cartridges.