Case Study: Cedarview Community Church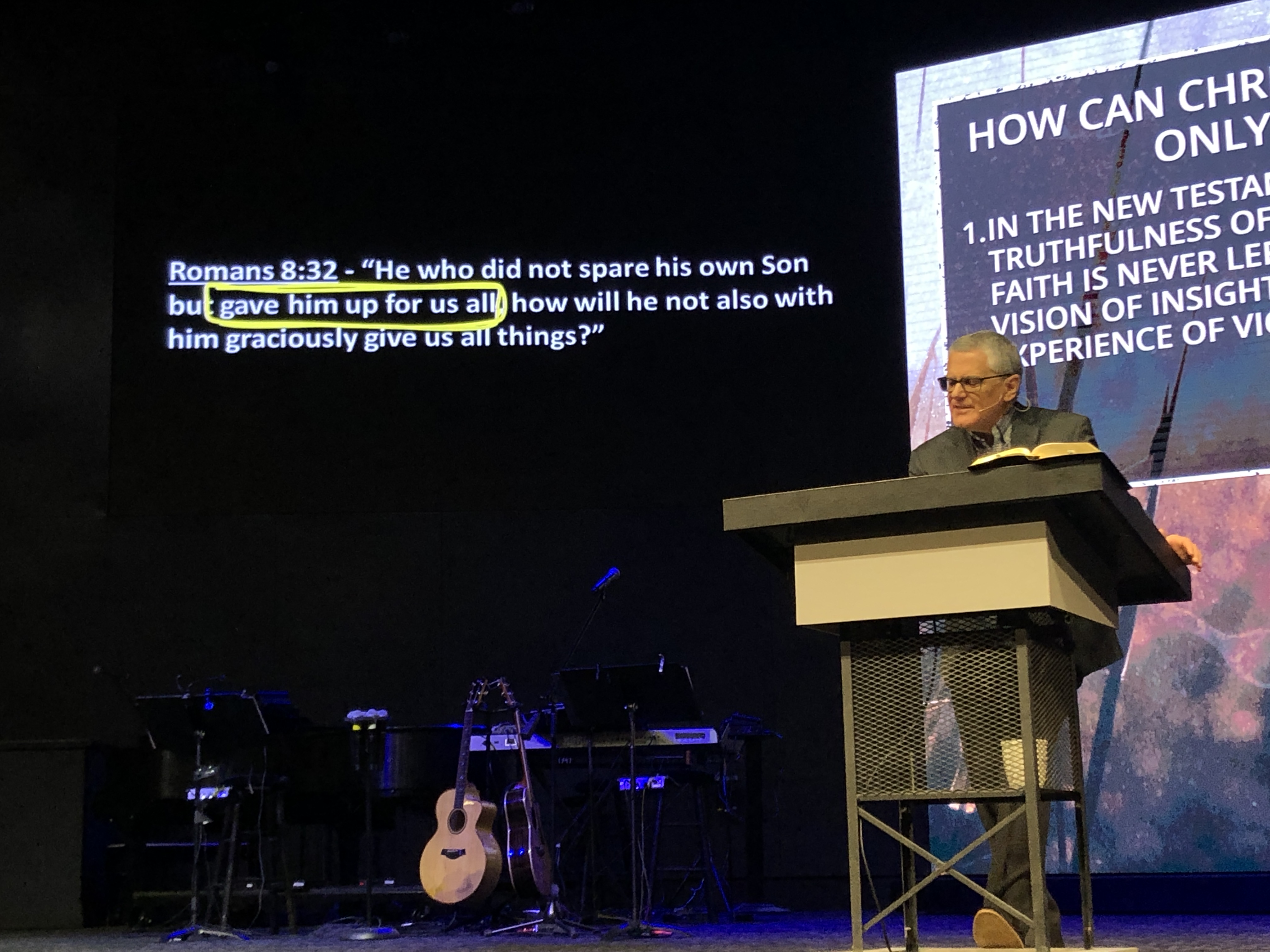 At Cedarview Community Church, we teach God's word, prioritize worship, welcome God's spirit, proclaim salvation, seek God's face, serve God's people and have a heart for missions. As we strive to equip the local church body to grow and to be Christs' extended hand to the community and world, we aim to do it with excellence and purpose by directing all attention to Jesus Christ. It's important for the church to be focused on God's word and to honor its authority over every aspect of our life and conduct. With that comes a heart of worship, a sensitivity the Holy Spirit in line with New Testament Scriptures and desire to reach the lost.
I have worked with Cedarview a few times. I actually attend the church and serve as their Technical Director, and over time – because of the age of the gear in the church – they needed to look at modernizing and replacements. In some cases, the church ran into emergency situations where gear needed to be replaced immediately. As an integration contractor, we set up a stewardship approach which allows churches to plan for natural evolution for failure and obsolescence, identifying and planning for replacement equipment before it reaches a fail point.
We try to maximize the ministry budget in every way possible to minimize emergency expenditures and panic purchases, maintaining a level of uninterrupted technical excellence during worship. This requires us to work closely with leadership to understand their vision for the church, so we can plan for the future and purchase equipment accordingly.
We recently installed a nearly 60 foot wide LED screen in the main sanctuary; with a height in the middle of 18 feet, and on either side about 10 feet high. The screen is also curved to create 3 flat sections, due to the nature of the fan shaped room. As we knew we were going to have to replace the projectors soon, the decision was made to convert to LED video wall technology; we ordered the LED display and its processors in March 2018. While manufacturing of the display was underway, we ordered other parts of the system, including Blackmagic Design's ATEM video mixing system. We ran new SDI video feeds to the sanctuary and the South Sanctuary, and also added back trusses with eight four CHAUVET Professional COLORdash HEX IPs, along eight Elation Professional ACL 360i moving heads, and Chorus pixel bar wash luminaires for front lighting.
Cedarview is primarily contemporary, although we don't forget the well-loved hymns. Our sanctuary seats 1130 people; we normally have about 700 to 900 people at our morning worship, and 400 for our evening worship. During special events, when the main sanctuary is at maximum capacity, the South Sanctuary becomes the overflow room, seating another 300. The Worship Team includes about 25 people on the stage – eight to ten worship singers, plus the musicians (3 guitars, horns, strings, drums, piano and keyboards), so sight lines for the screen were factored in before we designed it, and played a role in the decision to extend the center screen to the floor. The production team used the new Clearcom system to keep in constant communication.
Since the platform is concrete and the proscenium is wood, we also reshaped and reinforced the platform to eliminate noise. The Baptistry was also replaced with a custom-built tank, which can be rolled out onto the platform as needed.
Having the LED screen custom built to our clients' specs allowed us to incorporate the curvature we needed in our design. We had a specific black mask made for the panels, choose the LED diodes being used, heavier UL rated power supplies, the type of mounting hardware, and the connections we needed for our cabling – and still saved money!
The pixel pitch on Cedarview's LED wall is 2.8 mm, with the closest seating roughly 20 feet away, allowing for a nice crisp image with high contrast. We don't really have a lot of ambient light in our space, but the house lights are always on at different levels, so light bleed on the screen had been a serious problem in the past. However, with the LED wall, we only need to run at 40% brightness to eliminate any outside lighting issues.
We are also transitioning Pastor Don to a new iPad app for his onscreen notations called "Preacher's Whiteboard, which we designed to overcome many of the problems of using a regular iPad app in a live environment. (The app is available for iPad on the App Store; search for Preachers Whiteboard)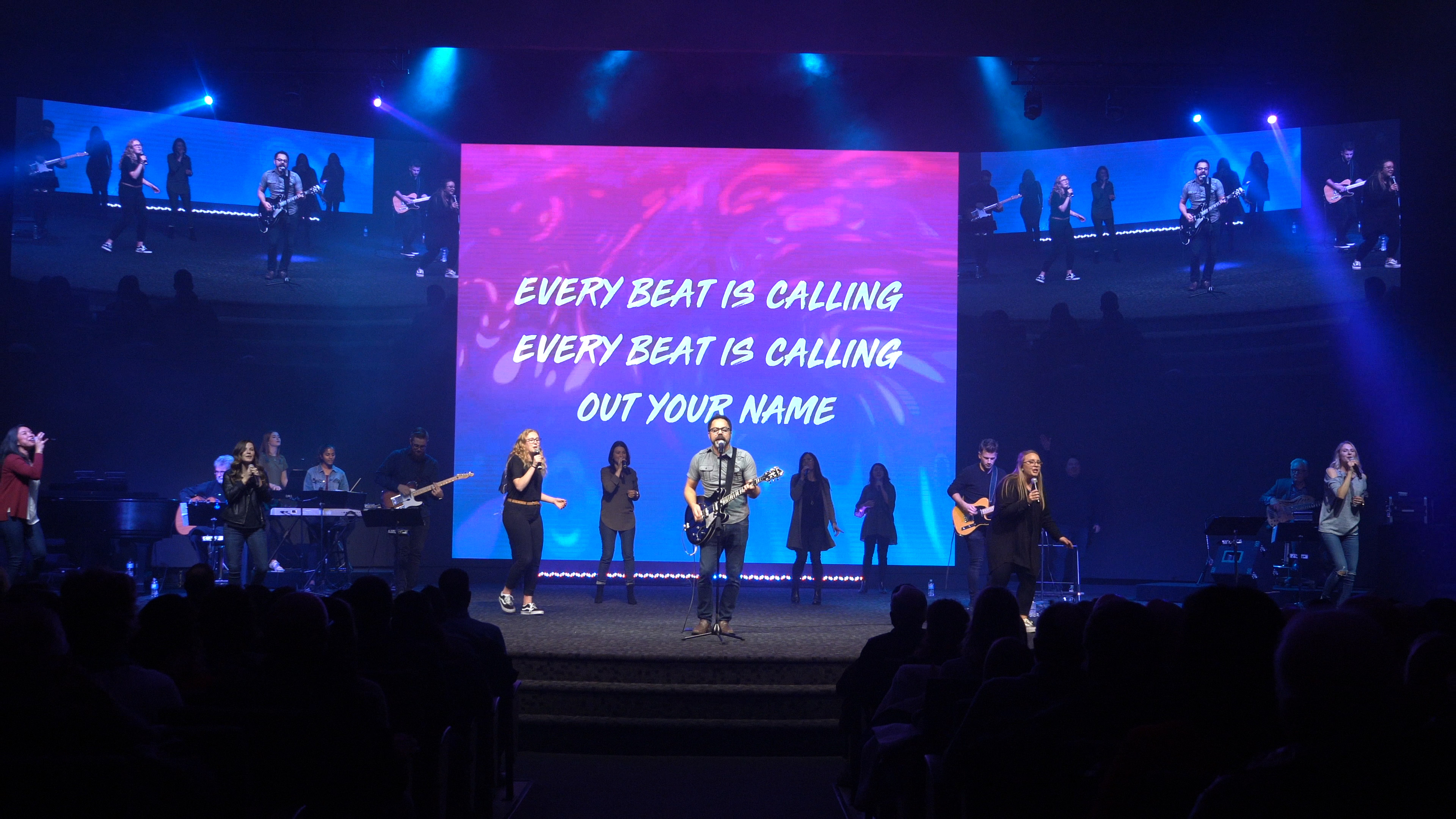 We are currently researching options to replace our existing cameras (currently only 1080i). New cameras had been factored into our budget for the wall, but we are looking for the perfect solution for our volunteer camera operators, who prefer not having a lot of manual focusing. We did install a vari-focal AIDA PTZ camera installed on the side wall in September.
Through stewardship-based planning over the last 10 years, Cedarview has upgraded to 96 channels of Allen & Heath digital mixing, SLS line array speakers, and a completely "silent stage". The various components are synchronized with a Control4 Automation System, allowing the Tech Team to start up and shut down everything without dozens of switches and buttons being manipulated.
The whole ongoing project provides high value with high quality and ease of operation, and still comes in at lower cost than many equivalent systems. Knowing that this stewardship approach helps the church is a blessing.
Q&A with Thomas Hoover, Worship Ministries Pastor, Cedarview Community Church, Newmarket, Ontario
TFWM: What was the driving factors for this upgrade?
Thomas: We don't spend on technology just to get the latest and greatest. Our church is one of the top in Canada for missionary support and funding—that's one of our greatest priorities. The upgrade to the audio, video and lighting systems we use for every event is a tremendous benefit in bringing more life to the songs we are using and touching on the congregations' sense of sight and sound. We want to use every avenue possible to enhance the service and make each song of worship the best we can make it. It is not my intention to use technology as a distraction or to make it the reason people attend, but I do want to strive for excellence in what we present to God in our worship.
TFWM: This upgrade included changes to so many different systems – why?
Thomas: Media Dynamics had been giving us ongoing stewardship assessments that revealed the progression of growing needs well in advance. More importantly, it showed the dependencies between different systems. For example, our new system would require the video mixer be changed, which in turn required that the 25-year-old comms system be replaced for the additional operators. Next on our list is cameras, since that is still the remaining weak link in our overall system.
TFWM: You jumped from two very large projectors to 60 feet of LED video wall. How did you rationalize the cost?
Thomas: We have been watching the age and gradual decline of image quality of our projectors over the years, and we were alerted that we needed to plan for a large expense before we were forced into it. In essence, the timing was right. The cost difference between the replacement projectors we needed verses an LED video wall was not as great as we originally thought, and with the LED video wall we can have every light in the sanctuary on and still get a great video image. This allowed us to amplify and improve on the different elements of a service that is noticeable in our worship, teachings and special events.
TFWM: How was the transition to the new system?
Thomas: It was very exciting and – I can't lie – a bit scary. The process was carefully planned to ensure the volunteer operators had direct training and practice on the new equipment before a new segment of the system went live. We tried to keep the communication lines open so that the production teams involved in the changes were aware of what was taking place. We also tried to add new elements slowly to prevent shock to the congregation. Through all of our careful planning there were still the inevitable wrong button pressed, but it was quickly recoverable.
TFWM: What does the future hold?
Thomas: This was a major upgrade to carry us through the next 7-10 years, allowing us to add more outreach, conferences, special concerts, and other events to our church calendar. It's important for the church to evaluate and consider technology as it changes and to consider and determine if it is the direction they see for their church and for the church as a whole. As we continue to surrender everything to Him and strive to do His will in everything we are entrusted with, He is faithful to meet us, dwell among us and use us. We want to do our best for Him. We don't want to be a distraction we want everything to point to Him. God is good!