Battle of the Bands a Winning Formula for Martin Audio & Focusrite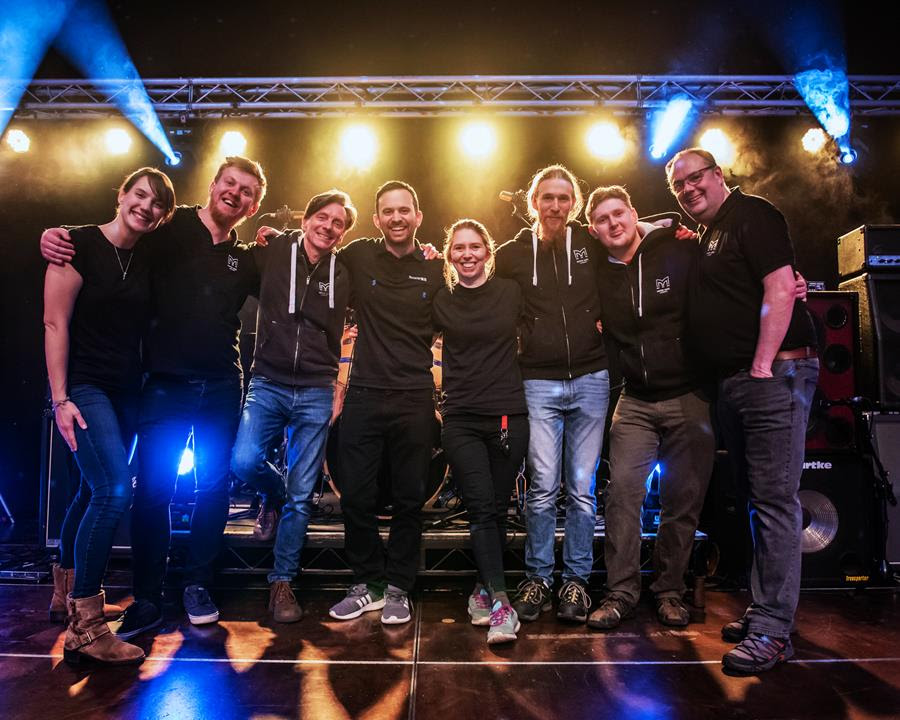 Buckinghamshire Music Trust (BMT's) Battle of the Bands (BOTB) contest for young aspiring musicians was this year blessed by having two of the world's leading pro audio manufacturers provide a top tier concert touring spec. By being able to broadcast their sound through a premier touring PA, on a Dante backbone, will have taken the 12 bands competing in the final into new territory.
The two High Wycombe-based manufacturers concerned were Martin Audio, and Focusrite Pro, both now under the umbrella of parent company, Focusrite plc.
It was Stephen Button, Focusrite's EMEA Channel Marketing Executive, who established the relationship with Buckinghamshire Music Trust (BMT) several years ago. It started when he helped them out as a local musician with their monthly event Guitari Lounge, an open mic night created for under-18-year-olds.
BMT evolved from teaching young people 'traditional' instruments such as trumpet, flute or violin to now providing a program called Hi-Gain—an after-school activity for musicians in bands, or self-taught musicians wishing to gain experience of playing in a group. The program offers young people the opportunity to develop their performance, song-writing and music technology skills on a weekly basis. The jewel in the crown for these students is the annual Battle of The Bands event, now in its sixth year, which is held at the Wycombe Swan Old Town Hall. It is an opportunity for these young musicians to experience a professional setup with large stage and big audiences.
In recent years Focusrite's interest has increased as a sponsor and prize-giver, with Button himself participating on the panel of judges in 2019. When Focusrite plc made the acquisition of Martin Audio late last year, he could see an opportunity to help BMT improve the Battle of the Bands event even further. "It became clear that we could not only provide prizes but offer a professional live sound PA through Martin Audio," he said. "The other great part was that we could also record all the bands using the Focusrite gear over a Dante network.
"We could give a parting gift to all 12 finalists. Each would receive their live tracks for them to do what they want with—whether it be mixing at a later date in their DAW of choice or using them as practice tools to see how they could improve their craft."
In planning the event, Focusrite's Head of Product, Will Hoult was soon talking to Ben Tucker, Martin Audio Product Support Engineer, aware that all kit would need to be Dante-compliant: "Ben and I were really keen to deliver an experience for the bands which mirrored the setups from some of the biggest acts around the world—like the RedNet preamps used on the Foo Fighters' Sonic Highways tour and the Martin Audio system that is being utilized in tours and festivals." Tucker specified the Martin Audio equipment and piloted the house mix on a DiGiCo SD12-96 while colleague Nigel Meddemmen was down in monitor world, aboard a DiGiCo SD11.
Martin Audio provided a combination of their optimized line arrays WPM system with four boxes per side groundstacked and run in optimum 1-box resolution. These were mounted on a universal bracket, above two SXC118 subwoofers per-side. Tucker sent a L/R signal from the mixing console into both amplifiers (a Martin Audio iKON iK81 driving the WPM and an iK42 for the subs), summing the inputs for the subs, so they were running in mono.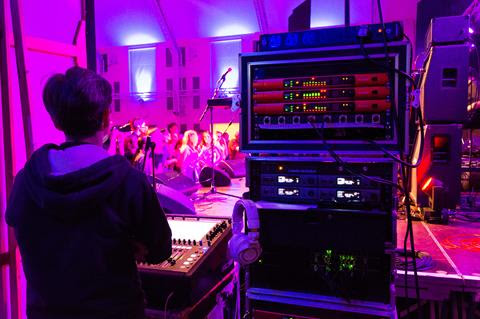 Meanwhile, a single CDD-LIVE 8 at FOH enabled him to communicate with Meddemmen on stage, while the latter used his LE1200 listen wedge as foldback for FOH. In total there were six LE1200 floor monitors on stage for the band members—three mixes across the front, with a paired center mix. There were also two 'floating' upstage LE1200s that were flexible when required and a pair of LE200 wedges for the drummer.
While Martin Audio partner RG Jones supplied the mics, Focusrite fielded a RedNet MP8R x3, delivering 24 channels of high-quality, remote controlled preamps at stage with integrated A-D converting to Dante; RedNet D64R – one each at FOH and stage, to provide 64 channels of MADI>Dante>MADI conversion to integrate the two DiGiCo consoles; Red 4Pre and Red 8Pre – Thunderbolt audio interfaces with 32×32 Dante I/O each, to allow a primary and backup recording onto MacBook Pros, for recording onto Pro Tools. The Dante network was also used to facilitate comms back and forth.
Commenting on the network, Ben Tucker stated, "Both Nigel and I have used DiGiCo extensively and the integration into the Focusrite Dante network was easy, as we used RedNet D64R MADI-Dante converters for both consoles; and of course our speakers sit nicely on the Dante network as well."
It was hard work for the judges, which included legendary record producer and engineer John Leckie. After a search that began with 30 young bands from around the county being whittled down to 12 for the Final, Doppler Effect—a trio, all in their mid-teens—emerged as winners. In addition to taking away a Scarlett 18i20 3rd Generation as the winners' prize, the band also won two days recording time at Bucks New University which specializes in music production.
Ben Tucker confirmed that from a technical perspective the event had been an unqualified success. "The Martin Audio and Focusrite kit paired very well," he said. "Being able to come out of the consoles straight into a MADI converter to get them onto a Dante network suited us down to the ground. The Red 8Pre in our drive rack was used for Smaart measurements and playback, and clocking wasn't an issue at all which is normally the weak link in fully digital systems.
"So overall I was extremely satisfied with the outcome of the entire system. We wanted to give the aspiring young musicians a taste of a professional PA setup from front-to-back, which I think we achieved really well."
Stephen Button, who was also a member of the judging panel, agreed. Summing up the event as a whole, he said, "This is about inspiring young people to stay within the music industry. In the last two years I have seen the level of musicianship increase tremendously, and I was completely blown away by Doppler Effect this year."
Kersten Luts from organizers BMT, also added his praise. "I want to give a massive thanks to everyone at Focusrite and Martin Audio for taking this event to another level. The sound and light were fantastic—the best we've had in our six-year history. Judging by the huge amount of social media chatter it also went down a storm with the kids."
For more about Martin Audio, please click to www.martin-audio.com.