IMS Technology Services Purchases Martin Audio WPM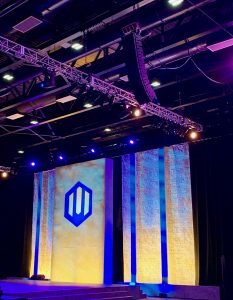 A leader in production, staging and scenic design for corporate and association events, IMS Technology Services (IMS) of Garnett Valley, PA recently purchased 60 Martin Audio Wavefront Precision Mini (WPM) cabinets along with SX118 and SX218 subs, and iK81 and iK42 power amplifiers.
Asked about the reasons behind the purchase, Chris Leonard, director of audio for IMS says, "Our criteria included the ability to compensate for low ceiling heights that are a common concern for corporate events, especially in hotel ballrooms. Additionally, video screens are getting bigger and taller, with many going from floor to ceiling, so the space available to hang bigger arrays is vastly reduced. Our goal was to find speakers that are more compact in size but still maintain the level coverage level and audio quality we needed at the right price.
"More specifically, I wanted something that would perform like a midsized line array box but in a smaller package," Chris adds. "What drew me to Wavefront Precision is how the system can be digitally optimized to deliver maximum performance for a particular space. I had some reservations about the performance until I heard the system in person and was very impressed.
"The system's scalable resolution gives us a lot of flexibility and really useful features like Hard Avoid®, which keeps the sound off reflective surfaces and on the audience where it belongs. The consistency across the seating plane where every seat counts with no variations in sound quality and level from front to back and side to side is really important. Beyond WPM's clarity for speech, we also needed the system's coherence and musicality for these events since they all feature different kinds of live music."
Soon after the purchase, IMS was able to put the system to use at a private corporate event where they deployed two main hangs of 12 WPM and two hangs of six WPM for delays.
Chris reports, "the biggest takeaway we had from this show and from testing at our warehouse is the system's consistency. The vocals, no matter the source, are just present and in your face––but not harsh––consistently throughout the space. It was also impressive to hear how well Hard Avoid worked in terms of keeping things quiet behind the array onstage.
"Overall, we are very pleased with this investment in WPM as it is a compact cabinet that is more than capable of delivering the quality and consistent reinforcement of a box twice its size. I was skeptical of the marketing and science behind it at first, but now I'm a firm believer in the Wavefront Precision family.
"One of the main reasons that led us to the Wavefront Precision series was buying into CDD-LIVE two years ago which was our first experience with Martin Audio. We had been searching for the perfect corporate point source box, and CDD-LIVE delivered that for us. We plan on growing into WPC and WPL in the future, but WPM is a perfect fit for us now."
For more about Martin Audio, please click to www.martin-audio.com.