First Baptist Church of Naples Upgrades Live Broadcast and Streaming with Panasonic AK-HC5000 Studio and AW-HE130 Pan/Tilt-Zoom Cameras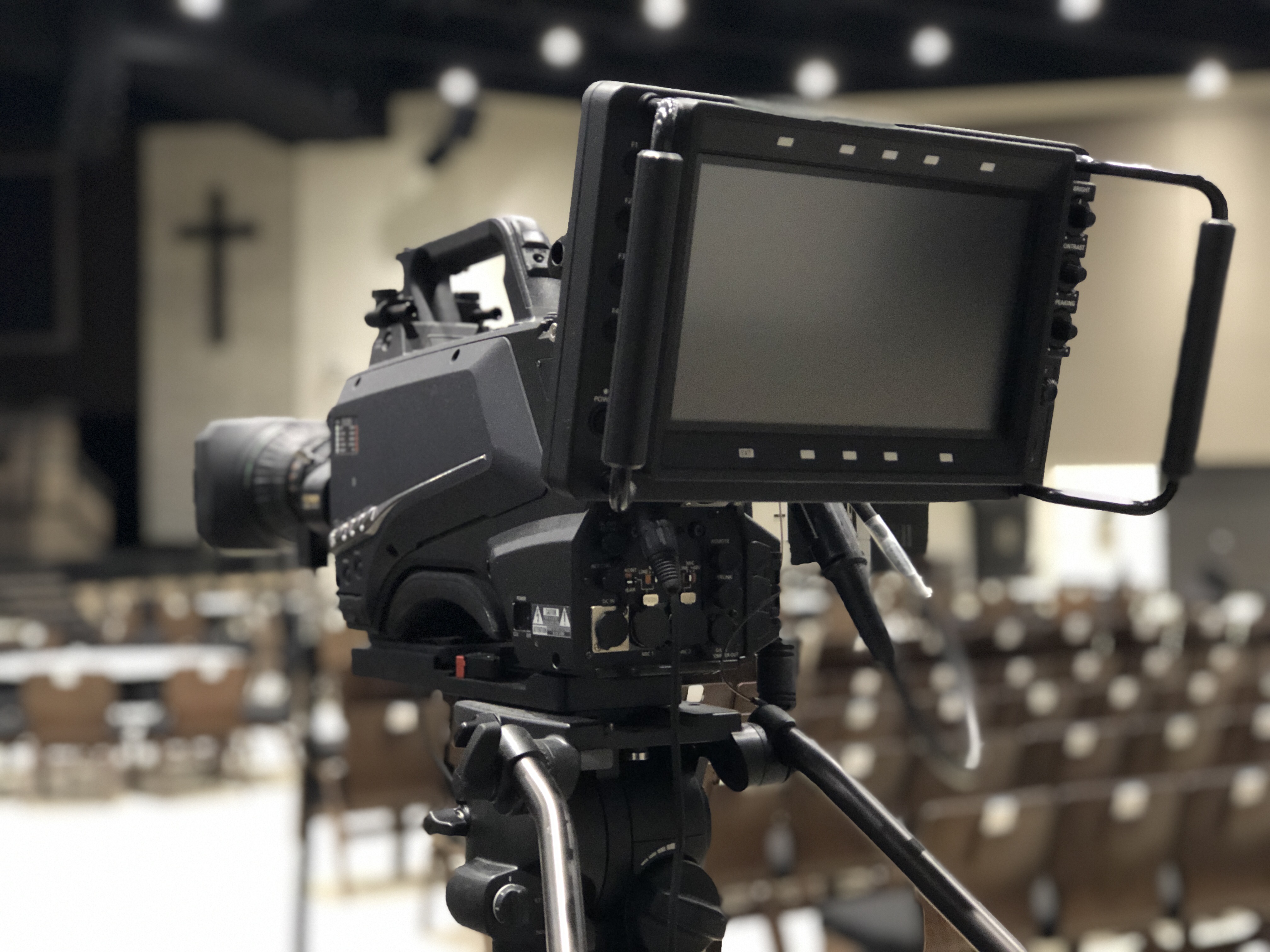 NEWARK, NJ (October 7, 2019)—First Baptist Church of Naples (Naples, FL) has completed a major renovation of its IMAG and streaming operations with the addition of three Panasonic AK-HC5000 studio camera systems and nine AW-HE130 pan/tilt/zoom cameras. These HD cameras support the live broadcast of three weekend worship services reaching 2500+ physical attendees and a growing internet audience.
Pastor of Media and Technology John Patterson, who manages worship center services for First Baptist's 80-acre campus, explained that the AK-HC5000's Chromatic Aberration Compensation (CAC) function makes it the ideal choice for camera placement 110-feet away from the worship stage. (CAC, a Panasonic proprietary and Emmy Award-winning feature, is capable of correcting even slight chromatic aberration at a lens' periphery.)
"We have a very specific logistics requirement to place all three HC5000s on pedestals in the back of a 14,000 sq.ft. space," Patterson explained. "Because of CAC, we are able to outfit the cameras with Cabrio 22x lenses (ZA22X7.6BERD-S6) with 2x extenders that run fully extended, with no lensing limitations or loss of focus."
"The HC5000 addresses our criteria for simple, effective, reliable acquisition gear," he added. "Specifically, we wanted separate tally/return, and a single SMPTE drop, all provided by the HC5000. We upgraded the cameras' viewfinders (to the 9-inch AK-HVF100 FHD LCD model), and the VF focus assist has been a great help to our camera techs."
Patterson said that six AW-HE130 PTZ cameras are installed in the main worship stage, two positioned stage left and right, and four placed at an elevation of nine-feet along the back and side walls. (The remaining three AW-HE130s will be installed in a separate chapel, which has a fiber connection to the main sanctuary and is used for overflow at services, as well as for special events and recording projects.)
"The HE130 is very smooth, with a highly intuitive controller," Patterson noted. "The PTZ creates a great image, which greatly complements that of the HC5000."
Previously, First Baptist's had broadcast and streamed in standard definition, and now shoots in HD at 1080i/59.94 fps. For IMAG, the sanctuary has three LED video screens. The three weekly
services are streamed live on the church's web site (www.fbcn.org) and pushed to Facebook Live as well. Patterson records a video stream that is edited in Adobe Premiere and available next day on Vimeo (link through on the church's web site).
"The quality of our current IMAG and streaming is night and day versus our past system," Patterson said. "The video is razor-sharp, with dramatically improved color representation. The studio camera's focus assist makes it a more solid and predictable product."
"Our services now more immersive for the congregation," he continued. "The Panasonic cameras are helping people enter into worship, and see things they couldn't see before. Our on-line audiences now see a much more accurate representation of our services. Altogether, the cameras have helped us realize our live production goals."
Design and integration services were provided by Paragon 360, https://www.paragon360.com/. For more information about First Baptist Church of Naples, visit www.fbcn.org.
About the AK-HC5000 Camera System
The fast, high-resolution AK-HC5000, capable of high-speed output up to 1080/239.76p, incorporates 2/3" 2.2M 3-CMOS sensors with high sensitivity (F11/2000lx), low noise (S/N 60dB+), and resolution measured at 1100 TV lines. The camera's system components include the AK-UCU500 CCU, which provides power up to 6600 feet over standard SMPTE fiber along with IP streaming video feature; the AK-HRP1000 Remote Operation Panel, featuring PoE+ power and PTZ camera control capabilities; the AK-HBU500 studio build-up kit for integration with long field lenses; and AK-HVF100 9-inch, Full-HD LCD viewfinder.
About the AW-HE130
The AW-HE130 PTZ incorporates high-sensitivity, low-noise 1/3″ 3-MOS imagers that produce stunning pictures, even in low light conditions. Features include Power over Ethernet++
(POE++) for easier integration; and multi-stream transmission of H.264 HD video and audio (up to 1080/60p at 25Mbps).
For more information about Panasonic professional video products, visit us.panasonic.com/broadcast