Guardian Gamefilm by Mankin Media
By Brian Clark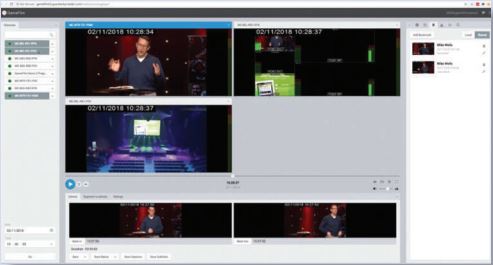 Southeast Christian Church is a seven campus nondenominational worship community that serves over 25,000 members and growing, across all our facilities. Our main campus holds just shy of 9,000 people, and our newest campus, River Valley, seats 400, with the other five campuses falling within that range. Our main campus and two regional campuses offer a Saturday night service, and all campuses running between two and three Sunday services. Each facility has a dedicated campus pastor and relies on their own worship bands for music and performance. The campuses also have three screens, a large middle screen for the main teaching message streamed from the broadcast campus, and two side screens for notes, lyrics on screen, audience reaction, etc.
As you can imagine, meeting the individual needs of all seven campuses requires a lot of broadcast tech, from cameras to routers to networking. We also rely on a strong team of volunteers to ensure the worship experience at each facility runs smoothly and is consistent. This requires a strong leadership vision for our broadcast: how we want each service to look, how to ensure there is a common thread between all the campuses to help foster our church community, and how to keep our volunteers motivated and on point so that worship is cohesive, regardless which facility you go to.
Due to the sheer size of the video broadcast we run between all campuses, we needed to find a solutionthat would allow us to easily monitor all the video feeds from all campuses in order to help us establish the consistency we want, and this is where Guardian GameFilm comes into play. Guardian Gamefilm by Mankin Media provides centralized video monitoring that helps us make our ministry more effective. The Gamefilm offers a turnkey package that includes 24/7 recording and access to files, 15 and 30 day video archiving (for HD and SD feeds respectively), and equipment provided by Mankin Media, consisting of a PTZ camera, networking equipment and cloud services for the feeds being captured. Once the equipment is installed and the feeds established, you are able to start capturing video immediately.
The Gamefilm program allows us to specify the amount of video feedswe want to send to the Guardian operations headquarters, so we can have more than one feed running from each campus. We currently have 17 feeds total; five from our main campus (four 'dirty' ISO feeds and one program feed) and two feeds each from our other six campuses. Being able to see what other campuses are doing and determine where and how we can improve or create commonalities between campuses has become so much easier since we added the service in January.
The PTZ camera Gamefilm provides is automatically included with the first channel, and then every other feed or channel we establish has an associated cost. The program is flexible, in that you don't have to use the PTZ cameras they provide and can use your own, but you do have to use the infrastructure piece for networking and cloud services. The video feeds are sent to the Guardian network operations center, and all the feeds are monitored. This means a support team is always available to provide real time notification if there's ever an issue, and they can easily jump in via the network switch to help any problems that may arise. An added optional feature provides a direct AoIP intercom for immediate communication should there be issues.
With Gamefilm, we can review all feeds after services to see where we did well, where we need improvement, how the lighting was working, what the video was like, etc., for all campuses. This makes training our volunteers so much easier, as we can provide specific examples of what shots worked and what shots didn't, or pinpoint other issues that need improvement for each campus without someone having to physically be there and monitoring for each service. This also helps us with existing volunteers; being able to offer examples of what we want to see versus what doesn't work really makes our jobs easier.
We can also bookmark and distribute clips of the service to our pastors almost immediately following service, which is especially helpful for them when they want to review their Saturday night sermons before Sunday morning worship to see how everything went and determine if anything needs to be tweaked. This is a great feature for any special events occurring during worship or throughout the week, as it enables us to easily track and access specific clips, as well as make them available for our community members. In other words, if you want a video reminder of a baptism, or a clip of your child singing during a Christmas service, we can get them.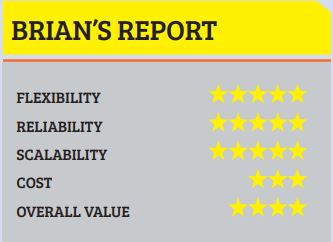 We don't look at all feeds, obviously – we pick and choose, or bookmark specific spots in live time for review at a later date. After services and during the week, I filter through what is relevant to improving our shots versus not, and we go from there. The other important thing to know about Guardian Gamefile is that it's a 24/7 service, so if your main feed camera is on fulltime, everything happening in the room is captured, so it could also be used as a rudimentary security camera, should the need arise.
It's important for any house of worship looking to use this service to make sure they either keep a copy of their service on their end during transmission, or grab what they want from the Gamefilm feeds before the allotted 30 day storage time is over, because once it's gone it's gone. Game film isn't a permanent archival or media asset management solution; it's specifically designed to be provide a centralized monitoring solution to help make multi-site broadcast more effective. For Southeast Christian Church, Guardian Gamefilm has provided exactly that!
BRIAN CLARK IS THE DIRECTOR OF PRODUCTION ARTS, SOUTHEAST CHRISTIAN CHURCH