DNAV Launches FM Radio Licensing Program for Non-Profit Organizations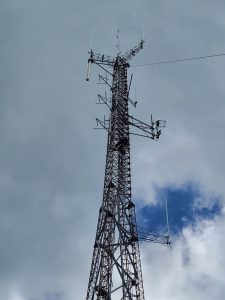 DNAV, a full-service consultation firm, systems integrator and representative for Sierra Automated Systems (SAS) and other manufacturers, has launched a new FM radio licensing program to help non-profit organizations obtain FCC licenses for new low-power FM (LPFM) radio stations. The company has also launched a website, www.IWantARadioStation.com, to provide additional information and general guidance for potential applicants.
The website includes information on DNAV's Low Power FM Licensing Team program in alignment with the FCC's next low-power license filing window, which opens November 1 and runs through November 8. DNAV will offer several service options for community-based organizations that want to build, own and operate radio stations up to 100 Watts, ranging from initial consultation to complete, turnkey radio station design and integration services. Qualified applications include houses of worship and ministries, K12 schools, universities, municipalities, and government agencies that broadcast public safety information.
DNAV Principal Nick Straka notes that this is the third and likely final opportunity to obtain an LPFM license in the United States. The FCC has offered two LPFM filing windows to date, with the previous one taking place in 2013. DNAV helped 15 radio stations obtain licenses in the previous filing window.
"While few FM frequencies remain open in major markets, we see plenty of opportunities to help non-profits bring their messages to air in rural communities and small-to-medium markets," said Straka. "The FCC favors voices with a local presence and no current broadcast properties, and they will grant licenses to those who qualify on a first-come, first-serve basis. Our Low Power FM Licensing Team program will guide applicants through the filing process, and our expertise in presenting FM license applications to the FCC with increase the likelihood of being selected."
The process begins with a technical consulting phase that determines the best frequency and tower location for each application. DNAV will confirm how many frequencies remain available in the applicant's market, and create proposed coverage maps based on power levels, terrain challenges, and adjacent channel coverage areas. After managing the FCC application process, applicants who are granted construction permits can engage with DNAV for the following services:
Build and ship equipment racks with on-air gear, including low-power transmitters and audio processors
Provide turnkey design, integration and commissioning services for studios and transmitter sites
Prepare final FCC paperwork as a "license to cover" following construction of broadcast facilities
Straka predicts strong interest from worship organizations that can easily mix locally originated and nationally syndicated content to fill airtime. "We work with a lot of churches that pull in network programming from EWTN or Relevant Radio over satellite or IP, and broadcast sermons from local preachers," he said. "But this opportunity is really for any civic organization that has news, information and entertainment content to share with their local communities. DNAV is the only company with an end-to-end solution that makes this rare and possible final opportunity a reality."