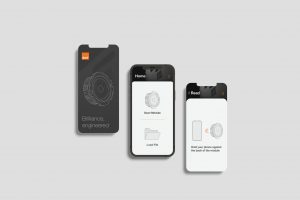 DMF Lighting, the leader in modular downlighting in the custom integration channel, today announced its roundup of luxury products, exclusive to the CEDIA channel, that will be featured in Booth 4112 at CEDIA Expo 2023. This will include premium enhancements to DMF Lighting's iX Series, digitally controlled LED modules, and an in-booth fixture experience with HK Lighting.
"DMF Lighting's iX Series small-aperture premium enhancements allow integrators to distinguish themselves by offering a higher-quality, premium aesthetic," said Mike Libman, National Sales Director, Residential Systems, DMF Lighting. "Attendees will get the chance to explore these enhancements and new, innovative installation options. These solutions will open up new opportunities to delight homeowners and designers while continuing to elevate the DMF brand."
Enhanced iX Series Small-Aperture Fixtures with Premium Trims
DMF Lighting announces their new enhanced iX product line of luxury lighting products exclusive to the CEDIA channel. These include True Spectrum™ 98 CRI (Color Rendering Index) light modules for industry-leading color rendition and new premium trim selections (Raw Brass and Anodized Aluminum finishes) available in Flangeless and Micro Flange options.
The highest color rendering in their category, new iX lighting modules with True Spectrum™ feature new LED chips that effectively display colors in their true vibrancy and richness as they appear under natural light. Accurate color representation is essential to enhancing the overall aesthetic appeal of the space, creating a pleasing ambiance, and highlighting the beauty of objects, products, and artwork.
The demand for differentiation in the CI channel is critical, and the new DMF exclusive-to-the-channel trims offer premium materials, finishes, and performance. Advanced aluminum trims are machined from solid blocks of aerospace-grade 6061 – T6 aluminum then bead-blasted for an ideal surface structure that reduces glare and provides a smooth finish. Next, they are anodized with a clear satin finish that provides both durability and an extremely low-glare finish. Stunning brass trims are machined from solid brass 360 billet. The surface is hand-brushed to give a beautiful, finely textured, raw brushed brass finish whose beauty will continue to be enhanced with age.
The new enhanced iX Series 2-inch fixtures add premium aesthetics to the award-winning iX Series integrator small-aperture lighting. The fixtures are designed to elevate the entire home with modern, quiet ceilings and elegant design. As part of its longstanding commitment to the channel, DMF designed the enhanced the iX Series to allow CI channel integrators to go smaller without compromising performance, installation, or serviceability.
Unique iX Series 2-Inch Retrofit Conversion Kits
The iX Series 2-inch Retrofit Conversion Kits expand the iX Series applications beyond new construction projects and traditional retrofits. The unique DMF solution converts existing 4-, 5- and 6-inch fixtures to a 2-inch opening, creating new sales opportunities for the CI integrators to utilize iX Series products in the residential market. The retrofit kits are available in three configurations: 4-inch/5-inch to 2-inch conversion, round; 6-inch to 2-inch conversion, round; and 6-inch to 2-inch conversion, square. Round kits are provided with a round collar and mud plate conversion cover, and square kits come with a square collar and mud plate conversion cover for the Standard Flange, Flangeless, and Micro Flange trims in all colors.
Digital Controlled Modules for LED Fixtures
DMF's modular platform now includes DALI-controlled light modules, offering the custom integration channel DALI-2 digital control protocols for LED fixtures. The advanced light modules have a DALI-enabled integrated driver that provides flicker-free dimming down to 0.1% and easier installation, thanks to their use of NFC technology for predeployment, deployment, and maintenance.
The digital modules provide integrators with increased flexibility to deliver multiple light settings to address a homeowner's different use cases. Integrators can manage color and intensity independently and tailor scenes to enhance the space. The modules can be ordered in static CCT (2700K, 3000K, 3500K, 4000K), warm dim, or tunable white with ranges of 1800-4000K or 2700-6000K. Lumen choices start at 750 lumens and go up to 1250 lumens output.
In-Booth HK Lighting Experience
At CEDIA Expo 2023, professionals from the CI channel will have the opportunity to explore HK Lighting's exceptional collection of outdoor lighting fixtures within the DMF Lighting booth. Specifically selected to enhance residential landscapes, they are the ideal choice for discerning integrators and homeowners.
Accent, path, and flood lighting will be on display at CEDIA Expo including:
• ZXL08 – The company's smallest 1-inch round directional accent light for smaller plants and tree mounted applications
• ZX16 – The most versatile 2.25-inch round directional accent light for most residential landscape and architectural applications
• MBL08 – The elegant and versatile 1-inch round path light for wayfinding and landscape emphasis.