AS8: AVANTE Audio's New Compact Column PA System Is Now Shipping
AVANTE Audio is pleased to announce that the brand new Achromic AS8 portable column PA is now shipping. Offering an impressive output from a very compact system, it is the ideal choice for audio professionals, musicians, performers and mobile entertainers looking for a versatile and easily portable PA setup.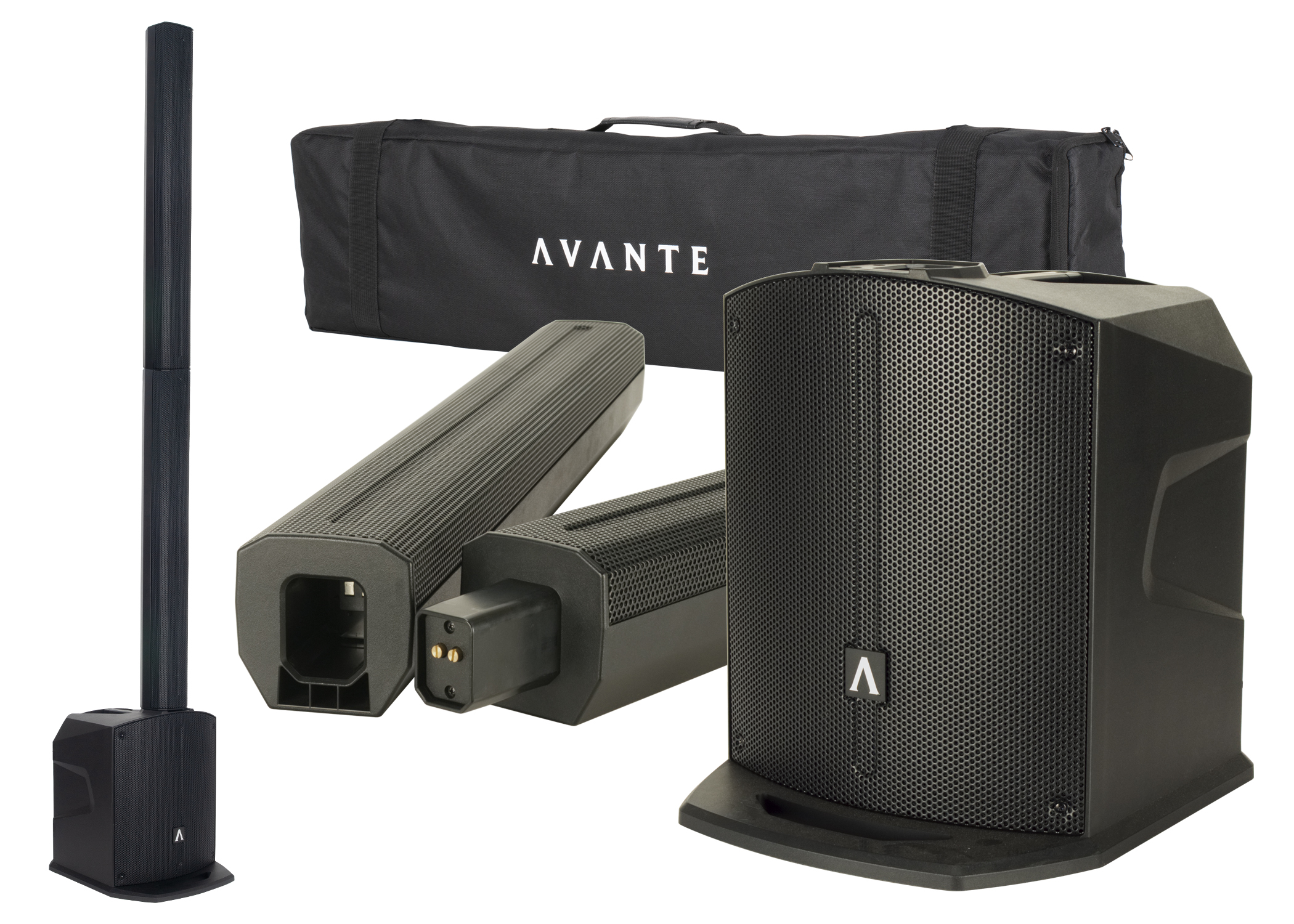 The AS8 features six precision-aligned 2.75-inch neodymium drivers for the highs/mids alongside an 8-inch neodymium subwoofer with a 1.5-inch voice coil and a 28 oz. magnet. It features a powerful integrated 800W Class-D amplifier module with a built-in limiter and is capable of delivering a maximum SPL of 116dB while offering a dynamic frequency response of 55Hz-20kHz. It offers exceptional audio quality for amplifying both vocals and instruments clearly and accurately from an extremely lightweight and portable system.
Designed with speed and ease of setup in mind, the AS8 comprises of three separate components: a sub unit, a mid/top array and an array spacer. The compact floor-standing vented sub unit integrates both the amplifier module and on-board mixer. It connects to the mid/top array column using AVANTE Audio's new SAM (Secure Array Mount) system which allows the array column and spacer to lock securely to the sub and to one another without risk of being toppled over. The SAM connection also passes the audio signal from the sub up to the array column, through the spacer, removing the need for speaker cables and further speeding up setup time.
The AS8 has a total height of 79.1" (2010mm), which is perfect for performances either from the floor or a low stage. This makes the system a flexible PA choice for musicians, performers and DJs, playing in bars, lounges, coffee shops and small event spaces.
All three components of the system are constructed from robust molded Polypropylene, finished with 1mm steel grills to protect the speaker cones. The system is supplied with a convenient padded-bag – divided into two separate compartments – for storing and carrying the column speaker and spacer, while the sub unit features an integrated carrying handle. The combined weight of all three components is just 50.6 lbs. (23kg), meaning that the compact system can be easily carried in to a venue in a single trip by one person and transported in a small car.
The flexible 3-channel mixer built-in to the sub unit features a 2-band EQ, a Power/Clip LED signal indicator and an XLR output for connecting a second AS8 or any other powered speaker. It offers XLR/TRS combo jack connections on the first two channels (switchable between mic and line level) and a choice of 1/4" or 1/8" jack inputs on the third channel. This allows direct connection of line-level audio sources as well as microphones and even a guitar, making the system ideal for acoustic solo performers, duos and even small bands without the need for a separate external mixer. The unit is also equipped with a BLUETOOTH® audio connection that allows wireless streaming of music from a smartphone, tablet or laptop.
"When we launched the AS8 at NAMM earlier this year the response was fantastic, so I'm really excited that the product is now ready to ship," enthuses Chuck Green, Director of Sales for AVANTE Audio. "The AS8 is a truly feature-packed stick PA that offers excellent audio quality at an affordable price; it is a super-compact and easy to move system that is ideal for musicians and performers who are on the go. From acoustic artists playing in coffee shops and bars, to production companies supplying small meetings and events, to mobile entertainers performing at intimate wedding receptions, I know that the AS8 is going to prove to be the ideal audio solution for a wide range of different applications."
A division of the ADJ Group of Companies, Avante Audio is an independent business unit focused on developing, manufacturing and marketing innovative professional audio equipment. The new AS8 joins the existing models in the Achromic Series: the A10, A12 and A15 full-range active speakers as well as the A15S and A18S sub units. AVANTE Audio's expanding range of cutting-edge audio products also includes the recently-released Imperio Series modular 'mini' line array system.
The Achromic AS8is available now from AVANTE Audio distributors and dealers worldwide.
To find out more about the Achromic AS8, visit www.avanteaudio.com