WORXAUDIO TECHNOLOGIES LOUDSPEAKER SYSTEMS DEPLOYED AT FIRST FWB CHURCH
TrueLine and WaveSeries systems deliver top-flight performance in rejuvenated sanctuary
Wilson, NC – February 2013… First FWB Church, a Free Will Baptist Church located in North Carolina's Coastal Plain region, recently re-opened its sanctuary after experiencing extensive damage as a result of a lightning strike that set the sanctuary ablaze. The fire and subsequent water damage (to extinguish the fire) forced church management to make major repairs to the space, including the installation of a new audiovisual setup—with loudspeaker systems drawn from the TrueLine and WaveSeries catalogs of Greensboro, NC-based WorxAudio Technologies.
Winterville, NC-based Sound Advice of Eastern North Carolina, a design/build firm for AV systems such as boardrooms, conference centers, churches, and other commercial properties, was contracted to handle the installation of the new sound reinforcement and video projection systems at First FWB Church. After consulting with church management to determine their expectations, David Evans, the firm's president, designed a loudspeaker system consisting of a WorxAudio TrueLine X3i-P All-In-One Compact Line Array, which was augmented by three WaveSeries 8A High Efficiency Passive Loudspeakers, three WaveSeries 12M High Efficiency Passive Loudspeakers, and the TL218SS High SPL Sub Bass Loudspeaker System. He discussed the challenges of the project.
"First FWB Church's sanctuary is octagonal in shape," Evans explained. "The stage/pulpit area is located along one of the eight walls and it faces directly into the center of the space, which has seating for approximately 300 people. Services are contemporary in nature and include lots of music—with support from both a sizeable praise band and a vocal ensemble. After consulting with management, I learned that the previous sound reinforcement installation included multiple loudspeakers placed around the sanctuary and, at any given time, people could hear 2-3 individual loudspeakers as opposed to a more unified, cohesive sound reinforcement delivery. As a result, there were considerable phasing and delay issues, which significantly reduced speech intelligibility."
"By contrast," Evans continued, "we wanted a point source solution that could provide the punch they needed, as well as a high level of speech intelligibility and clarity for music reprod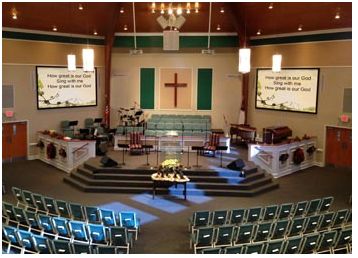 uction. With that in mind, I selected the WorxAudio TrueLine X3i-P line array system for a center cluster. We've deployed this loudspeaker system in a number of churches and have consistently had excellent results with it."
The new sound reinforcement system is built around the TrueLine X3i-P line array, which is suspended from the ceiling with pipe attaching to the TrueLine mini-beam positioned at the center- front edge of the stage area at a height of approximately 18 feet for the lower extremity of the cluster. This loudspeaker system incorporates three modules, each with a medium format, 1-inch exit compression driver and dual 8-inch cone transducers. It is powered by WorxAudio Technologies' highly-regarded PXD-2580 digital power amplifier.
Also mounted to the same TrueLine rigging (atop the X3i-P line array) are three WorxAudio WaveSeries 8A enclosures, with each enclosure incorporating a one-inch exit HF compression driver and an 8-inch cone transducer in a tuned enclosure for the low frequencies. Two of these loudspeakers serve as sidefills and face forward—directed toward the left-right extremities of the sanctuary—while the third enclosure is aimed down at the stage area and functions as a monitor system for the pastor and others. Both the WaveSeries 8A's and the TrueLine X3i-P are painted white to seamlessly match the aesthetics of the sanctuary.
On stage, the church's new sound reinforcement system includes three WorxAudio WaveSeries 12M High Efficiency Passive Loudspeakers that serve as floor monitors. Each WaveSeries 12M enclosure has a one-inch exit compression driver coupled to a 75 X 75 degree wooden waveguide horn for high frequencies and a 12-inch cone transducer in a tuned enclosure for the low frequencies. Typically, the 12M enclosures are positioned on the left and right front edges of the stage area, while the third loudspeaker is provided for the praise band, which sits toward stage left. All three enclosures are painted black. As passive loudspeakers, both the WaveSeries 8A and WaveSeries 12M enclosures are driven by Crown Audio and QSC Audio power amplifiers.
A single WorxAudio TL218SS subwoofer with dual WorxAudio TL1801SS 18-inch transducers completes the church's new sound system. This enclosure sits off to the left of center stage, under the drum platform. "The TL218SS is a monster subwoofer," Evans remarked. "This single enclosure provides a very full, deep low end that gives the entire loudspeaker setup tremendous depth."
With the new WorxAudio sound system fully operational, Evans reflected on the project. "Everyone at First FWB Church has been extremely happy," he says. "The audio quality and overall capabilities of the new sound system are very impressive and church management has been extremely complimentary. We've also had several visitors from a nearby church stop by to hear the system and they, too, were very impressed—so much so, in fact, that we're currently awaiting our deposit to start a project for them. When one job leads to another, that's as good as it gets."
To learn more about First FWB Church, visit them online at www.ffwbcwilson.org
For information about Sound Advice of Eastern North Carolina, go to www.saenc.com
www.worxaudio.com