Shotoku TG-27 Robotic Camera Head and TR-XT Touchscreen-enabled Control System
By Caleb Spicer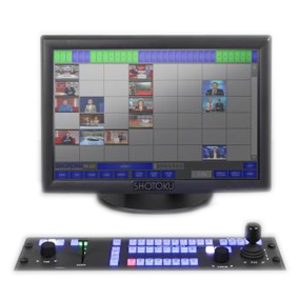 Having grown up as a pastor's kid, I know the ins and outs of church ministry and day-to-day administration pretty well. But working the last few years full time in a church has taught me much more about tech than I ever knew as a kid. At Life Church in Cookeville, where I'm on the creative team, we have a significant tech load to manage every week. We currently have three campuses in the area with two more joining us by early 2020. All of this extra work makes the needfor simplicity, automation, reliability and consistency indescribably valuable in our video workflow.
For the past four years, we've been using some Shotoku camera gear that has made our lives much easier. We currently utilize a set of TG-27 robotic camera heads as well as a pair of TR-XT touchscreen-enabled control systems. The TG-27s can support up to about 37 pounds of camera and lens and features ultra -smooth motion. Since these heads are mounted throughout our auditorium, it's a huge help to be able to configure the heads remotely over a network connection. We could certainly mount just about any camera we'd want, but we currently have Hitachi DK-H200 cameras with Fujinon lenses on board. We're also running Shotoku's MicroPDU units on each of the TG-27 heads.
The real stars of our show are the TR-XT control systems. We combine these with Elo touchscreens that can be rack or desk mounted. These controllers are perfect for our volunteerled tech team. The touchscreen makes the whole operation very intuitive and approachable even for very young or non tech-savvy users. Theyfeel right at home when we introduce them to the system and show them how to operate it by just touching the camera shot that they want to cut to.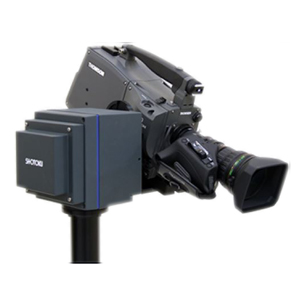 The system also supports trace memory and shot memory. Trace memory allows us to prerecord complex camera moves at any speed and then recall and playback that exact move week in and week out. The shot memory allows us to preprogram specific framing and store them as thumbnails across the screen. Whenever the action is happening at a specific place on stage, we just tap that thumbnail to quickly set the camera to the correct framing.
Since the touchscreen stores static thumbnail images of the stored shots, they don't remain accurate week to week when things change. Shotoku makes this an easy problem to overcome. One button allows us to update all of the thumbnail images without reprogramming the shots every week. As soon as the worship team is in place for rehearsal, we refresh the shots and are ready to go for the service.
The hardware control surface has a standard joystick for manually moving the camera. Forward and backward control tilt while side to side controls pan. Twisting the handle zooms the lens. There are also dedicated hardware buttons to select any of up to sixteen cameras as well as twist knobs to control iris and focus.
The control panels also include ethernet control which has several benefits. It allows for use with some automation systems which can integrate with lighting,cameras, graphics and video renderings. It also allows us to link our control panels together. This benefits our workflow by adding flexibility. From week to week, we may have fewer volunteers than we need to operate all of our tech positions. If we don't have enough hands to control all three robotic cameras, we can choose to make some of the panels "slave" to one master controller. Then a single operator can switch among cameras during the program without bouncing from seat to seat
Among other reasons, we use robotic gear like this because it reduces distractions in our services by not having camera operators scattered all over the auditorium. And don't worry about noise from all these motors. The heads are so quiet that I can't hear them even if I stand right next to them while they move. We can also reduce our need for personnel by operating all three cameras from a single control station. Any church that relies on volunteers for their tech team each week will appreciate this
In addition to this gear, we have a shading console to ensure all of the cameras have consistent color balance each week. Of course, we have a camera switcher that we use to stream to Facebook Live and our church's home page every week. We also use ProPresenter for inauditorium graphics and a service called Living as One which gives us multisite streaming abilities to help our campuses be more united. One of our core values is "we are better together." This philosophy motivates us in everything we do, including our technology plans.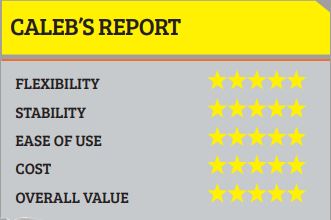 Since our main campus auditorium is a bit different with our stage centered in a wide room, we haveour robotic cameras at the extreme corners and on stage. We also have two standard operator controlled cameras in the rear center of the room. We truly underestimated how functionally diverse these systems would be. With the ability to control all three cameras from one panel, record and save multiple sequenced shots and store camera positions, this equipment has truly made our lives much easier. With an average weekly attendance of about 5,000, it's important for us to get our tech right every week. With the Shotoku robotic camera gear, we can do just that.
CALEB IS THE PRODUCTION SPECIALIST AT LIFE CHURCH IN COOKEVILLE, TENNESSEE, OVERSEEING ALL EVENTS AND TECHNICAL EXPERIENCES THAT ARE BROADCAST TO MULTIPLE LOCAL CAMPUSES PARTICIPATING MINISTRIES, BUSINESS AND CORRECTIONAL FACILITIES IN THE UPPER CUMBERLAND AREA, AND THOUSANDS ONLINE WEEKLY.