PRODUCT REVIEW Canon BU-50H Indoor Robotic PTZ Camera System
Canon BU-50H Indoor Robotic PTZ Camera System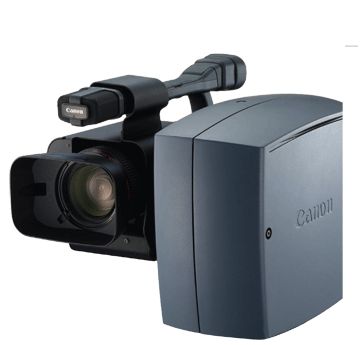 TFWM product reviews traditionally focus on a single product but thanks to the good folks at Canon U.S.A. Inc. and Troll Systems this review breaks tradition by featuring two very excellent products – Canon's BU-50H Indoor Robotic PTZ (pan, tilt, zoom) Camera System and Troll Systems TCC500 CamTROLL HD Camera Controller. In preparation for writing this article I had the opportunity to leave my fingerprints on both systems and would like to highlight some of each product's features as well as my impressions of their performance.
Eye in the Sky: Canon BU-50H
My demo system's primary components included a custom configured 3CCD Canon HDV 1080i camera (1/3" 1.67 million-pixel, CCDs; 1440 x 1080), a high-definition 20:1 Canon zoom lens and the BU-50H PTZ remote control pan-tilt head, which together form the BU-50H configuration. The name "BU-50H" refers to the complete turnkey product: the camera, the lens, and the pan tilt head. The package also included the wall mount and necessary cables. In a permanent installation the camera and remote control head would usually be wall-mounted but for this temporary test-drive I set it up for use during a Sunday morning worship service at my home church as a table top system which proved to be very stable.
The HDV camera's 20x optical zoom with image stabilization was a pleasant surprise as I obtained good close-ups from approximately 55' and should prove to be more than adequate for a wide range of sanctuaries and camera positions. I knew going into this review that our sanctuary's lack of high-quality platform lighting (certainly not up to broadcast lighting specifications) would not show off the Canon camera's high-quality image capture capabilities, but I was nonetheless impressed with the very realistic video images which the camera captured in less-than-ideal lighting. Manual iris control was a boon and performed just as I expected (hoped!) as did manual focusing via the Troll Systems controller. Although I am not a big fan of automatic focusing for many types of video shoots, I did experiment with the camera's ability to auto focus at a variety of focal ranges and lighting conditions and once again, I was pleasantly surprised by its accuracy and responsiveness. Obviously, improved lighting would enhance automatic focusing performance.
With primary outputs/connections including uncompressed HD-SDI or SD-SDI, component, and simultaneous SD composite video, plus genlock, time code and 4-pin HDV/DV Firewire, connectivity is another of the camera's strengths. A second composite video out (BNC) was also a welcome surprise.
As nice as the camera features and functions are, they won't mean much if the BU-50H robotic PTZ control head doesn't provide the control necessary for smooth, precise and broad camera control with nary a human camera operator in sight. The BU-50H does not disappoint. It provided extremely precise, accurate (even subtle) camera control at all focal lengths. Its ability to pan 300 degrees was more than adequate for obtaining all the shots I desired throughout the entire service. Ditto for the units 80 degrees tilting capabilities (40 degrees up, 40 down). Operation noise was simply not an issue. I was positioned only 8' away from worshippers and they never appeared distracted by the systems operation, even during the quietest portions of the service.
Remote Possibilities: Troll Systems TCC500
I'm just going to say it right up front…the TCC500 just looks cool. With it's sleek design lines, color highlights, compelling joystick, corner jog/shuttle dial, variable-speed zoom rocker and it's 5" LCD color touch screen, you will have NO trouble recruiting volunteers to "reach out and touch" this puppy (especially if their age ends in "teen").
Like the Canon camera, the TCC500 has strong connectivity including RS-232, RS-422, dial-up, Ethernet, USB and composite NTSC input. As I mentioned above, coupled with the BU-50H, the TCC500's controls offer extremely precise control over camera movement and camera settings, including but not limited to, iris, focus, white balance, gain & black level. It was not difficult to become accustomed to the LCD's touch sensitivity enabling quick and confident setting changes and selections.
I also used the TCC500's LCD as a real-time video preview monitor which is a nice feature, but in a permanent installation a full-time external preview monitor would prove to be more efficient and eliminate the need to cycle back and forth between the panels control interfaces and camera preview.
Setting camera pre-sets and programmable moves was intuitive as was recalling (activating) those presets/moves. At first I thought the two-step touch screen process (Preset5, Take) would be a negative (as opposed to a single button/step) but doing the "2-step" soon proved efficient and could serve to protect from mistaken selections.
With the controller's network capabilities, the system can grow along with you and provide control of any number of remote camera locations.
The inset upper left corner dials on the TCC500 allowed for easy fine tuning of the camera's iris with touch screen setting for gain, shutter, white balance and color bars. The control panel also includes dedicated dials for manual control of camera black levels with some adjustments of those same setting also available via touch screen.
I also appreciated the controllers relatively small footprint (8"H x 12"W x 4"D) since space is at a premium in almost all houses of worship a/v control stations.
Summation
With a combined MSRP price tag of approximately $27,000 (BU-50: $19,000; TCC500: $8,000), this system is probably not for EVERY church looking for a robotic camera solution. But if yours is a ministry looking for a reliable, long-term, feature-rich, widescreen high-definition robotic camera solution, you owe it to yourself and your ministry to check out all the Canon BU-50H and Troll Systems TCC500 have to offer before swiping the plastic or clicking "Proceed to Checkout". I really am not a big fan of product reviews which do not point out at least a couple of negative aspects or limitations of the products under review but I really do not have any significant negatives to highlight. This system comes with few compromises. It was designed to sit effectively in the mid-range for HD systems consisting of camera, lens and pan-tilt-zoom heads.
And let me summarize my impression of this system and burn up my remaining word count with the following absolutely true statement. For the past several years, whenever the question of the pros and cons of robotic video camera systems came up in my media ministry training seminars across the country, without fail, I would say, "One of the greatest limitations of robotic camera systems is that no remote control camera system can match the touch and precision of a human camera operator."