Projection Options and Formats
Steady growth of church and worship communities coupled with the fast-paced, diverse needs of today's worshipers has led many congregations to assess their facility's presentation equipment to ensure that they have the optimal solution to suit their congregation's needs. Larger congregations have spread significantly, with many spilling over into several sites, creating larger audiences to reach – in fact, the average church membership has tripled over the past century (according to Christianity Today International). A/V presentation equipment can help deliver sermons, education and service notes to these various audiences. As quality projectors are becoming more affordable and easier to operate, congregations of all sizes are integrating video and projection into their facilities. Projectors can help bring sermons to life, incorporating video clips and displaying larger images that allow everyone in the congregation to feel like a part of the service.
LCD AND DLP – THE TWO LEADING PROJECTION TECHNOLOGIES
In the house of worship market, projectors have become the presentation technology of choice, providing affordability, portability and excellent image quality. Before choosing a projection system for your congregation, it is important to research the two leading projection technologies – LCD (Liquid Crystal Display) and DLP® (Digital Light Processing). Both are excellent display technologies for use in house of worship settings, with subtle differences.
Let's begin with LCD. LCD projectors have been around for a much longer time than DLP. LCD projectors split a light source into three beams, each one passing through its own LCD panel. As polarized light passes through the panels, individual pixels can be opened to allow light to pass or closed to block the light. The combination of open and closed pixels can produce a high quality full color image. LCD projectors are known for offering excellent color accuracy and are ideal for displaying PowerPoint® presentations and data, as well as video.
The other key projection technology is DLP, available in both single-chip and 3-chip designs.
DLP is a proprietary technology developed by Texas Instruments. Single DLP chip projectors use a "DMD" (Digital Micromirror Display) chip that is made up of tiny mirrors, each accounting for a single point of light in the image. Light from the projector's lamp is reflected off of the mirrors. Single chip DLP projectors use a color wheel to change the color of the image. This wheel spins in the light path between the lamp and the DLP chip and the filters determine the color of the light hitting the chip.
As the chip in a DLP projector is sealed, they are known for offering very high reliability and an exceptionally long life. Many DLP projectors also incorporate a filter-free design. Additionally, DLP projectors exhibit virtually no color decay or "yellowing" of the image over extended periods of usage. Initially there had been some concern with color accuracy in early DLP projectors, but with the addition over the last few years of BrilliantColor™ technology from Texas Instruments, this has quickly become an issue of the past. Some early DLP models also experienced a "rainbow" effect (an artifact that typically appears in the viewer's peripheral) but newer DLP projectors have faster color wheels which has virtually eliminated this effect.
Many of the highest-end projectors used in house of worship settings incorporate a 3-chip design. 3-chip projectors deliver among the highest color accuracy, image quality and reliability in front projection. A 3-chip projector design negates the need for a color wheel. These projectors use a prism to split light from the lamp, and each primary color of light is then routed to its own chip, then recombined and routed out through the lens, which modulates the light. In the past, 3-chip projectors came at a tremendous price premium. However, with recent technological breakthroughs, there are now several 3-chip projectors on the market that provide stunning image quality and unprecedented reliability at an incredibly affordable price.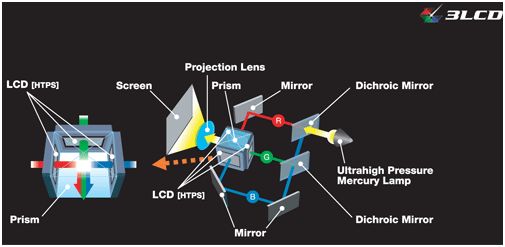 WHAT'S BEST FOR YOUR CONGREGATION
Projectors for use in Houses of Worship start at about 2,000 ANSI Lumens (this is the brightness specification), and go up to 5,000 and higher ANSI Lumens.
As there is no set standard regarding the layout of a sanctuary, including where a projector and screen may be mounted, how much light there will be, or the seating arrangements, it usually is recommended that for more critical higher-end applications, you consult with a dealership that has expertise in A/V system design and installation as to what will work best in your installation. They are often able to bring a projector and screen to your location to simulate how the projector will work with your own source material and lighting conditions.
To determine how bright the projector needs to be, as well as how large the screen needs to be, you need to have an idea of the room dimensions and seating capacity. As a starting point, for smaller congregations of up to about 100, a projector with 2,000 to 3,000 ANSI Lumens should provide sufficient brightness; for congregations of up to about 200, a projector with about 3,000 to 4,000 ANSI Lumens would suffice; for rooms up to about 300, a projector with about 4,000 to 5,000 ANSI Lumens should work very well; and for larger rooms (for example over 300), a projector of 5,000 ANSI Lumens or more (or multiple projectors) may be necessary.
As a rough rule of thumb, the height of the screen should be a minimum of 1/6 the distance from the screen (in the front of the room) to the last row of seating in the room. For example, if the length of the room is 50', the screen should have a minimum height of approximately 8.33' (or about 100" height). The width would be calculated based on the aspect ratio (or "shape") of the screen. Most common aspect ratio screens would be 4:3, 16:9 or 16:10, where the first number in this ratio is the width of the screen and the second number is the height.
Most older computers and video sources (such as VCRs) display a "4:3" aspect ratio image, and if these are the sources you will primarily be displaying, you may want to opt for a projector with a 4:3 "XGA" (1024 x 768 pixel) resolution, as well as a screen with this same 4:3 aspect ratio. (Note, it is very important that the screen you will be using have the same aspect ratio as the projector you will be purchasing.) Newer computers and video sources now display a "wide-format" aspect ratio, which is either "16:9" (most common for video sources) or "16:10" (common for many computer sources). For most "wide" format applications, a projector with a 16:10 WXGA (1280 x 800 pixel) resolution and screen with a matching 16:10 aspect ratio should work exceptionally well. XGA and WXGA are the most popular pixel resolutions used in projectors today, with a WXGA resolution projector offering compatibility with "High Definition" sources. Higher resolution projectors offering a "1080p" (16:9, 1920 x 1080 pixel) or "WUXGA" (16:10, 1920 x 1200 pixel) resolutions are also available. Additionally, while lower resolution projectors with an "SVGA" (4:3, 800 x 600 pixel) resolution are available, due to the very limited detail they can project, they should only be considered in applications where budget is the number one concern.
Where the projector will be placed is another important consideration. In some smaller rooms, the projector may be placed on a portable AV cart. This permits the projector to be used in multiple rooms within the building, and for the unit to be stored when not in use. In larger sanctuaries, the projector frequently is suspended from a mounting bracket permanently attached to the ceiling.
Another important consideration is to determine the types of content that will be displayed. Once you determine the content, you'll need to look for a projector with the resolution that best suits its needs. Keep in mind, as noted earlier, that you should match the resolution of the projector with the video resolution of the computer and other components that will be used.
You should think about the types of inputs and outputs you need, based on the connections to computers and other sources that will be providing content to the projection system. Some of these may include RGB, DVI, HDMI™, component video, S-video, composite video, audio inputs, audio line-outputs, and RGB loop-through.
It's also important to take into account who will be responsible for installing and maintaining the projection system. Some of today's higher end projectors have a built-in network connection with an RJ-45 LAN Connector. These projectors allow for remote control and access by a Web browser for diagnostics and automatic e-mail of product status, cutting down on maintenance time and allowing updates and issues to be resolved remotely.
While most professional projectors will provide excellent reliability, verify in advance what the limited warranty will be. A good commercial warranty will provide at least three years of parts and labor support, with 90 days on the user-replaceable projection lamp. Some of these warranties include at no additional cost, an "express" level of support, where, in the event a projector needs service, it may be sent, prepaid, directly to the manufacturer, with the manufacturer frequently guaranteeing a "24-hour" repair turnaround time.
Before making a final decision, you'll want to determine all possible uses for your projection system, both now and in the future. This may affect how much brightness and resolution you look for, as well as what additional features you may require. Make sure you purchase a projector that can suit your comprehensive needs.
READY TO PURCHASE
Once you've determined your needs and the projector that will enhance the quality of your house of worship, where can you turn to make the purchase? There are several options you can choose.
First you need to determine the sophistication of the installation. For a larger installation, where the projector will be integrated with other A/V equipment, it may be wise to bring in an A/V consultant or dealer with experience in house of worship system integration. These dealers usually are members of and have certifications from one of the industry trade associations such as InfoComm or NSCA. Using a full-service dealer, even for less sophisticated installations may still be a wise choice, as they have knowledge and expertise not only with projectors, but with the ancillary equipment that will be used with the projector (such as screens, control systems, audio interface, etc.), and will be available to provide after-the-sale support. For more basic projector requirements, another option is to check with a local office / electronics retailer, or search online. Just remember, that if you are not buying the projector through a full-service dealer, you will need to do your thorough research ahead of time, and may not be able to count on the retailer or online reseller if you need any assistance with the installation or with after-the-sale support. In addition, if you do opt to make your purchase "on-line", be careful not to automatically make your purchase from the lowest-priced Web site you come across. While there are many very high quality on-line companies, there also are some that are not so reputable. Always make sure the site is an authorized dealer / reseller for the projector brand you are looking to purchase, that they have a quality on-line reputation, and that what they are selling is genuine product for sale in the U.S. (and not a "gray market" model that may not be designed or warranted for use in the U.S.).
So remember, whether you're looking for an A/V system for Sunday school classes or a projection system to outfit a large sanctuary, you need to take into account several factors, including the size of your audience, the lighting situation of the setting, and the content you want to deliver, to name just a few. Once you've determined the appropriate projector, it will certainly help to engage and captivate your current and future congregations.