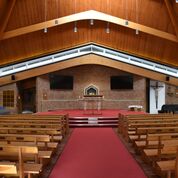 Old Barn Audio (OBA) recently turned to Martin Audio's CDD series to overcome a challenging situation at the refurbished St. Joseph's College Chapel in Ipswich. The majestic Ipswich chapel, forced to close for three years when it fell into disrepair, has finally been brought back to life after a major revamp costing £750,000. Written into the upgrade program was the provision for a new sound system.
The chapel itself belongs to the independent school, St. Joseph's College, who approached OBA as the result of a recommendation.
OBA project manager Phil Clark's first site visit revealed a pyramid shaped building, with no internal walls, and thus no fixing points, and a 196-foot high pitch. His solution was to install three clusters of three CDD8, pointing in each direction and carefully angled to suit the dispersion requirement. Two further CDD8 are positioned either side of the nave, while a slimline SX210 was of perfect dimension to be recessed under the stage, which bears the marble altar.