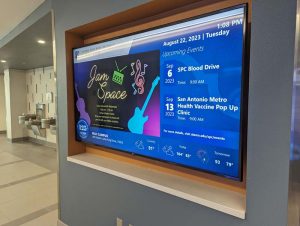 Visix continues to fortify its reputation as an innovator for the higher education vertical following a multi-campus digital signage network rollout with the Alamo Colleges District in Texas. The AxisTV Signage Suite solution spans the main District office and five colleges in the San Antonio region, with independent control of local content and network management on each campus.
The Alamo Colleges District had used separate digital signage software suppliers to support campus communications on traditional displays and wayfinding applications on interactive kiosks. The five-campus collective's operations office wanted to simplify life for the IT department on each campus by consolidating their two digital signage initiatives under a single software solution, while opening the door to new opportunities.
"Early conversations with campus administrators revealed some very attainable goals that they didn't realize were possible, such as the ability to display digital signage content alongside wayfinding maps on their kiosks," said Jason Cain, Regional Sales Manager, South Central for Visix. "They grew more interested when they learned Visix could support advanced applications in the AxisTV solution that their previous systems lacked, including analytics to monitor and measure the success of advertising teams. That inspired the operations office to transition to Visix shortly after funding was approved."
The deployment quickly accelerated, with more than 1050 displays across all five sites showing AxisTV content within one month. That includes up to 12 wayfinding kiosks at each location, depending on the size and layout of each campus. The various IT departments collaborated with the Visix Creative Services team to customize applications for each campus, ensuring that wayfinding programs met the unique mapping and information needs of each site. Traditional digital signage displays highlight campus news, events and programs in common areas and thoroughfares, while the food services department advertises menu items and pricing.
Visix's cloud-based analytics has helped network managers answer key questions about system adoption, user workflows and content management, while also helping managers make smarter advertising decisions.
"Our analytics package provides them with a real-world view of the effectiveness of their advertising strategy, including when an ad was played, its duration and its frequency," said Cain. "They understand how to appropriately set rates based on what time the ad runs and how many times. Just as important, they can tell how often students and visitors interact with their wayfinding kiosks, and understand the creative workflow when it comes to who is building playlists and publishing content. The overarching benefit is that our clients can pull back the curtain on the performance of their digital signage network across nearly every element."
About Visix
Visix, Inc. offers a robust suite of digital signage software, content designs and space booking solutions for any organization wanting to engage, excite, and inform their audiences. Our products work separately or together, are competitively priced and scalable, and have powerful interactivity and data integration features for a unified, enterprise signage solution. Our award-winning service and support teams consistently rank the highest in customer satisfaction for fast, professional responses and solutions. Learn more about Visix digital signage products and services at www.visix.com.