BenQ Wins 'Best of Show' Award at InfoComm 2021 for LK936ST Golf Simulator Projector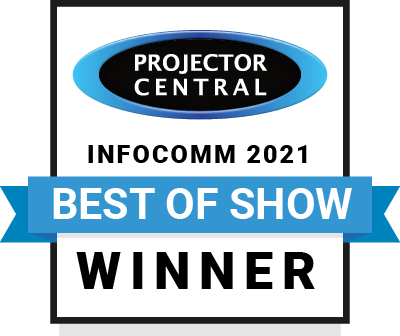 BenQ, an internationally renowned provider of visual display solutions, today announced that its LK936ST 4K golf simulator projector has earned a major accolade from Projector Central, the world's largest projector resource. Presenting BenQ with its 'Best of Show' award at InfoComm 2021, Projector Central noted that the LK936ST won the award based on its notable achievement in performance specs, innovative design features that benefit usability and flexibility of set-up, and unusual value at under $6K.
"We are honored to accept this recognition for the LK936ST," said Bob Wudeck, senior director of business development at BenQ America Corp. "The golf simulation market has grown enormously as golfers of all levels look to practice their drives at home. So, we addressed the classic tradeoff of brightness vs. color, and designed a 4K 5,100-lumen laser projector with unprecedented color accuracy that delivers both at an unbeatable price. With its painless setup and exclusive Golf Color Mode, it's easy to create the best home golf simulator anywhere. Plus, its superb picture makes it ideal for home theater and gaming as well."
The LK936ST offers 4K UHD resolution, 5,100 ANSI lumens, a breathtaking 3,000,000:1 contrast ratio, and HDR. Its laser projection system turns on instantly with no warm-up or cool-down. Utilizing a dual color wheel system to generate RGBY hues, it covers an unparalleled 92% of the Rec.709 color gamut, the recognized HD standard. Conventional laser projectors can cause color aberrations, disrupting the feel of the fairway, but BenQ teamed up with color experts to develop an exclusive Golf Mode that eliminates the problem. This quick setting corrects purple fringing by referencing the blue and green colors from popular golf software, letting golfers immerse themselves in the lush greens and vivid blues of their favorite courses. In addition, the LK936ST offers seven other professionally tuned picture modes to optimize the viewing experience for home theater, gaming, or any other scenario, while its upscaling technology upgrades the resolution of all projected images to 4K.
Installing conventional golf simulator projectors can be tricky. Often, they're tucked into small, awkward spaces that are hard to reach and prone to dust, requiring lots of maintenance. The LK936ST tackles this challenge with an IP5X-rated sealed optical engine that stands up to even the most dust-prone environments like garages and basements. It's also engineered for installation flexibility, with a 0.81-0.89 short throw ratio lens, large H/V lens shift, H/V keystone and corner fit, and digital shrink and offset for a crisp, edge-to-edge picture. HDMI inputs, plus networking and audio I/O, provide easy interoperability with other components of the entertainment system.
With easy installation, zero maintenance, affordability, and ground-breaking performance, the BenQ LK936ST is an integrator's dream. In fact, setup is so flexible and hassle-free, even a homeowner can create a DIY golf simulator. Designed for golf, but also perfect for home theater and gaming, homeowners can now create a multi-purpose "SimTheater" that furnishes an immersive entertainment experience in a single space.
At InfoComm 2021, Projector Central also awarded the BenQ X3000i LED Gaming Projector its "Best of Show" in the consumer projector category.
For more information on the LK936ST, which releases Q4 2021, visit https://bit.ly/3na585n. More information on the full line of BenQ products is available at https://business-display.BenQ.com/.