GC Pro Provides A/V and Lighting Components for Perry, Georgia's New Hope Baptist Church
GC Pro acts as a one-stop shop for church's AVL needs, including systems design and integration, readying the facility for a new generation of worshipers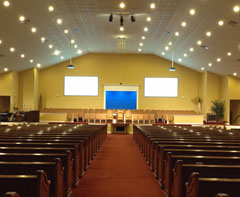 The New Hope Baptist Church of Perry, Georgia, intimately understands the need for AV technology for communicating its message. But like many churches, New Hope needed help figuring out what would best suit its needs. That's where Guitar Center Professional (GC Pro), the outside sales division of Guitar Center that focuses on the needs of professional users, came into the picture. GC Pro account manager Brad Lyons met with the church's leaders and offered a turnkey solution that comprehensively addressed audio, video and lighting in a single package.
GC Pro brought in one of its Affiliate Program members, locally-based Commercial Sound and Video, to implement all of these integrated solutions. They included a single-point line JBL VRX932 line array above the church's front area with JBL CBT70J side-fills on each side. Three JBL PRX718XLF self-powered subwoofers were cut into the stage and installed. The choir monitor is a single JBL CTB70J1 line array cabinet behind the VRX line array. This is all powered by nine Crown XTI2002, XTI4002 and XLS1500 power amps. A new 32-channel Soundcraft Expression console with a 32×8 stage box is connected via CAT5.
"The best feature is we put this on a wireless network, allowing control from the floor and on-stage with an iPad, especially useful considering the booth is a room in the upstairs back corner part of the sanctuary," explains Lyons. "Another huge feature was being able to program the console and lock-out controls for the volunteer team so that they have perfect sound every week."
For video, two new Panasonic PTDW640 projectors now illuminate a pair of new 12-foot-wide Da-Lite screens. A newly installed Blackmagic ATEM1/ME video switcher has become the centerpiece of the entire facility. "We re-purposed an old projector and screen to be used as a rear-wall confidence monitor," Lyons explains. "The Blackmagic allows us to send independent video sources to the two front screens as well as the rear-screen. This has really increased the effectiveness of the church's video system." In addition, a new Blonder Tongue QME Modulator allows them to distribute live video and audio to previously installed televisions in the foyer, kitchen, pastor's office, treasurer's office, fellowship hall and other overflow areas. A new lighting package consists of two Chauvet Ovation 165w LED fresnels and a Chauvet Ovation 190 ellipsoidal that now provide a dramatic improvement to lighting the pulpit.
What really made the difference for New Hope Baptist Church was how GC Pro was able to offer a comprehensive solutions approach for all of the church's AVL needs. "The great thing is that Brad [Lyons] speaks their language," says Nathan Miller, owner of Commercial Sound and Video. "Churches aren't residential or commercial — they are their own category and have unique needs and requirements. GC Pro understands that, and that's why they've been so successful in this category. We 'get' what churches need. And only GC Pro is positioned, through its sales, inventory, sourcing and integration resources, to provide that kind of service."
Willie Williams, long-time member and project manager for New Hope, went on to say, "We couldn't be more pleased with the upgrade investment our church has made. In fact, we continue to receive compliments on just how much better everything looks and sounds. There are a few more projects we need to tackle, but we are happy and excited to be working on these projects with both GC Pro and Commercial Sound and Video."
For more information, please visit www.gcpro.com