CHAUVET Professional Helps Transform Historic "Scopes Trial Courthouse" For Tokens Special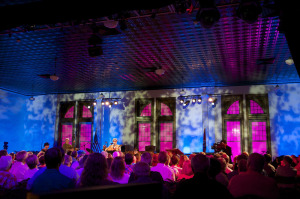 Greg Persinger of Vivid Illumination has been involved in quite a few lighting projects over the past 20 years, but it's safe to say that none were quite like his recent work at the Rhea County Courthouse in Dayton,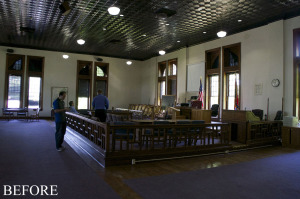 Tennessee. Nothing about this event was "ordinary" — from the venue (site of the famous Scopes Monkey Trial), to the load-in process (gear had to be lugged up 2.5 flights of stairs), to the presence of actual prison inmates (who were at the courthouse for hearings) during setup. Nevertheless, Persinger was able to create a stunning and transformative lighting design thanks to the standout work of his team and a collection of LED color rendering fixtures from CHAUVET Professional.
"This was a very memorable and rewarding job," said the Nashville-based Lighting Designer. "We were located in one of the most famous courthouses in America in the same room where the actual Scopes trial took place in 1925 – remember the movie Inherit the Wind? This is still an actual courtroom so we had to work around trials and arraignments. On top of that this Tokens Show was slated to be turned into a two hour DVD special, so we wanted to maintain the highest production values."
Hosted by Lee Camp, author and theologian at Lipscomb University, the Tokens Show is similar to A Prairie Home Companion, only it's built around a Christian theme, which is woven into the program by a combination of music, comedy and discussion. The Tokens' Rhea County Courthouse Show focused on the theological issues raised by the famous trial.
The courtroom provided a historically evocative setting for the program. A $1-million project completed in 1979 restored the second-floor room to the way it looked during the Scopes trial. Although this made for good historical accuracy, the plain beige walls and small rectangular windows could seem rather dull to modern sensibilities, especially when appearing on video. Persinger's goal was to use lighting to enhance the appearance of the room while still maintaining a sense of historical continuity.
"I wanted to provide great video lighting so we could create an engaging DVD product," explained the LD. "Since this was a historic room I wanted to highlight its architectural features and not change them with a bunch of busy scenic elements. At the same time however, I also wanted to avoid a stale or dull shoot; so I tried to focus on lighting the room's architectural elements, using the walls and iconic windows as a canvas to create an evocative image that would transform viewers without distracting from the main action on stage."
Persinger achieved this goal with "flying colors" quite literally, using his lighting rig to bathe the walls in speckled patterns of deep blues and soft pastels that highlighted the best qualities of the courtroom's architectural design. He also backlit the windows with stunning bold colors from spot fixtures positioned outside the courtroom.
"While Tokens has a musical element to it, it's not a music performance show in the sense that they aren't looking for a big trash and flash rock show, it's much more subtle and theatrical," said Persinger. "They like great looking lighting looks while letting the performers be the performance. They also have a great band made up of Nashville studio players who can carry the show on their own — whatever we do with lighting merely adds to this experience."
Persinger used 12 COLORado 1-Tri Tour LED color mixing par style fixtures in his rig. Half of these units were used to backlight the performance area and half were positioned as side lights. He also relied on 32 COLORdash Batten-Quad 6 linear fixtures to wash the walls in the front half of the room in richly textured colors, utilizing their amber LEDs to lend added depth to his hues. The back of the room was illuminated by 24 SlimPAR Quad 12 IRC par style fixtures from CHAUVET DJ, 16 of which were on lifts while the remainder were hung on truss over the audience.
"This arrangement allowed us to light the back of the of the audience so it could serve as the foreground for wide camera shots in addition to providing some depth to the camera shots of the audience and general color in the room," said Persinger. "We also used a variety of spot lights and key lights and controlled everything with a Jands Vista S1 console. The whole thing came off really well. If you saw the show in person or see it on the DVD, the lighting looks very smooth and flowing."
Of course, the process of getting to that "smooth and flowing" state was anything but tranquil. "When the Production manager, Phil Barnett, our Video Producer Matt Barker and I first went to do a site survey we had no idea what we were walking into with this project," said Persinger. "The Rhea County Courthouse is a working courthouse, so we had to go through security including metal detectors and bag searches. Once through security we started looking for the courtroom. We were directed to a two and a half story straight set of steps that took us to the courtroom on the second floor — yes two and a half flights of steps! Luckily there was a small elevator for some of the heavier things that would fit, but truss and lifts all came up the stairs.
"Power was another issue," he continued. "We made the decision to keep the dimmer rack and power racks outside on the ground floor as they would have had to have been carried up the stairs. This also kept our footprint smaller, required less feeder, and kept some heat as well as a lot of fan noise out of the room. We dropped cable out of a window that powered the whole rig. Of course all of the Chauvet LED fixtures played a big role in keeping our power consumption low and our cable requirements lower as well."
Scheduling was another hurdle that Persinger and his team had to overcome. "Going into the project we knew we would have an eight to ten hour load in day but we knew that on the day of the show court was to be in session," he recalled. "Originally we were told they would probably be done by noon at the latest. The night before the show we found out that the judge was hearing the pleas of 75 cases which all involved inmates from the jail. For security reasons we had to move part of our gear after it was set up per the judge's orders so they could hold court. On the day of the show court went until 3:00 pm, which gave us four hours to move all of our gear back in place, load in the band, tweak focuses of anything that needed tweaking and program anything last minute.'
Persinger credits his team of vendors and production people for making this project a success. "The entire team from Delta Stage Lighting out of Nashville did a lot of hard work to make this happen," he said. "Jim Gregory the crew chief had all of the gear organized, marked, and ready to drop into place the second we had access to the room. Johnny Robinson was my gaffer on the gig and knew exactly what I was looking for in my focuses and made it happen.'
In the end, the reaction to the courtroom transformation was "one of amazement," according to Persinger. "People couldn't believe how we turned a courtroom into a production space in such a short time," he said. "They were stunned when they entered the room – and that made it all worthwhile."
For more information on Vivid Illumination visit www.vividillumination.com
For information on Delta Sage Lighting visit www.deltastagelighting.com
For information on The Tokens visit www.tokensshow.com