Yamaha Montage8 88-key Music Synthesizer

Musical performance in today's world is all about having the ability to express one's self. Whether a musician plays classical, jazz, pop or electronically, the quality of a performance correlates with imagination and attention to detail. When I was given the task of reviewing Yamaha's new Montage8 88-key synthesizer, I had no idea what experience I was in store for. I've had experience with electronic keyboards in the past, playing at fundraising events as a solo artist, as well as with my rock band, yet had never come across a keyboard that was both simple to use and as diverse as I had hoped. Much to my pleasure, the Montage8 not only matched but exceeded my expectations in every meaningful way.
The Montage8 stands out in its near limitless diversity. The synthesizer can play hundreds of different sounds from traditional instruments such as the piano, to a variety of synth pads and electronic sounds. These are accessible through a touch screen menu found on the control panel. There are several options available that combine these sounds, leading to an impressive set without even looking at the keyboard's other features. The Montage8 features the Super Knob, which allows the user to control several parameters on the sound at once. Everything from pitch,
velocity, attack – even the timbre can be adjusted with the knob. The Super Knob can also be assigned to an FC7 pedal so that the performer can control it while playing with both hands. It is hard to overstate how many options this one feature gives the performers, as the character of the music itself can be transformed nearly instantly. The keyboard contains midi cable outputs, a USB port, a host to USB port, and TRS ports making it usable in almost any situation.
The synthesizer also features motion sequences that control individual aspects of sound. They are located on the front panel allowing more subtle adjustments to be made to the sound instantly. Parameters such as velocity, attack, and release can be changed on the panel. In addition to these, effects such as reverb and aftertouch are available. When combined with the hundreds of instruments to start with, 128 note polyphony and the Super Knob, the only limit on you is your own imagination.
Yamaha succeeds with this synthesizer in terms of audio. Although the Montage8 has near limitless flexibility and options, what allows it to shine is its professional sound quality. It includes professional grade balanced outputs, improving the signal quality when converting to analog from digital. It can capture the essence of whatever instrument you are playing on it. The sophistication in its sound is preserved even when using the Super Knob in conjunction with motion sequences making it perfect for any performance setting. It is important to note that the
keyboard does not come with its own speakers, so you need to be sure you have a studio monitor or another compatible speaker before you start using it. Whether you're an aspiring amateur or a working professional, the Montage8 is the synthesizer for you if the sound quality of your worship band is a priority. The high level of quality is not just present in its sound, but in its design. The panel, knobs, and dials found on the keyboard are all well put together and responsive. Every button and means of control are clearly labeled and located intuitively so there is no confusion about functionality. The Montage8's quality and diversity only help to increase its value. Although its price of $4500 seems steep at first glance, it is easy to justify when analyzing what it has to offer. Its sound design and quality are world class.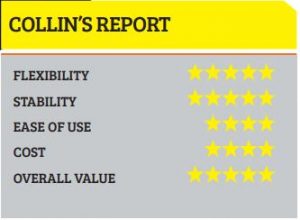 The Super Knob when combined with motion sequences, 128 note polyphony and controls on individual aspects of sound mean there really is no limit to what you can do with the synthesizer. The panel's design is intuitive and well laid out. The Montage8 is easy for anyone with electronic keyboard experience, is simple to learn, and provides such an overwhelming amount of control that mastering it for live performance will allow for some truly awe-inspiring worship experiences for audiences and performers alike. Its compatibility with most outputs make it a good choice in any setting, whether it be at home practising, the concert hall, or in church. I recommend this keyboard highly to anyone who is serious about taking their musical performance to the next level.
Collin Makariak is just finishing his final year in composition at Acadia University in Wolfville, Nova Scotia, Canada. He also plays piano and sings in the choir and with the men's quartet at Wolfville Baptist Church, and performs with his band whenever he gets the opportunity