Clear-Com ECLIPSE and FREESPEAK II INTERCOM SYSTEM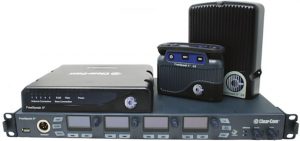 First Baptist Orlando was founded 125 years ago, originally located in downtown Orlando on Pine St., before moving to its current location in 1986, where we worship in a 6000-seat auditorium on a 125-acre property. In 2014, we decided the worship center needed to be renovated for the first time since we moved in, as architecturally and technologically it was dated. At that time, we enlisted iD!BRi to help facilitate our plans. They came on board and started the process of guiding us through the upgrades needed to bring the facility into the current century and put our church back at the forefront of technology.
I had originally served with FBO for ten years (through to 1996) and came back to help manage production services in 2014, when we started this process. We worked closely with three different integration groups; Technical Innovation for broadcast, AVI-SPL for our audio ministry and Lighting with Stage Equipment for our lighting. We started the work in January 2015 and had our first service back in our renovated facility in August of that same year. We, also, won the Solomon award from Worship Facilities for Best Church Design Renovation for 2001+ seats. One of the main goals of our renovation was to vastly improve our communications for both the internal and outside events we run through our facility, including tours. Communication plays a very important factor in ensuring we deliver the best worship experience we can offer, so we wanted to bring in both party-line and wireless intercom technology to make this happen.
We decided to incorporate the new digital Clear-Com Eclipse HX system into our plans, as the church had used Clear-Com's party line system for years and were very happy with it. When the time came to go to a new level of capacity and flexibility, Clear-Com fit our needs well. We have been extremely happy with the systems' performance. The backbone of our 'com system is Clear-Com Eclipse HX, which includes a FreeSpeak II module within the main device, allowing us to use up to 10 wireless belt packs. There are five wireless transmitters placed throughout the facility and other campus buildings, to allow for seamless, and consistent communication.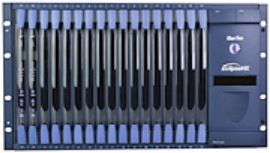 We use the partylines generally for stationary positions, for cueing from the stage manager. All the other stations in the master control, master audio control, front of house light and audio have the V-Series V12LD and V24LD digital stations. This allows each station the ability to assign their positional station to their discipline. For example, the Control Room Producer has the V24LD at that position and we have assigned all the channels our Producer needs toe ffectively do her job. The camera shader has a totally different assignment, which is tailored to that position. The Director needs to talk with the cameras, shader, producer, and engineer. So, this gives you the idea of how flexible the Eclipse system is. We have a total of 14 positions where the V-Series panels are used. Each has their own set of channels they feel they need to communicate with.
We use the Eclipse OMEGA frame, which will expand up to 460 ports, with 2000 cross points. We aren't quite using half yet, so still have a significant amount of room to grow. We wanted to make sure we had that room, because plans include adding another FreeSpeak II and a total renovation of our children's building, that will include three large assembly rooms. We are planning to expand the Eclipse system to accommodate these future needs. The quality of the communication is amazing – it's clear, clean and almost as good as having someone in the same room with you. The service that we get from Clear-Com is unbelievable. Mike Rucker, the Director of Sales for the Americas, is always very available and Eric Devane, their applications engineer, is equally amazing. He commissioned the system for us and continues to service the system with updates, as well as being incredibly responsive to requests for engineering help when we have a situation.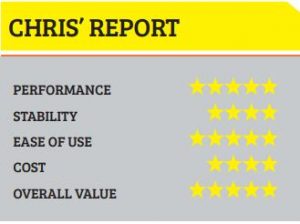 The entire system is very intuitive. Our crew was able to pick up the nuances of the system very quickly, and we haven't really run into any glitches with it. We haven't had any issues with wireless transmission because Eric was very good about making sure the antennas were placed in the proper spots to ensure seamless coverage. As a matter of fact, we've been so happy with our Clear-Com system, we do have plans to add another FreeSpeak II in the near future.
Chris Hinkle is a 40-year veteran in the Production Industry. He has served in four of the largest churches in America. This is his second time on staff at First Baptist Church Orlando, where he serves as the Director of Engineering for Production Services.