Renewed Vision Solutions Enable Exceptional Online Event Success for Q 2020 Virtual Summit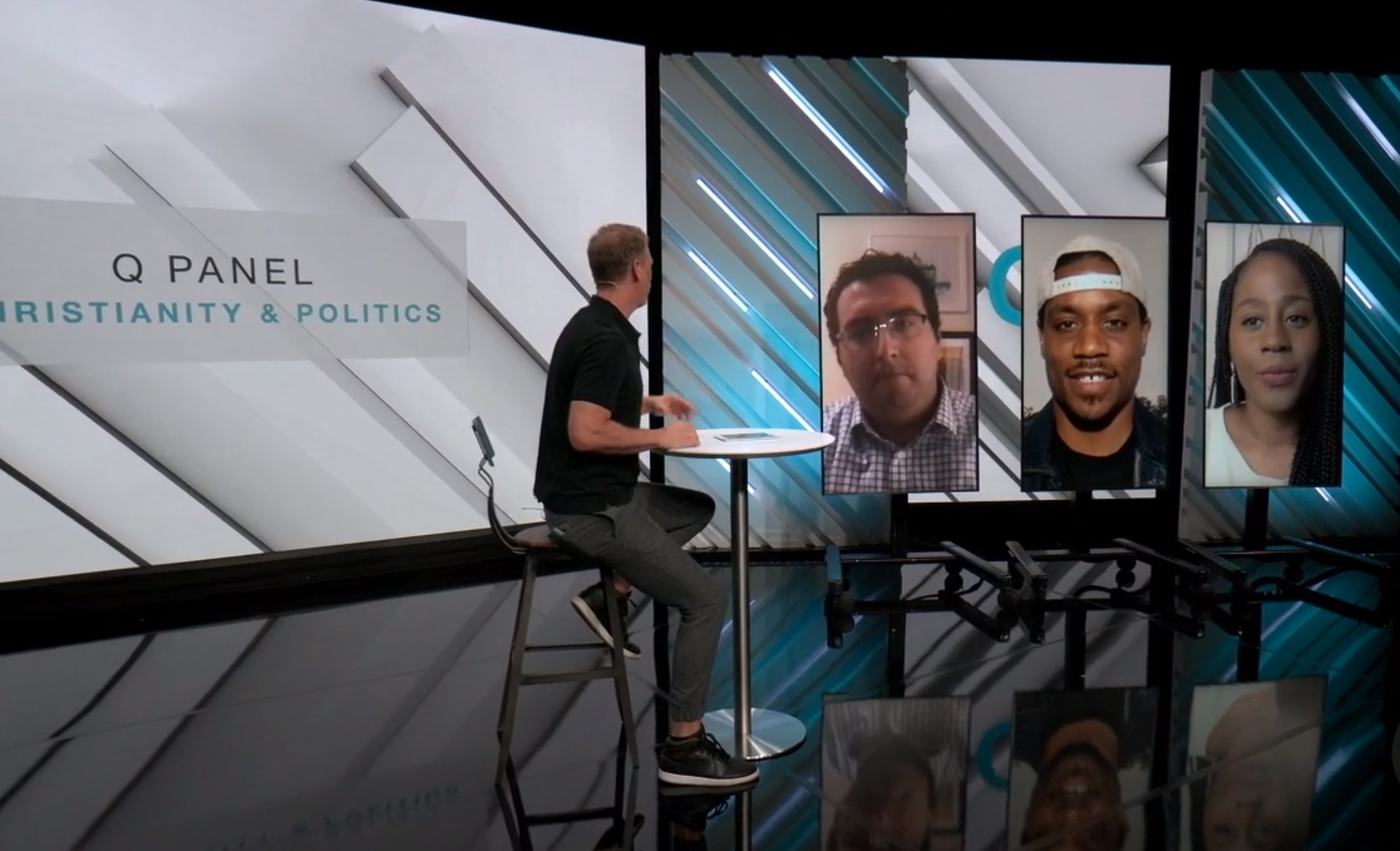 Tennessee-based Q Ideas hosts live events that convene leaders for insightful conversations about current issues at the intersection of faith and culture. When the COVID-19 pandemic forced the annual Q 2020 Conference to go virtual, the production companies behind the event leveraged software from Renewed Vision to quickly create an engaging digital experience that far surpassed the reach of the original in-person plan.
The Q 2020 Virtual Summit took place April 22 and 23, providing an interactive online learning experience featuring two days of inspiring talks, audience participation, Q&A with presenters, and educational resources. Georgia-based Velocity Productions and Braintrust Creative had produced Q's in-person live events for many years, but had just three weeks to plan – and within that, once given the 'green light', only two weeks to implement – the pivot from the physical event to virtual.
The virtual summit was streamed live from Church of the City in Franklin, TN. Physically distanced presenters and panel guests on the auditorium's specially expanded stage were joined live by remote participants via Skype. To maintain the feel of a traditional live event, rather than simply switching back and forth to full-screen Skype feeds in the outgoing stream, each virtual guest appeared on his or her own vertically oriented, on-stage monitor. A jib-mounted camera captured these displays in the full context of the set, helping approximate a live interview with the on-stage host as if the guests were actually present.
Four Renewed Vision ProPresenter systems and a ProVideoPlayer (PVP3) multi-screen media server played critical roles in enabling the virtual event, from screen control and content playout to integrating the remote Skype feeds. Both production companies had used Renewed Vision products on past shows and trusted them to provide the dynamic flexibility the event required.
"PVP3 lets us build up layers of cues, minimizing the amount of content we needed to pre-render and thus saving us literally days of precious time," said Drew Kimball, owner at Braintrust Creative. "We knew the show would be constantly changing – for example, remote guests might not connect at the expected time – so a timeline-based server wouldn't have given us the flexibility to adapt in real time that we get with PVP3. Being able to easily shift display targets around once we saw the actual sightlines was also a big plus."
One ProPresenter 7 system was used to route and manage remote participant feeds, which were brought into the software from Skype via NewTek's NDI® media-over-IP technology. Another ProPresenter 7 system played back pre-recorded video clips submitted by remote presenters who could not participate in real time, while a ProPresenter 6 system already installed at the church was used to display speaker support materials during live presentations.
Video from these three ProPresenter systems was fed to the PVP3 server, which managed the display of the content across the set's LED backwall and on-stage monitors. The ProPresenter outputs were also sent to the Blackmagic switcher in the facility's control room, where they were mixed with the live camera feeds and output to a Haivision encoder for live streaming. A fourth ProPresenter system powered lower thirds and clocks exclusively for the live stream.
The resulting event was a tremendous success, reaching a much larger audience than originally planned. "We would have had 2,000 in-person attendees, but instead reached roughly 12,000 unique users online," said PJ Culbreth, senior production manager at Velocity Productions. "This success may shape how our clients approach future events even once live gatherings resume."
Kimball shares Culberth's pride in what they collectively achieved. "Our goal is to make the biggest impact possible, and we actually increased Q's reach at a time when other events were having to cancel," he said. "We consider that a big win. Without the ability for us to pre-build the show through PVP3 and make changes on the fly while we were presenting with ProPresenter, there's no way we could have pulled this off in just two weeks and kept it running seamlessly."
"This was really the first time that we were able to demonstrate to Q and other clients what they can do with a virtual experience," concluded Culbreth. "The live event space is extremely competitive, and everyone is pivoting to virtual conferences. We were able to set a high bar, and Renewed Vision products were a key part of that."