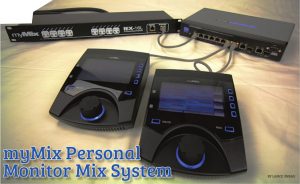 Seabreeze Church, located in Huntington, Beach, CA is a contemporary Southern Baptist church founded in 1988, as a mobile church. By 2002 we had grown to about 700 attendees, and started looking for a permanent facility, and in 2007, celebrated our first service at our new campus. Since our inception, the people of Seabreeze have strived
to live by seven Heart Attitudes, (https://bit.ly/2MOCjsF) which are a practical summary of New Testament teaching on how Christ followers should live. Why? The attitudes of our heart always reveal themselves in our behavior. Though we can fool some people some of the time, sooner or later our behavior — the way we act toward others and God — reveals the true condition of our heart. At present, Seabreeze runs three services every Sunday, with between 750 – 800 in myMix Personal Monitor Mix System BY LANCE UNRAU attendance weekly.
Prior to about three years ago, our worship band exclusively used stage monitors. Our FOH engineer had difficulty getting a nice clean sound with the stage monitors, which often made the sound really muddy. Setting the mix during practice was also a frustrating endeavor with the back and forth between musicians on stage and the sound tech in the booth taking up a lot of valuable rehearsal time. Plus, having six monitors on stage just looked a bit messy. Ryan Milligan, our creative director, and Katie Marici, who was our worship coordinator, demoed multiple personal monitor mix systems at the NAMM show, myMix being one of them. With its flexible and sleek digital interface as well as its recording ability, they decided it was the best personal monitor mix system to introduce to the team.
We currently have eight myMix units. For the transition, we chose a few days for members of the worship band to come in and familiarize themselves with the system before going live with them on a Sunday. Since we didn't have any experience with personal monitor mix technology, we were a bit skeptical at first. In fact, for the first month or so we kept the monitors on hand at the back of the stage behind the curtain just in case the system crashed, or it blew up. Since we had never worked with a personal monitor mix system, it took a little time for us to gain confidence in it.
We have a 16 channel myMix unit on a rack in our sound booth. We run it all through cat 5, which goes from the booth, in conduit to a server room behind the stage, that then goes to our stage boxes. We also have wireless packs which are sent signal from that server room. This enables our vocalists and others in the front of the stage to be wireless, not tied to each unit.
The myMix system is really intuitive. At its core, it's very basic: all our musicians really need to know is to turn the knob to select a channel to increase the sound. It takes me about 30 seconds to explain to new musicians and they get it. As they become more familiar with the station, they can play with the mix to pan, add reverb or other special effects, and really clean up the sound. All our vocalists currently put effects on their vocals, but for the most part volume control is really all we need. We have also recently been playing around with the record function, which records exactly what your mix is. It records a stereo mix of all the channels and then gives you each channel as a separate recording that you can use to mix in a sound mixing program later.
Since our front of house engineers no longer need to worry about what the band is hearing, it's freed up their time to really focus on producing a killer live mix during worship. Since we no longer have to compete or deal with the audio from the stage monitors, we can EQ each instrument and voice much better, which has allowed us to really fine tune what we produce. Overall, the best thing for about the myMix system for me personally is exactly what it was designed to do: give our worship band the ability to have individual mixes, fed directly to them through their in-ears.
This has allowed each person to focus on what they're doingand hear it really clearly, giving us the ability to increase the quality of the music we produce and correct pitch, or sound issues super-fast. We also run on click-track now, which really helps us control the tempo of every song, making our band tighter and more cohesive. Moving from stage monitors to myMix personal mixing stations was a great decision for our church!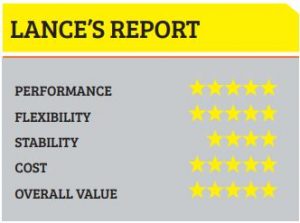 Lance Unrau is the Worship Pastor at Seabreeze Church. He went to the University of Oklahoma where he received a BA in Finance and Accounting. He also received a Masters of Divinity from Northwest Baptist Seminary (2017). Lance is married to Crystal and they have a daughter, Annie.