d&b audiotechnik Speaker System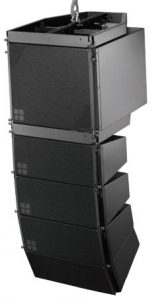 Two Rivers Church, Knoxville, TN, started in a high school 20 years ago, and grew from there. An offshoot of Fellowship Evangelical Free Church, we have since grown in size and depth. With church plants in South Florida and Chattanooga, TN, and a 2017 campus launch in Roane County TN, Two Rivers has seen God expand the church's influence to many parts of the community, and the world. The vision of Two Rivers Church is to multiply healthy churches, leaders, families, local & global impact, and Word & Spirit values. Our Knoxville Campus is very contemporary; it's the hub of worship, streaming and live teachings happen here. The River Room is our traditional, acoustic venue. Our student center, which was just added on in the last five years, is our young adult venue, and runs with full lights and a more touring-style worship.
I joined the staff full time about a year ago, and quickly realized that replacing the speaker system at the Knoxville campus was top priority. I follow the school of thought that the main sanctuary should be re-speakered every seven years. Since the main campus is our teaching campus, and all the live recording and streaming is done from there, the speaker system needs to exceed not only our expectations, but deliver exemplary sound to our congregants, visitors, multi-sites, streaming, etc. The system in our Knoxville facility was 15 years old – and it was running on the worst functioning PA we had. Half the tweeters were blown, and the speaker system itself wasn't really high-end to start with, so it really needed some work. Luckily, the Elder board, which includes our head and executive pastors, agreed that a new system was vital.
Once I knew I had the go-ahead for a new system, we started the quoting process and ended up choosing Morris Integration, who presented the best plan for us moving forward. They were able to set-up a visit for us at the d&b audiotechnik warehouse, where we tested three different systems. While all three sounded great, the Y Series, in particular, really stood out. This system has a 120 degree throw, which is ridiculous. The T series and above are also capable of being controlled with the new Array Processing Software, which have been an absolute game changer in the world of line array. In short, "Array Processing helps deliver the same remarkable quality of sound to every member of the audience." In our specific installing, our entire venue now has a +/- 0.5 db at every frequency at every seat by slicing the room vertically at meter increments. In other words, every 3' has its own EQ that helps create an uncanny consistency throughout the room. The installing engineer was also able to control all high frequencies to stop just short of the stage, significantly reducing feedback issues in Vox mics and teaching headsets. Array processing also made it possible to stop "slapback" by cutting 15db at 6' up the back wall. All of this is done without gain shading the entire array, significantly improving the ability to "steer" the audio image.
This allows all the speakers to work together as one speaker without gain shading at all. It provides a virtually flat frequency to throw vertically into the room. The entire room was mapped front to back and all the speakers integrate together as one, without any fluctuation in sound quality, tone, loudness, etc. At the d&b showroom in Asheville, we were also able to listen to the new "SoundScape" technology. As one of the most cuttingedge audio products on the market, d&b has created a true surround sound system. Speakers controlled by individual preamp outputs are placed around the entire room. An engineer is then capable of placing any channel at any location in that room. Through the use of imaginative delay processing, that channel will be heard across the audience at any seat but will sound like it is coming from the location originally dictated by the engineer. In practicality, this throws away the concepts of a L/R stereo experience and opens up an entire new way to experience a performance.
Along with this amazing technology, they have also incorporated an advanced form of convolution reverb simulation. d&b has spent an exhaustive amount of resources observing and recording some of the industries top music venues, and have actually created a way to make your venue sound like them. This tech actually allows your sound treated environment to play back as if you are in the Tennessee Theater. It is certainly worth a trip to their headquarters to experience.
Our sanctuary is rectangular shaped, with the stage parallel to the long side of the room. A flat floor provides seating for 650. It took about two-and-a-half days to install and acoustically balance the room. Morris specified left-right arrays made up of five d&b audiotechnik Yi8s and two Yi12s per side – 14 total cabinets. Two J-SUBs were flown center with a 10S hanging below for center fill. Four 5S loudspeakers were utilized for front fills – two were set into stairs located to the right and left of the stage, keeping the aesthetic of the room clean and uncluttered.
The two-way Yi8 and Yi12 loudspeakers are loaded with two 8-inch drivers and a centrally mounted 1.4-inch compression driver with a wave transformer. The boxes are identical except for dispersion pattern, with the Yi8 providing 80 degrees and the Yi12 120 degrees. Luckily for us, the room was already pretty well treated, but Morris still spent about a day tweaking, and then came back on the Saturday to answer questions, work with the volunteers, and help me mix our Saturday worship to make sure they were happy with the sound. For long term support, they've added a network switch throughout the system in order to be able to log in externally and work on our system if we ever run into any issues, like impedance or Ohm pulls, etc. They can run a check-up whenever they need and let us know if a tweeter is gone, if there are any issues we need to fix, etc.
If I had to explain the improvement that the Y series added to our venue, I would use the words consistent coverage, pristine clarity, and fantastic tone. A simple thing I observed prior to the install was that at FOH position I would run my teaching mic slightly quieter than one would think. This was due to the significant volume boost the middle of the room had. After the install, I can walk ANYWHERE in the room and the tonality and overall volume is completely consistent. I also no longer have to artificially boost my top end, the system is simply clean and present. The change has been worth every penny, and Morris helped us stretch our money to the best possible outcome. I am very confident, heading into the future, that the d&b system – and Morris Integration – will be able to meet and exceed all our needs.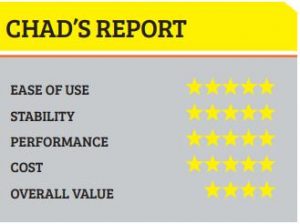 Chad DeShazo is an assistant tech director at Two Rivers Church, Knoxville, TN. He studied music performance at Ocean's Edge School of Music and audio production at Berklee Online. He has filled various contract engineer roles and has worked for multiple production companies in Tennessee. 0119