Lighthouse Church Goes from Muddied to Clean, Clear and Crisp Sound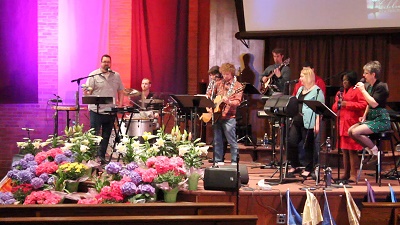 How do you take the muddy sound out of the sanctuary that was built for a pipe organ, satisfy not only all of the musicians but the sound guys as well and meet budgetary constraints?  For Lighthouse Christian Church in Rosemount, MN the answer was myMix.  Scott Goerdt, Sound Engineer for Lighthouse had been trying to reduce the stage noise and clean up the sound for years in their 350 seat sanctuary.  With an upgraded sound system a few years back, the sound improved a bit but worshipers were still having difficulty hearing the vocals clearly.  Musicians were fighting for audio space and the overall house sound was still suffering from all the noise competition.
The sound tech team put off investing in a personal monitor mixer system mainly due to budget constraints until they heard about the scalability and flexibility of the myMix system from a fellow musician and friend.  The Lighthouse myMix system currently consists of 6 myMix units, myMix control, as well as a myMix IEX16L.   The myMix IEX16L input expander is connected to a Behringer Eurodesk 3282A mixer with 1/4 inch connectors in the insert jacks (for direct outs).   At first, there was some concern about having the budget to purchase enough equipment to give them the channel count they desired.  Once the use of the local inputs was explained, Goerdt realized they needed less gear and still had channels to spare after everything was said and done.  The Lighthouse configuration uses 14 of the inputs on the IEX16L, and 10 of the available 12 inputs on the individual myMix units on stage.  They run up to 4 keyboard inputs on stage, acoustic and electric guitars, drum mix, bass guitar, and 2 room mics for ambience for the musicians.  There are plans to purchase a digital mixer in the future which will be easy to connect the IEX16L to it with little or no difficulty with simply a change of cables if needed.
Goerdt and fellow Sound Technician, Steven Davis, opted to purchase myMix Control in addition to the personal monitor units.  myMix Control offers control of the entire myMix system via a web-based browser and the device of your choice.  Profiles, settings and updates for the whole system can be done simultaneously and if necessary, from a remote location.  Within seconds, a profile from one unit can be copied and pasted to another.  Change over settings take seconds and if a musician needs extra support, the sound engineer can access his unit from his computer and tweak it for him/her.
"Budgetary wise, it was a fairly small expenditure as far as the impact.  The difference myMix made was an immediate, noticeable difference across the board, night and day.  Worshipers are no longer looking back at us sound guys! Muddied sound and feedback are no longer issues," Goerdt happily reports.
Not only are all of the sound engineers happy with the difference myMix has made, the musicians report a noticeable improvement in their individual performances.  Keyboardist, Brian Johnson, finds himself no longer overwhelmed by unwanted volume; "This has improved my playing quite a bit because I have a much better sense of what other people in the band are doing which allows us to blend better and I can make sure that my part fits in with others."  Worship Pastor, Josh Edwards prefers everything in his ears to be loud which he can now dial in himself, "As an instrumentalist, I want to feel that instrument, so with the myMix, I'm feeling it in my ears and I feel like I am connected to my instrument instead of just playing like a wind up monkey" .  "With myMix, you just have total control yourself and it sounds beautiful.  I love it. It makes me happy!" adds keyboardist, Andrew Nelson.  Sound Tech R Jeff Smith sums up the myMix experience short and simple, "I've been mixing for 45 years and myMix simply gives me more control over the stage, the overall sound and the overall mix."
For more information, please visit www.mymixaudio.com