Keeping Cool in Tight Situations – ETC Selador Fixtures Illuminate Jubilee Church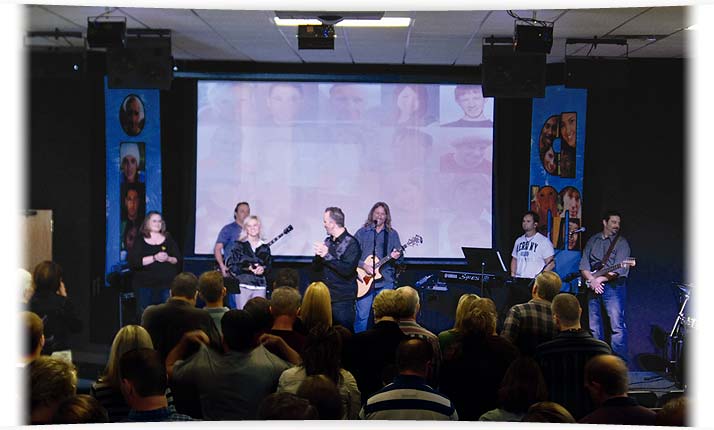 Formulated in 1998 by Pastor John Leach with his wife Chris, Jubilee Church's mission is to bring the "bread of life" to as many people as possible. Part of their strategy is to plant satellite churches in the greater Denver, Colorado area. With three campuses, their original venue in Lone Tree presents their entire church service live, with the Highlands Ranch and Campus Rock campuses receiving the sermon delivered via pre-recorded video from the Lone Tree campus' Saturday evening service.
When Jubilee Church's Technical Director, Ted Cumpston, was faced with selecting lighting for their two video venues, he had one overarching concern: heat. "In the two campuses we were outfitting," Cumpston explains, "our ceiling heights were a maximum of 14 feet. Conventional fixtures would generate a significant amount of heat, and the only place for that heat to go is where the people are – the house seating area and the stage." And that was not an acceptable option.
In addition, the church was faced with a second challenge. "At our Castle Rock facility, power was very limited," Cumpston explains. "Since we didn't have the option to bring in additional power, I needed a solution that wasn't a power hog. The Highlands Ranch facility had plenty of power, but we wanted to save money on the amount of electricity we used."
After researching his alternatives, Cumpston reduced his choice to two: fluorescent lighting fixtures or LED fixtures. After deliberating the pros and cons of each, he chose ETC's Selador® LED fixtures for their compact size, price, and the ability to do color mixing, with an ETC SmartFade® ML compact lighting console providing control over the lighting.
"Jubilee's Creative Arts Director and I attended a show put on by Barbizon Lighting," Cumpston explains, "and the Selador fixtures were on display. We were impressed by their brightness against competing LED fixtures that I always found had to be close to their subjects to produce adequate illumination. And the richness of the colors that the Selador fixtures could generate was outstanding."
To obtain this wide range of hue, saturation, and brightness, the Selador fixtures contain seven different color LEDs instead of the typical red, green and blue LEDs used in other LED fixtures. As each individual LED color can provide only a narrow spectrum of light, three-color LED fixtures are limited in both the range of colors that can be obtained, as well as the fixtures' ability to render the more natural color of an object. Selador's x7 seven-color LED design enables a much greater range of color, as well as more natural skin tones, when projecting white light.
And due to their broad color range, Selador units are the only fixtures illuminating the stages in these two Jubilee venues. "When evaluating Selador," Cumpston elaborates, "we initially installed them in our Lone Tree venue where the throw distance is 40 feet. We turned them up to full white-light brightness. They were so bright the musicians had to shield their eyes and ask for them to be turned down. We are incredibly impressed with their output." With this level of brightness, no other lighting fixtures are necessary to provide the illumination levels that Jubilee desires.
Visit: www.etcconnect.com for more information