Elation Professional: Elite Multimedia and Elation to Showcase New Lighting Gear at August 31st Open House in Nashville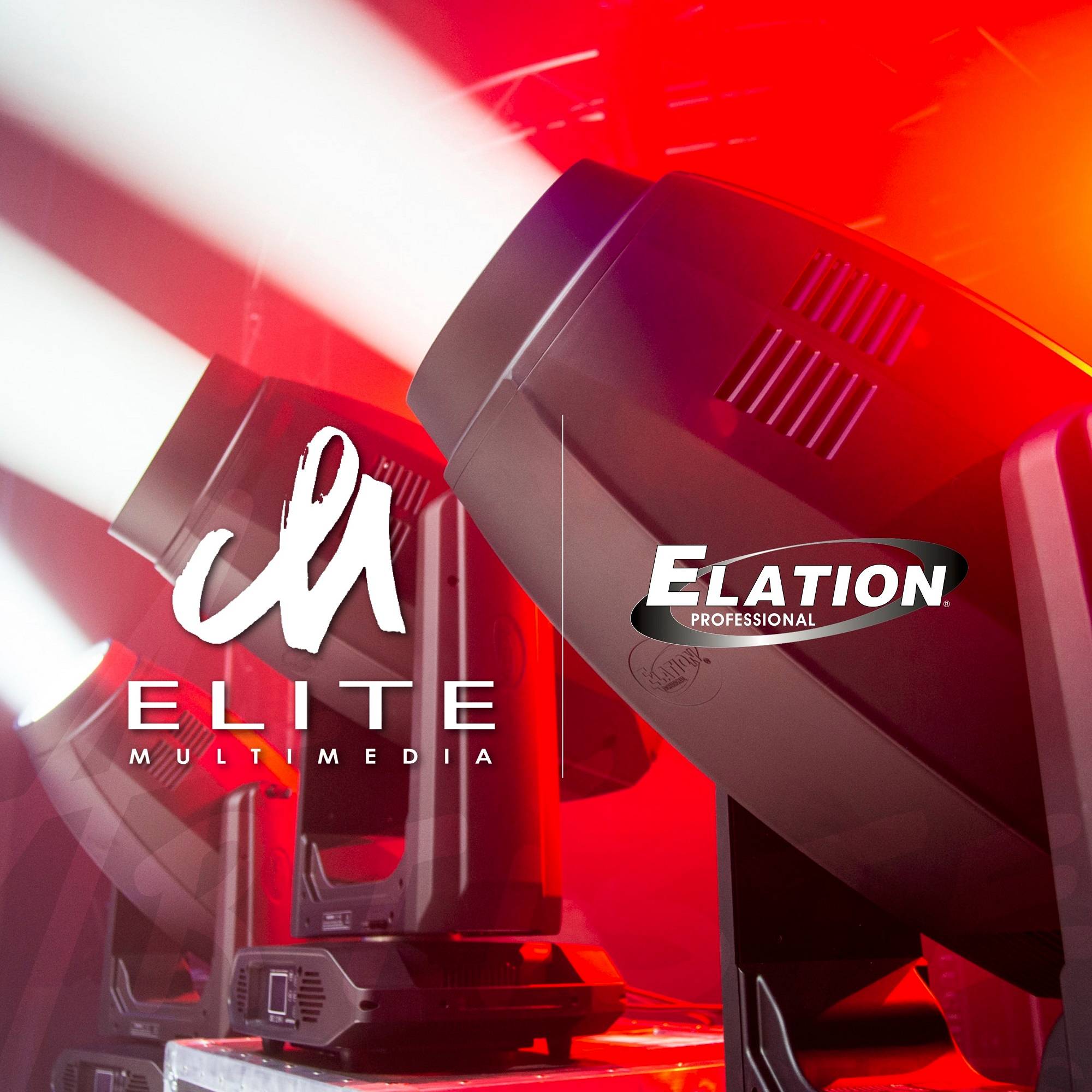 Nashville-based Elite Multimedia Productions has added Elation Artiste Monet™, Artiste Mondrian™ and Protron Eclypse™ LED luminaires to its extensive inventory of professional live event lighting and is teaming with Elation to showcase the new gear at an Open House event August 31st at the Elite facility in Nashville.
"We are delighted to be partnering with our friends at Elite to demonstrate some of our latest lighting innovations," stated Elation National Sales Manager John Dunn. "Our close relationship with Elite delivers significant value to customers in the form of more innovative products and greater service levels and we look forward to continuing that collaboration at this Open House."
Jason "Cannonball" Jenkins, Director of Operations at Elite Multimedia Productions, comments, "Elation has been one of our top tier vendors for quite some time and when we recently had the opportunity to expand our fleet with high-power LED fixtures, the choice was obvious. "All three of these fixtures allow us to offer a fleet-level LED expansion to all sectors of our clientele that we have previously been unable to provide."
Elite, who provide event production, gear and support for events nationwide, acquired 24 units of each fixture type and plan to utilize the new gear across the wide breadth of markets they serve, including touring and live events, corporate, TV and film, as well as outdoor and virtual events.
Elite first to market with Mondrian
With a 222mm PC lens and capable of producing a narrow 3° beam, the Mondrian is a remarkable fixture, utilizing a custom hotspot LED engine to provide outstanding center intensities at long throws. Jenkins comments: "The Mondrian is the first of its kind in this fixture class and we are excited to be the first rental resource to bring it to market. It's an absolute powerhouse with a ridiculously impressive feature set." The Monet's flexibility as a full-featured profile that can handle a wide gamut of applications will serve Elite's varied clientele well, as will the Protron Eclypse, a versatile hybrid LED luminaire that can multi-function as a blinder, strobe, high-output wash light or creative effect in one.
Two-way relationship
Jenkins values the support the Elite team receive from Elation, namely John Dunn and Eric Loader, as well as sales support from Freed Sales reps Dustin Pesnell and Chuck Dillingham. "They are really the driving force in the relationship," he says. "They support us night and day and work tirelessly to hit our goals." The best part, continues Jenkins, is that it's not all about business. "The Elation and Freed teams are our friends and that makes doing business all the easier. Lastly, they listen to our input. They want to know how to make their products better so they listen to our opinions about how the fixtures work and are assembled."
Monet, Mondrian, Eclypse
Both the 45,000-lumen Artiste Monet profile and the 51,000-lumen Artiste Mondrian profile FX house 950W, 6500K LED engines and all-inclusive FX packages along with pioneering innovation like Elation's exclusive 7-flag SpectraColor color mixing system and endless rotation framing. "Being able to achieve the output these fixtures are capable of producing has previously been out of reach for some clients," says Jenkins, "but now Elation has brought high-quality, high-output fixtures to market at a cost that is more affordable than some boutique manufacturers."
Affordable quality
The new purchase adds to Elite's vast stock of state-of-the-art lighting, an inventory that encompasses other Elation lights, including other Artiste series luminaires. "We have had a very positive experience with our Artiste DaVinci fleet," said Jenkins of the LED moving head spot, adding that there are several reasons why they continue to turn to Elation as one of their top tier vendors. "First and foremost, the quality of the product is phenomenal and Elation focuses on high quality at an affordable price. The products are road tested and hold up very well, making the continued investment in Elation as part of our fleet a very simple decision."
August 31st Open House
Elite will be debuting the new Elation fixtures at an Open House event to take place August 31st at its Nashville facility. The Elite team will be conducting personal VIP demonstrations of the new fixtures by appointment during the day with a social event planned for the evening. For details and registration, please visit https://elitemultimedia.com/open-house-registration/