EARTEC Specialty Headset Communication Systems
By: Ricky Perinchief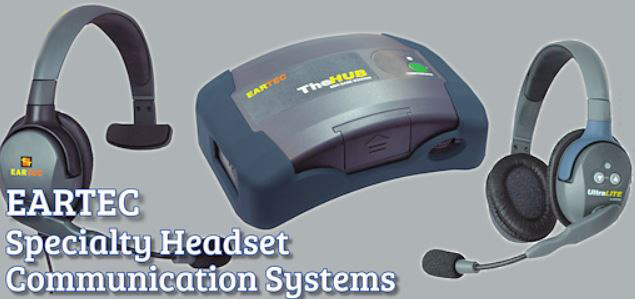 After over twenty years of working in church technology, traveling to fifty countries, dealing with churches both big and small, I've found one of the most important – yet often overlooked – keys to a successful creative/ technical arts department is the intercom system. Taking a closer look behind the scenes of local churches and houses of worship, communication is paramount to ensure team members are on the same page, anticipate transitions and cues, and help keep the worship experience flowing smoothly each and every service. I've seen many churches make the mistake of budgeting for good lighting, video, and audio systems, yet leave little or no money for an adequate intercom system. Some even turn to cheap consumer two-way radios as a less-than-lackluster attempt at communication. Luckily for us, Eartec continues to deliver simple, affordable, and fully-scalable intercom systems, where good communication for your technicians and operators no longer has to be an afterthought. As an added plus, with Eartec, there's no need for FCC licensing.
In February of this year, I was offered the opportunity to review a variety of Eartec systems, and a soft padded waterproof nylon case arrived at my front door soon afterwards. Opening up the main zipper, I was shocked to see how much technology was squeezed into such a small case. Inside were several compartments with a variety of headsets to try, another compartment for the included rechargeable lithium batteries, and an eight bay multi-port charger – a veritable cornucopia of product, which I discuss below.
HUB – Portable Duplex Base Stations
The HUB Mini Duplex Transceiver Base supports one plug-in & up to eight wireless UltraLITE headsets; totaling up to nine users, which can be easily scaled to 17 total users just by adding an interlink and an additional HUB system. The system is full-duplex, meaning it allows both talk and listen simultaneously. Not only does the HUB work on AC power, but it also comes equipped with a LiPo battery and belt clip, so you can use it on-the-go.
This is a huge benefit especially for my church here in North Central Florida. At Now Church, we have a huge event every Easter where we do full production inside for our regular Sunday morning services, but at the end of service, everyone heads outside for our Helicopter Candy Drop. A half ton of candy falls from the sky onto our baseball field, then kids of all ages make a beeline for the field to load their baskets. We can literally use the intercom system as normal inside for broadcast, lighting, Pro Presenter, etc., then unplug the HUB from AC power, and go outside. Our crew can still communicate during the event via battery power, which means they don't need to switch systems and we don't need to have a secondary system on hand for outdoor use. The range of the HUB is up to a quarter mile using the latest cordless phone standards, DECT 6.0. These frequencies offer superior sound quality and do not suffer wireless network interference.
You'll get the most out of your UltraLITE single and dual headsets by connecting them to a HUB base, but Eartec also offers versions that work independently, linking up to five headsets without the need for a HUB base. With this setup, one headset will be the "Master", and the others will be the "remote" headsets.
UltraLITE – Self-Contained Duplex Headset
Eartec's UltraLITE full duplex wireless headset featuresan All in One design with single or dual earcup options, plus a boom mic, integrated battery providing about six hours of talk time, volume buttons and a power button. The headband is adjustable, and the boom arm rotates 270° which automatically mutes the mic when placed in an "up" position. The ear-cup is made from leatherette and provides a close and comfy fit that blocks out a good bit of background noise. The lack of PTT or mute buttons did take some getting used to. When testing we noticed the microphones do have a slight noise gate on them, so even if you keep the boom mic down near your mouth, the gate only opens up when you talk.
UltraPAK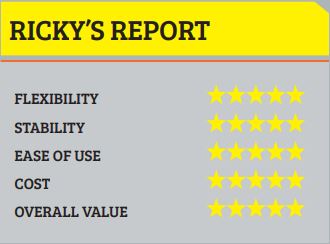 If you prefer the more traditional approach to professional intercoms where you have a small wireless transceiver you can clip to your belt, Eartec offers UltraPAK, an extremely small and lightweight digital transceiver with an equally lightweight headset. In addition to the volume buttons, there is a mute button which we really liked, and it offers virtually hands-free voice communication. Eartec makes it easy to customize your system; you can combine different headset options to go along with the HUB, such as the all-in-one Max 4G single and dual headsets, or UltraPAK which offers a variety of headset options, including a lightweight headset perfect for stage hands, associate producers, service directors, etc. Some intercom systems can take a while to install or program, but in my experience, Eartec products are very straight forward, super-simple to use, offer a good number of features, and are a great fit for churches, especially those who rely on volunteer labor and need a straight forward intercom system. It truly is plug-and-play at its finest! If you've been looking for a high-quality intercom system that is affordable, reliable, customizable, and scalable, Eartec will have a solution for you. You can learn more about each product and see what else EARTEC has to offer at www.eartec.com
RICKY IS A 2-TIME EMMY WINNER WITH 20+ YEARS IN BROADCAST TELEVISION, CONSULTING AND SYSTEMS INTEGRATION;AND OVERSEAS TECHNOLOGY FOR HIS FATHER AT NOW CHURCH IN OCALA,FL. HIS COMPANY, PROTON GLOBAL MEDIA GROUP, IS COMMITTED TO HELPING MINISTRIES OF ALL SIZES ACHIEVE TECHNICAL EXCELLENCE, AFFORDABLY.