Blue Microphones Announces Effortless Recording with Nessie, Adaptive USB Microphone
Nessie takes the guesswork out of great recording by applying fundamental recording techniques in real time for instantly polished results
January 7, 2013
Blue Microphones, a leading innovator in microphone technology and design, announces Nessie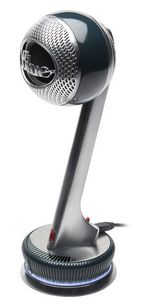 (www.bluemic.com/Nessie), the solution for fearless recording that instantly delivers studio-enhanced sound for desktop recording of vocals, instruments, voiceovers and more. Nessie adapts in real time, applying professional studio processing, combined with a built-in pop filter and internal shockmount to produce expertly finished sound, without the need for additional mixing or editing.
Nessie's key features and internal processing are specifically designed to combat the most common pitfalls of recording. The built-in, studio-grade pop filter and shockmount reduce harsh plosives and disruptive rumbling and vibrations, while the adaptive processing, including EQ, de-esser and level control, automatically smoothes and refines your audio in real time. Nessie takes the audio guesswork out of great recording.
"With Nessie, we are excited to introduce fearless recording with a brand new category of digital microphones. In professional recording, there are common practices and fundamental processing used to edit and improve sound quality, but we understand that not everyone has the tools, time or engineering know-how to get the best results. So we built adaptive studio processing into Nessie," said John Maier, CEO of Blue Microphones. "Nessie was designed to expertly apply the most common techniques instantly, allowing you to concentrate on your performance, not how to record it."
Nessie employs a single custom-tuned condenser capsule with a cardioid pattern. Nessie's three flexible recording modes are optimized for richer vocals, more detailed instruments or an option for raw audio for manual post-production editing. Nessie features a zero-latency headphone output for direct monitoring, which is critical for eliminating distracting delay, while headphone volume and instant mute are located directly on the microphone. For optimal positioning, Nessie's head adjusts with serpentine flexibility. Nessie is plug-and-play compatible via USB with both PC and Mac with driverless installation. For mobile recording, connect to iPad using Apple's camera adapters (30-pin to USB or Lighting to USB), sold separately.
For Nessie sound samples and comparisons, visit: https://soundcloud.com/blue-mic-samples/sets/nessie
For more information about Nessie, MSRP $99.99, visit www.bluemic.com/Nessie.