12Stone Church Installs FUJINON HD Lenses
Video production at four campuses now based on FUJINON lenses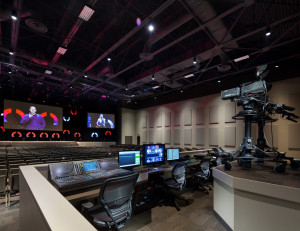 As one of the fastest growing churches in America, 12Stone Church recently opened a new Atlanta metro campus called Sugarloaf, which is equipped with a state-of-the-art HD video and audio production facility complete with Grass Valley LDX80 Premiere cameras and FUJINON HD lenses from the Optical Devices Division of FUJIFILM North America Corporation. The lens package includes: two FUJINON XA22X7 Studio Series box lenses on pedestal-mounted cameras, and two FUJINON ZA12X4.5 ENG lenses for handheld applications.
At these four locations, 12Stone—a Wesleyan evangelical Christian Church—offers 20 worship services weekly to over 30,000 attendees. The new 1,000-seat Sugarloaf worship center joins three other regional locations, including the Central campus (in Lawrenceville, GA) with its 2,600 seat-worship center, the Hamilton Mill campus with an 800-seat worship center and Flowery Branch with 500 seats. 12Stone also webcasts select services at its website.
"12Stone Church has been using FUJINON lenses for years at its Central campus, where the lenses have performed extremely well. The lenses produce exceptional picture quality, even in very low lighting conditions, and they're backed by excellent customer service," said David Roche, project manager for Technical Innovation's Blue Hat Design, a systems integration firm specializing in audio/video installation and broadcast solutions for houses of worship (HOWs) headquartered in Norcross, GA.
"So when it came time to choose HD lenses for the new Sugarloaf campus, we were very comfortable staying with FUJINON."
In 2008, Blue Hat Design upgraded 12Stone Church's Central campus with HD video production capabilities—including production control rooms, audio for video control rooms and edit suites—as part of a bigger facility renovation. The main campus also features a custom theatrical lighting grid, professional sound system, five Christie Digital HD20K projectors
and large on-stage screens for image magnification.
In 2014, Blue Hat Design returned to install a fully equipped HD video production facility at the new Sugarloaf campus. In June 2014, Blue Hat Design won a 2014 Commercial Integrator BEST Award for Best House of Worship Project for its innovative design, which allows 12StoneChurch to share its HD video and audio production facility with the John C. Maxwell Leadership Center. The architecturally stunning Sugarloaf building—designed by Wakefield, Beasley & Associates—houses both 12Stone's worship center as well as the MaxwellCenter, which provides training for pastors and motivational speakers.
Sugarloaf is unique in that it has a full television studio, equipped with its own lighting grid, LED lighting panels, 3G fiber camera interconnections, audio connections, three 16-foot tall cyc walls and seating for a 200-member audience. It also has two Grass Valley Karerra 2.5 ME switchers, several Yamaha audio mixing consoles with Dante networking, Christie projectors and top of the line video monitors and IMAG displays.
12Stone's multi-campus design allows video production of the services—including musical performances, scriptures and sermons—to originate from any of the four locations. The video is then distributed via a dedicated video over fiber IP network matrix that connects all four locations, and stored on Grass Valley K2 Summit 3G or K2 Solo 3G Elite servers for local playback at each of the worship centers.
"Over the years, 12StoneChurch has had a very positive experience with FUJINON lenses and the outstanding service and support from our Fujifilm Sales Rep Susan Teuscher, who helped us greatly on this Sugarloaf project," Roche said. "That's why we like FUJINON lenses and plan to stay with this brand for our next 12StoneChurch renovation slated for 2015."
This year marks FUJIFILM's 80th anniversary, and 40 years for the Optical Devices Division, formerly known as FUJINON, in the U.S.
For more information, please visit www.fujifilmusa.com/northamerica, go to www.twitter.com/fujifilmus to follow Fujifilm on Twitter, or go to www.facebook.com/FujifilmNorthAmerica to Like Fujifilm on Facebook. To receive news and information direct from Fujifilm via RSS, subscribe at www.fujifilmusa.com/rss.
For more information about TI's Blue Hat Design, visit: www.bluehatonline.com