BEHRINGER Introduces EUROLIVE B1200D Powered Subwoofer
3/26/2013 Seattle, WA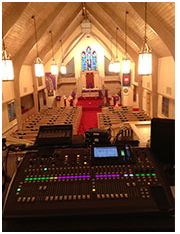 — BEHRINGER unveiled today the latest addition to its EUROLIVE family, the ultra-compact B1200D 500-Watt active subwoofer. Based on the company's highly successful B1500D-PRO and B1800D-PRO models, the B1200D is ideal for small to mid-sized venues, or mobile DJs and musicians who want to add massive bottom-end to existing full-range speaker systems via a more compact, easy to transport subwoofer.
Powered by a 500-Watt Class-D amplifier with comprehensive LF extension, thermal and clip limit protection, the B1200D features a high-efficiency, Class-D amplifier that not only significantly reduces overall weight, but provides the same dynamic punch and fidelity typically associated with much larger, more expensive systems.
A built-in active stereo crossover provides high-pass filtered outputs for full-range loudspeakers and an internal limiter provides woofer protection. The B1200D features balanced XLR inputs and outputs, as well as balanced XLR Thru jacks for connecting additional enclosures. A Boost Frequency knob lets the user select any frequency from 45 – 90 Hz. Then, much like a "mini-parametric EQ," engaging the Boost switch augments the selected frequency by +10 dB.
Also provided is a High Cut filter that controls the upper-corner frequency for the internal amplifier and a Level knob, which controls input gain. A Phase switch reverses the output phase for proper alignment between the B1200D and satellite speakers. Power, Signal, and Clip LEDs show operational status at a glance for perfect monitoring. BEHRINGER designs and manufactures all their own transducers in-house—including the powerful 12" long-excursion, low-frequency transducer found in the B1200D.
The EUROLIVE B1200D is covered by BEHRINGER's 3-Year Warranty program, is expected in U.S. stores in Q2 2013 at an approximate street price of the B1200D is $399.99 ($799.99 MSRP).
http://www.behringer.com