EV releases the RCM-28 module with OMNEO networking technology
Electro-Voice is pleased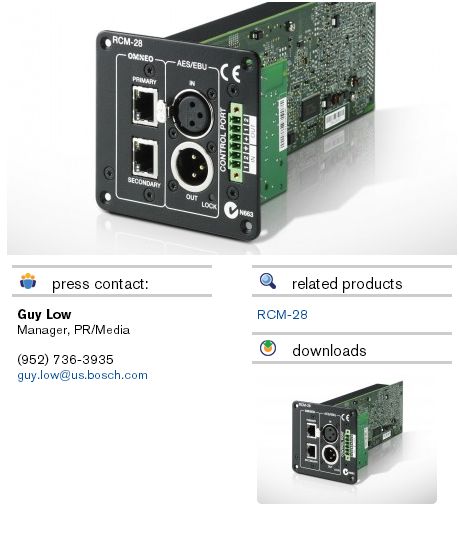 to present the newest enhancement for Tour Grade power amplifiers: the RCM-28 DSP and network module. The RCM-28 is a dual-channel digital control module with DSP processing capability equivalent to one channel of the Electro-Voice Dx46 system processor. With an RCM-28 module installed, a Tour Grade amplifier's network and system parameters can be completely supervised and controlled remotely through IRIS-Net.
The RCM-28 module is the first EV product to support the new OMNEO media networking architecture. Tour Grade series amplifiers with RCM-28 modules installed can be integrated into OMNEO networks of up to 100 other devices that operate over standard Ethernet with standardized protocols.
Key Features:
Integrated audio networking and control over CAT5
DSP equivalent to one channel of Dx46, including FIR-Drive
Audio networking compatible with any Dante device
Control network compatible with OCA protocol
Ultra-low latency
Works in any TG amplifier
Each module can send or receive two audio channels in OMNEO/Dante format at a sample rate of 48 kHz. A third channel is available for remotely monitoring the audio signal at the amplifier. The transmission of several hundred audio channels is possible over the network. In addition, the RCM-28 features an AES/EBU digital input with loop-through capability and a dynamic range of 128 dB; two analog inputs and two analog outputs are available via XLR connections (116 dB SNR). The A/D and D/A converters have 24-bit resolution and the 500 MIPS dual core processors operate at 48-bit resolution.
In addition to a complete library of audio processing functions, the RCM-28 can implement FIR-Drive filtering. Interfaces include two RJ-45 ports for the OMNEO network and four freely configurable GPIO control ports (2 x GPI, 2 x GPO).
"With OMNEO, we are offering our customers the possibility of using fully standardized media networks within which not only Electro-Voice equipment but also the products of a variety of other manufacturers can interact seamlessly with one another," says Ethan Wetzell, Platform Strategist with Bosch Security Systems and Global Product Manager for DSP. "We are harmonizing our solutions with newly emerging standards such as AVB (Audio Video Bridging) in order to create a standardized Ethernet infrastructure for every possible type and size of application. In future, OMNEO will play a leading role in both system design and that of new products, so we are delighted to be presenting in the RCM-28 the first of many new OMNEO products."