A Burst Of Creativity For Lighting Professionals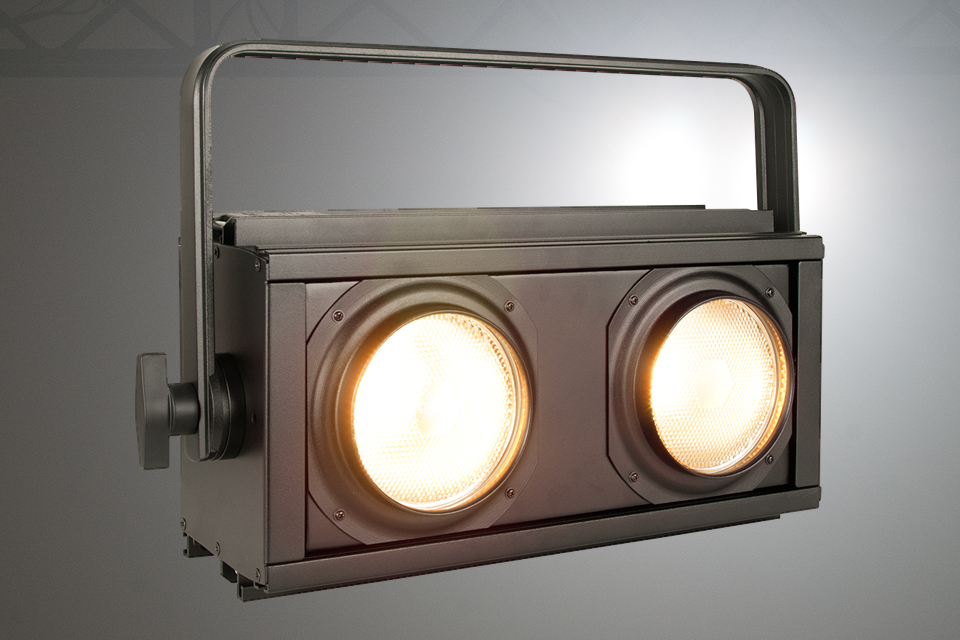 ADJ is pleased to announce the immediate availability of the new Encore Burst 200 professional audience blinder/strobe unit. This cutting-edge lighting fixture combines the power-saving and long life benefits of an LED light source with the classic blinder effect in a flexible modular weatherproof case design that allows it to be deployed in a variety of different configurations.
The dual lens Encore Burst 200 is powered by a pair of 110W warm white (2700K) CREE COB LEDs, with a 50,000 hour average lifespan, and offers a wide 50-degree beam angle. It is also fitted with an innovative 'Tungsten Mode', which reduces the color temperature to 1200K at low dimmer settings to emulate the warm glow of filament-based light sources used in classic stage lighting fixtures. This allows it to generate the same effect and comparable, if not brighter, output to traditional blinder fixtures powered by 650W halogen lamps, but using a fraction of the power.
An impressive output of 12,249 LUX (measured at 1M) makes the fixture ideal for use on large stages and productions. It has a CRI of 81 and offers an adjustable LED refresh rate (900-25,000Hz) and gamma brightness (2.0-2.8). Not only are the unit's LEDs ideal for use as an audience blinder effect, but they can also be used to generate a powerful variable speed strobe effect.
A rugged metal housing makes the fixture suitable for use in touring and rental situations, as well as permanent installations. The case also boasts an IPX4 rating, meaning that it is protected from splashes of water and therefore suitable for use on concert or festival stage productions located outdoors. The lens array also offers manual tilt adjustment and each of the two LEDs can be controlled independently to allow for pixel-mapping effects.
The casing is also fitted with an aluminum rails system that uses locking pins to allow multiple units to be easily connected together to form a cluster of fixtures in either a vertical or horizontal array. This can be used to create traditional 2×2 and 2×4 blinder configurations, but also allows for other creative arrangements to be put together. Its modular system makes the Encore Burst 200 ideal for rental and production companies, as fixtures can be deployed in different configurations to meet the requirements of individual clients and events.
The fixture is supplied as standard with two different hanging brackets, allowing for even more flexibility. The Yoke bracket attaches to either side of the unit and is ideal for when single fixtures are to be rigged alone, offering variable angle positioning. Alternatively, the Omega bracket can be attached to any of the four sides of the unit, secured in place by the locking pins, and is designed for when multiple units have been joined together. Up to 10 units can be linked using the rail and pin system, either on the units' long or short side, and hung from a single Omega bracket.
Compatible with an input voltage of 100-240V 50Hz / 60Hz (autosensing), the unit is suitable for use worldwide, making it ideal for international touring or production companies that work in multiple countries. IP-rated powerCON True 1 AC input and output sockets, fitted with protective rubber caps for when they are not in use, mean that weatherproof powerCon True 1 power cords can be used when the fixture is installed outdoors or regular powerCon leads can be used for indoor applications. The unit's low total power draw of 235W means that up to four fixtures can be daisy chained from a single 120V power supply and up to eight units can be connected together from a single 230V power source.
The fixture is fitted with professional-caliber weatherproof 5-pin XLR input and output sockets, which are also protected with rubber caps. It offers a choice of four DMX channel modes (1, 2, 4 or 6) as well as a selection of five different dimming curves suitable for a variety of applications. DMX addressing and mode selection can be carried out from a convenient 4-digit LED display, with four corresponding weatherproof push buttons, located on the back panel of the fixture.
With compact dimension of 15.75" x 8.5" x 9" / 400 x 215.5 x 200.5mm, the Encore Burst 200 is easily portable. Also, despite its robust metal housing, the fixture weighs in at a very manageable 15 lbs. / 6.8 kg. A solid loop located on the rear of the unit allows for securing a safety chain or wire and a forced air cooling system, utilizing a dual fan arrangement, ensures excess heat is quickly dispelled.
"We're very much looking forward to introducing the Encore Burst 200 to lighting professionals," comments ADJ USA's National Sales Manager, Alfred Gonzales, "because we think they are going to find its creative potential extremely exciting. It offers the authentic effect of a traditional audience blinder, which is an essential component of many tours and almost all festival stages, but using way less power. It's innovative modular design also allows this effect to be deployed in new and interesting ways, while its ability to also serve as a high-power strobe effect further adds to this unique fixture's flexibility."
The Encore Burst 200 is available now from ADJ USA and ADJ Mexico; it will be available from ADJ Europe in Q3 2019.
For more information, please visit www.adj.com.