10 Solutions for Easy Video Streaming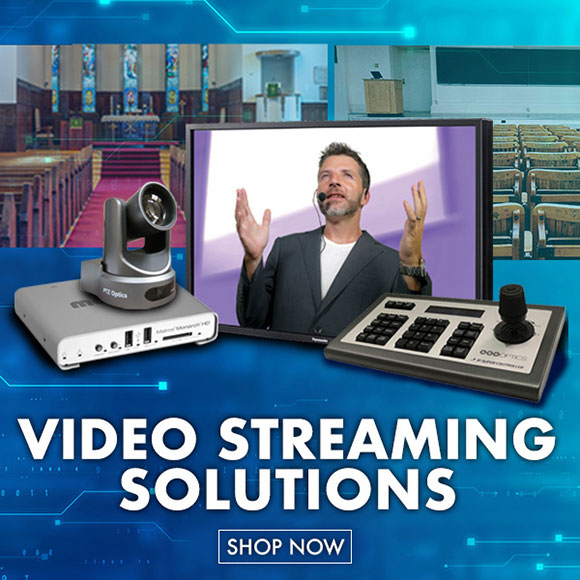 As more and more organizations are finding the need to communicate remotely, streaming video has turned into an essential tool to stay connected with students, congregants, and employees. The good news is that streaming technology is user-friendly, and you may already have much of the equipment you need for a perfectly capable streaming system. If you don't, our friends at Full Compass have put together a variety of streaming packages to meet the needs of venues of all sizes.
The information provided below by Full Compass goes over the basics of streaming for those who are brand new to setting up a video stream, before getting into some more intermediate and high-level configurations.
So… Video Streaming 101
Get a video camera. Already have one? Great!
Get an encoder. That's the one thing you probably don't have. This is basically a box that sends your video signal out to the world.
Hook your camera into your encoder with an HDMI or SDI cable (depending on your camera), follow the simple setup prompts, and stream over YouTube or your Facebook page or any other streaming service.
That's it. That's all you need to know to stream live video.
To help make your transition to streaming as easy and affordable as possible, our video experts assembled 10 all-in-one solutions for houses of worship, schools and businesses of just about any size and configuration. Find a streaming package that works best for your space—from simple setups to high-end, multi-camera, and UHD-4K configurations.
#1 FOR THOSE WHO ALREADY HAVE A CAMERA
When all you need is an encoder to get your video onto the web, these 3 encoders will have you streaming in no time:
Datavideo NVS-33
Video Streaming Encoder and MP4 Recorder ($699.00)
Once the NVS-33 is set up initially using a computer or tablet, users can simply press one button to start their streaming and recording.
Matrox Monarch HD  
Professional Video Streaming and Recording Device ($995.00)
This is one of our top-selling video streaming devices because it delivers professional-quality video yet is easy-to-use. Follow the quick setup instructions, plug in your HDMI camera, and press the stream button. That's it!
AJA HELO
Professional H.264 HD / SD Recorder & Streamer ($1,295.00)
Its small yet robust design fits anywhere and still provides full-size connectivity: 3G-SDI and HDMI inputs with the ability to stream up to 1080p HD at 60 frames per second. Stream and/or record your proceedings with ease.
COMPLETE SETUPS FOR SMALL VENUE STREAMING
Does your space seat 200 people or less? Then one of these PTZ (Pan, Tilt, Zoom) camera, controller, and video streaming encoder bundles is all you need to get yourself into the homes of those you need to reach.
STREAMING BUNDLE #2
This package includes:
PTZOptics PT20X-USB-G2 PTZ Camera with 20x Zoom
PTZOptics PT-JOY-G3 Joystick Controller
Matrox Monarch HD Professional Video Streaming and Recording Device
This 1080p HD camera from PTZOptics features a 20 times zoom for capturing both wide angles and tighter shots. And you can control its range of motion with the PTZOptics Joystick Controller. The on-screen display menu and focus-lock make it easy for volunteers to use. And the handy Matrox Monarch HD encoder gets your signal up on the web with just one touch of a button.
STREAMING BUNDLE #3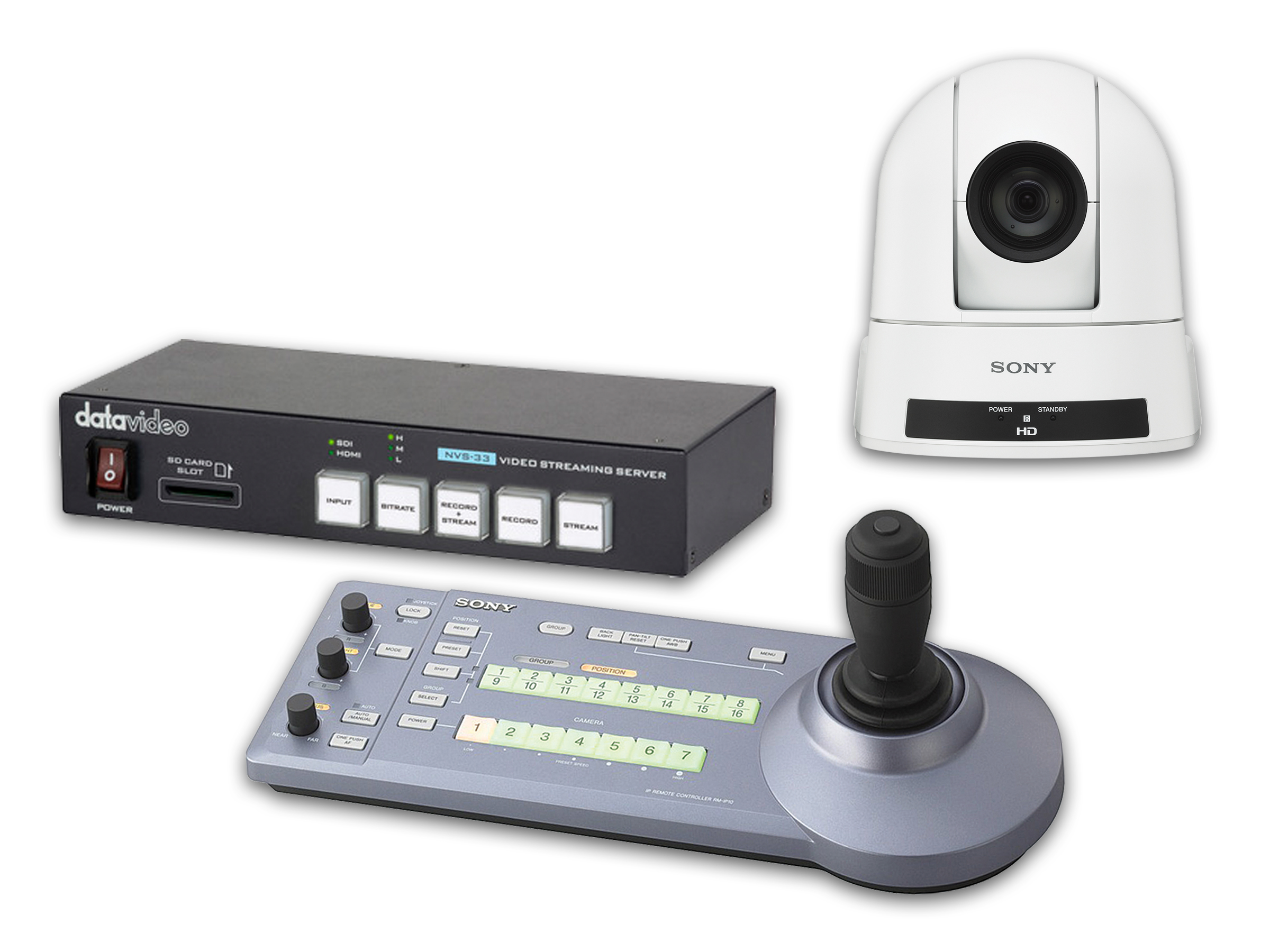 This package includes:
Sony SRG300H/W PTZ 30X 1080p/60 HD Camera
Sony RMIP10 Remote Controller
Datavideo NVS-33 Video Streaming Encoder and MP4 Recorder
A high-end camera for sharper images, this 30x zoom PTZ camera from Sony delivers innovative technology that captures crisper imagery, even in harsh backlighting. The Sony Remote Controller provides comfortable operation with a three-axis joystick, and its use of IP (Internet Protocol) to control the camera means you can use fewer cables to set it up, allowing for much more flexibility in camera placement.
STREAMING BUNDLE #4
This package includes:
BirdDog BDP200 1080p Full NDI PTZ Camera
BirdDog BDPTZKEY PTZ Keyboard
AJA HELO Professional HD/SD Recorder & Streamer
This camera is packed with Sony components but utilizes BirdDog's custom NDI® silicon chip giving it lightning-fast autofocus, incredibly sharp images, and a remarkably quick zoom. The fully-featured BirdDog PTZ Keyboard is ergonomically designed with premium buttons and joystick laid into a stunning form factor. This classy configuration comes with the AJA Helo encoder to get a professional quality stream up on the internet in no time.
SMALL VENUE STREAMING WITH A 2-CAMERA SETUP
Take Camera 1, take Camera 2… Would you like your audience at home to take in more of the action? For a more "live from the studio" look, a two-camera configuration and the video switcher needed to "switch" between them is what's needed.
STREAMING BUNDLE #5
This package includes:
(2) PTZOptics PT30X-SDI-G2 Cameras
PTZOptics PT-JOY-G3 Joystick Controller
Roland VR-4HD AV Mixer / Streamer
These two PTZOptics HD PTZ cameras with 30x zoom utilize both HDMI and SDI signals, excel at shooting in low light spaces, and take in more detail of the speaker on account of its tighter zoom. The low latency Joystick Controller gives you instant camera response. And the Roland video switcher and streamer is a complete portable HD studio in a single unit. The professional-quality controls and switches make for faster operation, and the 18-channel digital audio mixer enables one person to control both the video and audio quality.
MEDIUM VENUE ALL-IN-ONE STREAMING SOLUTIONS
If your space is larger, say 200-500 seats, you'll want a more robust system, with some built-in flexibility and more advanced features. These bundles include cameras made for longer shots, with controllers and switchers designed for multi-camera set-ups.
STREAMING BUNDLE #6
This package includes:
(2) Marshall Electronics CV620-IPW PTZ Cameras
Marshall Electronics VS-PTC-IP Controller
Datavideo HS-1300 Portable Streaming Studio
These Marshall Electronics PTZ cameras are built around a professional-grade 2 Megapixel 1/2.8-inch sensor and utilize broadcast adjustments like white balance, exposure, iris, gamma, gain, and black level. The Marshall controller offers detailed operation through a high-quality PTZ joystick, professional zoom rocker, and individual fine-tune adjustment knobs. And the Datavideo HS-1300 portable video streaming studio lets you switch, monitor, stream, and record a master, all simultaneously. It supports 6 video inputs and 3 video outs at different bitrates for recording and streaming.
STREAMING BUNDLE #7
This package includes:
(2) Panasonic AW-HE40SWPJ9 SDI PTZ 30x Zoom Cameras
Panasonic AW-RP60GJ Compact PoE PTZ Controller
Roland & Matrox V-1SDi-MONARCH-HDX-K Switcher & Amp Bundle
Total Bundle Price: $11,599.99 
Medium to large venues will benefit from these best selling Panasonic HD-SDI PTZ cameras, designed to work from up to 300 ft away from the stage. The 3.5-type LCD screen on the Panasonic controller provides all the information you need at a glance, and the joystick is 1.5 times larger than the original model, which makes for smoother pans and tilts. The Roland V-1SDI is a flexible and versatile video switcher that makes it easy to connect and switch professional 3G-SDI cameras. And the Matrox Monarch HDX is a simple and versatile video encoding appliance specifically designed for webcasters who need a flexible solution that is also powerful enough for demanding streaming and recording workflows.
STREAMING BUNDLE #8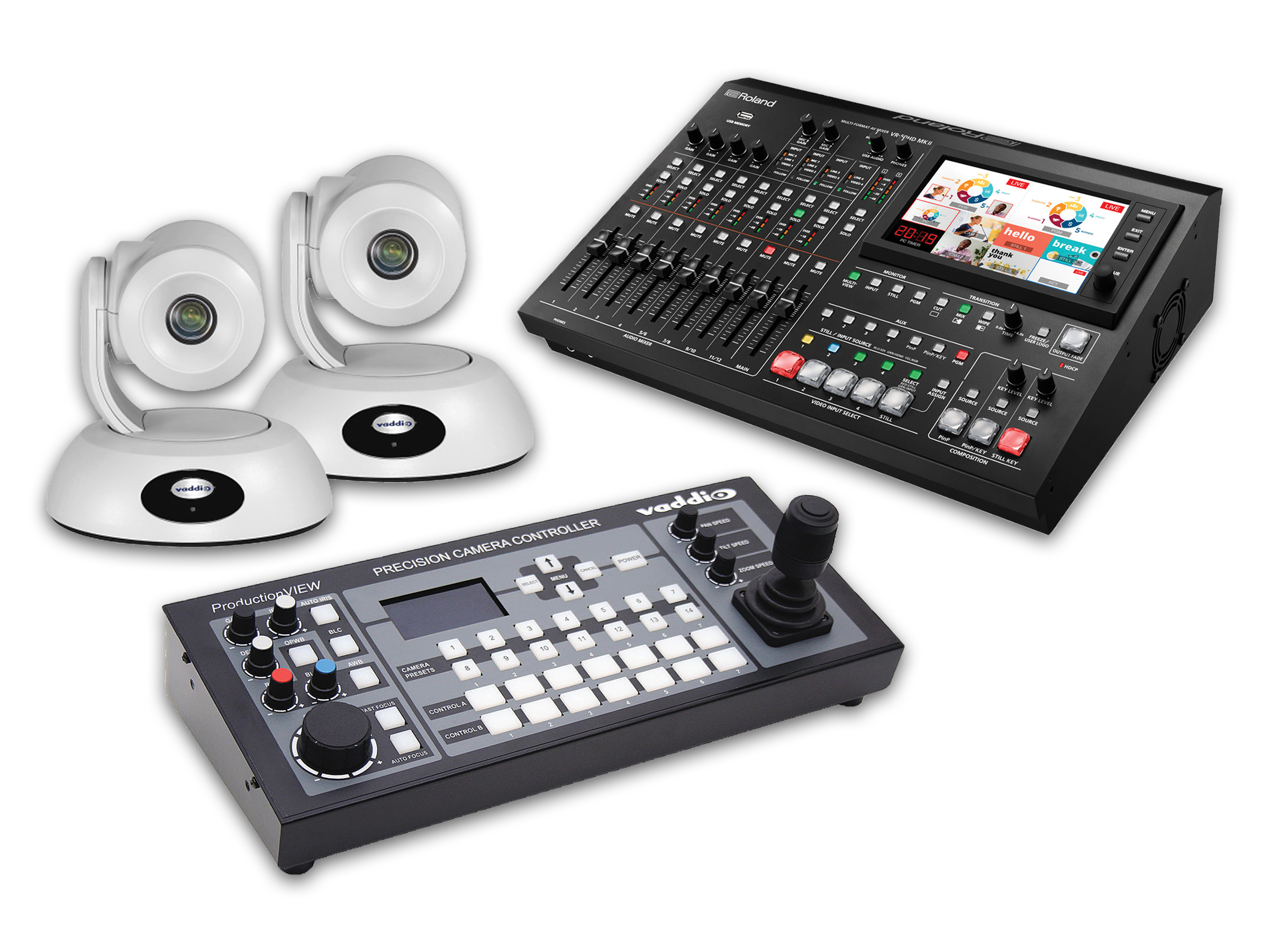 This package includes:
(2) Vaddio RoboSHOT 30E SDI Cameras
Vaddio ProductionVIEW Precision Camera Controller
Roland VR-50HD-MKII Multi-Format AV Mixer with USB 3.0 Streaming
Total Bundle Price: $15,999.99
Vaddio's RoboSHOT® Elite Series 30E SDI is a professional-grade PTZ camera that delivers 8.5 megapixels of 1080p/60 video and powerful image processing. Vaddio's Precision Camera Controller enables users to control red and blue gain, detail, and iris with adjustable gain on either of these Vaddio cameras. One-push white balance (OPWB), auto white balance (AWB), and auto-iris are also available to those who desire a more automated image control system. And the Roland switcher and streamer has been designed around user feedback, so it is loaded with new productivity features to make this advanced mixer easy to operate for a single person.
LARGE VENUE DUAL CAMERA SWITCHING AND STREAMING
When you have a space with seating for more than 500, it may be time to consider some more sophisticated options, with higher-end technology for expanded capabilities. One of these bundles features a network-quality video switcher with a 3-camera setup, and the other is for when you want to take advantage of UHD-4K for higher resolution images.
STREAMING BUNDLE #9
This package includes:
(3) Sony SRG300H/W PTZ 30X 1080p/60 HD Camera
Sony RMIP10 Remote Controller
NewTek TCMINI-SDI TriCaster HD-4 SDI with Display and 2x Internal Drives
AJA HELO Professional HD/SD Recorder & Streamer
Total Bundle Price: $17,999.99 
The star of this bundle is the NewTek TriCaster, the most complete, reliable, and feature-rich video production and streaming appliance you can find in such a small and user-friendly package. Connect multiple video sources, even a feed from your smartphone, and add motion graphics and dynamic effects. When you want your service, instruction, or presentation to look like it's coming from a broadcast studio, the TriCaster is the way to go.
STREAMING BUNDLE #10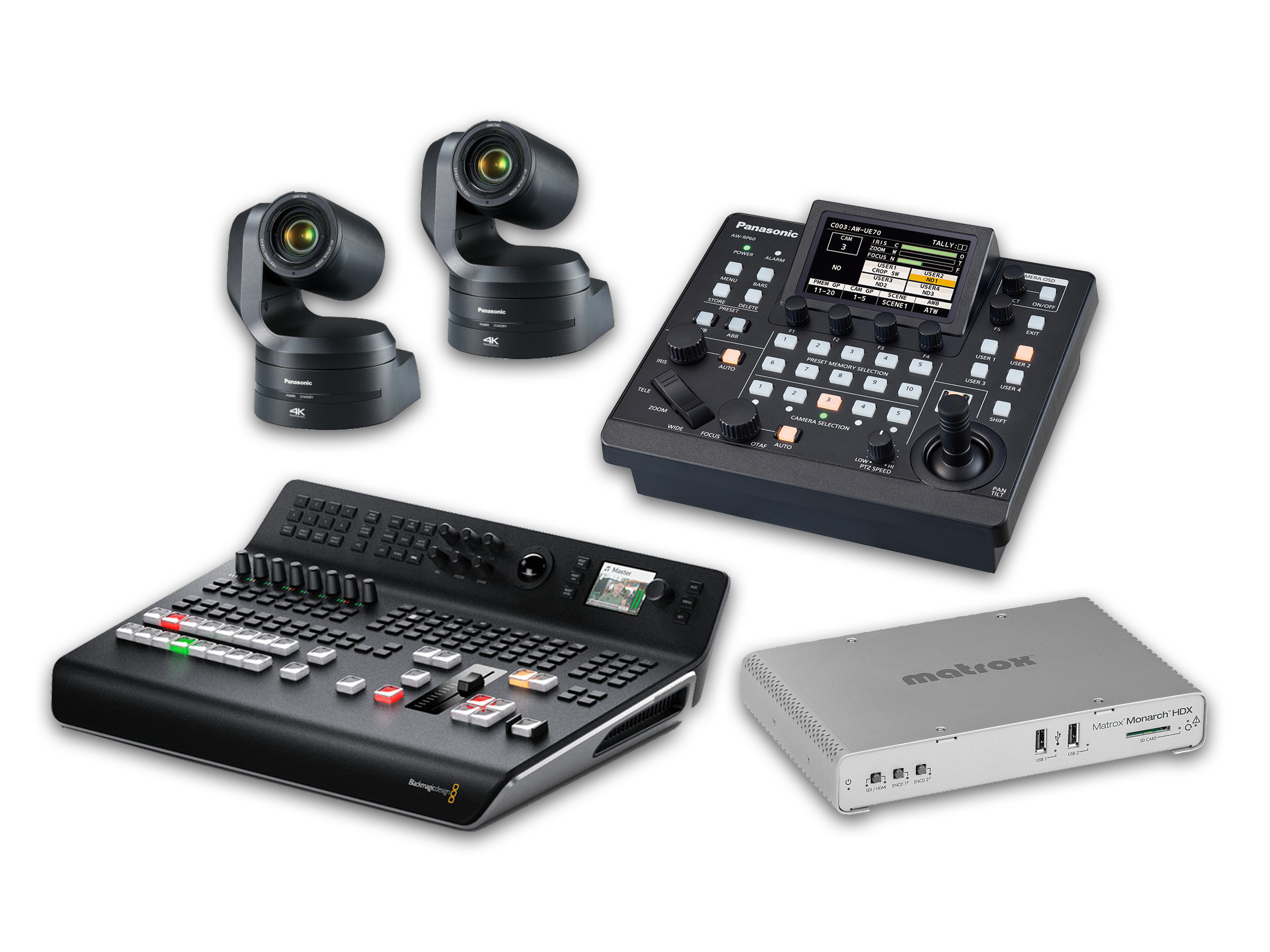 This package includes:
(2) Panasonic AW-UE150KPJ 4K-HD PTZ Cameras
Panasonic AW-RP60GJ Compact PoE PTZ Controller
Blackmagic ATEM Television Studio Pro 4K Ultra HD Live Production Switcher
Matrox Monarch HDX Dual-Channel Video Encoder
Total Bundle Price: $25,999.99
If you want to capture every nuance of the pastor, or you want board members to notice the professional level of the imagery and the stream, we've put together this selection of 4K capable equipment from Panasonic, Blackmagic, and Matrox. The two award-winning PTZ cameras boast a large 1" MOS sensor and support 4K/UHD 60p video output, which can be transmitted through 12G-SDI, HDMI, optical fiber, or IP. The all-in-one Ultra HD live production switcher, the ATEM Television Studio Pro 4K, features eight independent 12G-SDI inputs and a Fairlight audio mixer with parametric EQ and compressor/limiter so you'll sound as good as you look.
There's a setup for every size venue and every size budget. These 10 are going to work for most live streaming situations from beginner to advanced.
You can learn more about Full Compass' Streaming Bundles here or call them at 800-356-5844 with any questions.