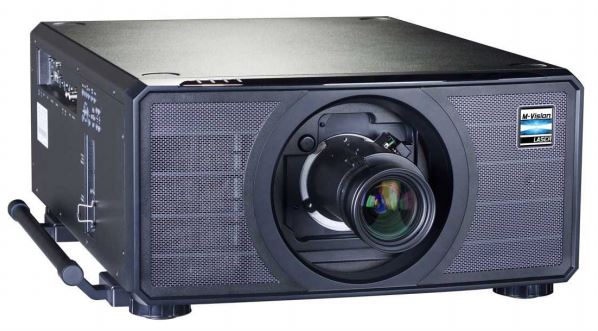 At Grace Polaris Church, we had an interesting conundrum. We had been planning on doing a full renovation and complete overhaul of our AVL equipment (with a heavy focus on the "V" component), but our initial schedule had to be postponed by a year due to budgeting. However, our old projection system was definitely on its last legs, having been in use for over twenty years. We had first introduced IMAG to our church in the late 80s to showcase a Christmas production, The M-Vision Laser 18K Projector from Digital Projection BY JONATHAN BARLOW and then started building our broadcast system from bits and pieces we were able to acquire — often second-hand. It was cutting-edge at the time, but we knew the SD analog equipment couldn't last forever. For the longest time, we were holding our entire broadcast workflow together with spit, prayer, and the hard work of a lot of dedicated volunteers.
Because the projection and image quality of our old system was so poor, we felt we couldn't continue another year without doing something. Interise, our integrator, told us that the Digital Projection (DP) projectors they had already spec'd for us could easily bridge the gap between the old equipment and the new, so we made the decision to move ahead with adding two DP M-Vision Laser 18K projectors in advance of the rest of our AVL upgrade.
First, Interise also had to figure out an effective, yet inexpensive, way to hang the projectors for theyear, all while knowing that any changes made would be redundant when the renovations were completed the following year and the rest of our new equipment was added. Another issue we had to contend with right out of the gate was the fact that the M-Vision projectors are digital HD, and we needed to make them work with what we had. We were able to convert our content from analog to digital using an AJA HD10AVA, with a Decimator MD-HX crossconverter upscaling the
SD digital to HD for our projection to display. Using the crop-settings on the projectors, we were able to 'letterbox' the display, and the difference in what we had been seeing versus the new projected images was incredible. Even with only a 30-year-old signal to drive them, everything was remarkably brighter and cleaner. The congregation's response to our faux-HD setup was very positive.
The DP M-Vision Laser 18K projectors are 18,000 lumens each — very bright — which was a necessity. That power ensures that our IMAG and graphical content is easily viewable from any of the 1400 seats in our renovated auditorium. The room itself is wedgeshaped with two screens inset into angled walls on either side of the stage. This layout allows a congregant seated anywhere in the room to have an unobstructed, direct view of the screens, which adds to the viewing experience.
An additional benefit of the M-Vision's brightness is that it allows us increased flexibility with how we use our stage. Our services often feature our full choir and orchestra in addition to the standard worship band, meaning that there's a lot of both ambient and effect lighting in the rooms. With a peak brightness of 18,000 lumens, the M-Visions are able to produce a crystal-clear image regardless of room conditions, exhibiting nearLCD levels of contrast. We never have to worry about washed-out visuals again.
My favorite thing about the projectors is that, being laser-driven, they are essentially zero maintenance. Our older projectors were lamp-based and, given their age, seemingly always in need of a replacement. This could lead to frustrating and intense moments, such as when we had to replace a lamp mere minutes before a Christmas concert — after the doors had opened and people were already seated. Luckily, we had a vertical lift we could use to make the change, but I can't imagine what we would have done if we didn't have that luxury. The M-Vision Laser 18K projectors remove that worry completely, allowing our team to focus on producing the best worship experience we can for every service.
Now that we've fully completed our renovation process and made thechange over to an HD digital system, I can't believe what we made do with for so long. The difference is truly night and day. We had already noticed a huge change in the look of our services when we were simply upconverting from old equipment to the new projectors, but when our workflow switched over entirely to new HD equipment and we added all-new cabling infrastructure, we were just blown away. With the difference in color contrasts — the way black is now black, and our whites are now white — it feels almost like we're looking at an emissive screen instead of something reflected.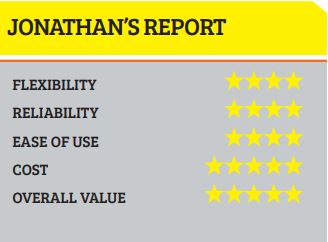 In short, the DPM-Vision Laser 18K has changed my expectation for what can be done with a projector. With profound contrast, tack-sharp clarity, and vibrant colors, our video production has never looked so good. Additional features, like its quick startup time, quiet operation, and full control over IP, also make it very easy to use. The DP M-Vision Laser 18K is a powerhouse of projection that, for a surprisingly affordable price, can provide instant front end improvement to any live production pipeline.
JONATHAN BARLOW IS THE CREATIVE & LIVE VIDEO PRODUCER AT GRACE POLARIS CHURCH IN COLUMBOS, OHIO. HE OVERSEES WEEKLY SERVICE LIVE PRODUCTION, AS WELL AS PLANNING LARGE CREATIVE EVENTS THROUGHOUT THE YEAR AND SUPERVISING THE RECENT AVL UPGRADE.