Teradek Makes Webcasting Like a Pro Easy with Revolutionary New Device Called VidiU™
The Teradek VidiU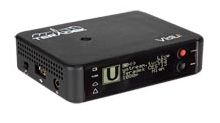 streams 1080p live video to Ustream and other CDNs at an affordable price
IRVINE, CA. – – Today Teradek is bringing the capabilities of professional video encoders to the masses with the new Teradek VidiU. Created for live video producers, enthusiasts and hobbyists alike, this new device makes it easier than ever before to stream HD live video directly to the Web at an affordable price. VidiU can function as a table- or camera-top encoder and does not require a laptop or PC to stream.
The Teradek VidiU is the world's first miniature HDMI H.264 encoder aimed at consumers that offers a variety of built-in connectivity options and support for the most popular video streaming platforms. VidiU provides native integration with the leader in live online video streaming, Ustream (www.ustream.tv), which makes setup and streaming quick and easy. The device also includes an unlocked RTMP interface that provides compatibility with most other Content Delivery Networks (CDNs) on the Web.
VidiU is competitively priced at $699 and for a limited time will include a coupon for 50% off a Ustream Pro Broadcasting account. Ustream Pro Broadcasting allows producers to stream ad-free in high definition, and includes custom branding. To learn more, please visit https://www.ustream.tv/platform/pro.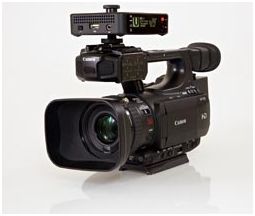 "We're thrilled to announce VidiU, the next step in the democratization of live video streaming," said Nicol Verheem, Founder and CEO of Teradek. "It's a great, no compromise product that offers 1080p HD video, support for most CDNs, and a sleek and simple to use integration with the world's most popular streaming platforms like Ustream and the new Livestream. We used only the best hardware components, such as a built-in rechargeable Li-Ion battery and dual band MIMO WiFi, while keeping the size and cost to a minimum. We're just as excited to launch VidiU with Ustream, the world's most popular live streaming service. Ustream has a great selection of tools that gives content creators the ability to tailor their workflow to their particular needs. To make getting started even easier, we offer 50% off any Ustream Pro plan with every unit."
"We're always looking for professional and affordable options that allow for high-quality and reliable streaming to Ustream," said Ustream Product Manager, Alden Fertig. "The Teradek VidiU hits the sweet spot of price and functionality that makes it a perfect choice for many Ustream broadcasters. HDMI means that it works with most modern video cameras from consumer to professional and the built-in rechargeable battery and Wi-Fi and 4G LTE support means that its truly portable. With 1080p support and optional wired connections, this is not just a portable encoder, but also a robust HD desktop encoding option as well, at a fraction of the price of typical stand-alone encoders."
Like Teradek's professional encoders, VidiU can mount on top of a camera and offers a variety of network interface options such as Ethernet, dual band MIMO WiFi (2.4/5GHz), and support for 3G/4G USB modems. It includes a built-in Li-Ion battery with up to 2 hours of runtime and features a unique Access Point mode that allows users to setup and monitor their live broadcast locally from an iOS device, even if the phone or tablet is not connected to the Internet. Controlling and changing VidiU's settings can also be done on its OLED display.
To receive more information about VidiU, sign up at http://www.teradek.com/vidiu
VidiU will be available in Q1 2013 and will be showcased along with the Company's other products at the National Association of Broadcasters (NAB) Show, from April 8-11, 2013 at Booth Number C9939.
Visit Teradek online at http://www.teradek.com/
Twitter: @Teradek
Facebook: www.facebook.com/Teradek
For more information on Ustream, please visit http://www.ustream.tv.
Twitter: @Ustream
Facebook: www.facebook.com/Ustream