St. Mary's Catholic Church Choose VSA2050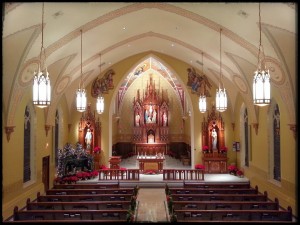 The difficulties of church sound – hard surfaces, no carpeting, pews with no padding. An acoustical nightmare. Add to that the mandate of meeting the aesthetics of the architectural space, and designing a sound reinforcement system becomes a major challenge.
For Reedsburg, Wisconsin-based Peak Systems Group, they have found the solution – the RCF VSA2050 steerable array.
"Traditional speakers, in order to effectively cover the space impact the visual," says Peak design engineer Jason Keagy, noting that the visual, "is part of the worship experience." And with a traditional design, acoustical issues of direct versus reflective sound also become an issue.
Peak Systems often deals with older traditional-style churches looking to upgrade their facilities. In a recent project at St. Mary's Catholic Church in Fennimore, Wisconsin, the church was looking to replicate the look of the original facility nearly 100 years ago. Trying to fit modern technology into the original footprint was a challenge overcome by the use of the VSA2050.
"It became part of the architectural space," notes Keagy. "When a column is so streamlined and discreet, it is easy to incorporate into the vertical aspects of the architecture," making the product practically invisible.
"With the VSA2050, we found a perfect balance of price, sound quality, ease of use and architectural feel," says Keagy. "The steerability provides the competence to service the specific seating area well."
The loudspeaker nomenclature tells you exactly what the speaker is – VSA stands for vertical steerable array, with the 2050 indicating 20 3½" transducers, each driven by 50 watts of power.
The VSA2050 provides a horizontal coverage of 130° horizontal, with, through digital steering, a vertical coverage angle selectable from 10° to 30° and a vertical steering angle selectable from 0° to +/-40°. This can be done by connection to PC or with IR remote control for beam steering.
A unique feature which makes the VSA2050 stand out from other products in this category is the ability to tie the unit into building life safety systems. While the main system is connected via AC power input, a second DC power input with audio ceramic terminal block provides priority override for emergency messaging.
For further information:
RCF USA : www.rcf-usa.com
Peak Systems Group at www.peaksystemsgroup.net