In anticipation of the 2019 NAMM Show in Anaheim, CA, ADJ is pleased to introduce seven exciting new products that will be launched at booth #11438. There's a distinctive new centerpiece, a compact faze machine, a portable four-head LED wash bar, a wireless DMX bridge, a wireless switch pack built into a T-bar and two exciting new additions to the Startec series of effect fixtures.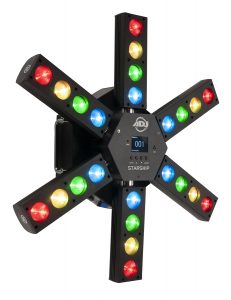 The Starshipis a unique new centerpiece lighting fixture that is ideal for creating impact at the heart of a nightclub lightshow or large mobile lighting rig. It features six bars which each extend out from a central hub and are loaded with four 15W RGBW LEDs. Each of the bars has an independent motorized tilt function and all 24 of the LEDs can be controlled individually. This allows for the creation of a wide variety of exciting effects that feature a myriad of razor-sharp beams changing color and moving in different directions. The fixture can be controlled via DMX (with a choice of two channel modes) and also features in-built shows which can be easily set to run either at a defined speed or triggered by the beat of the music detected by an internal microphone.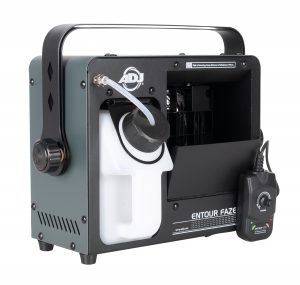 Expanding ADJ's Entour Series of professional atmospheric effect generators, the new Entour Faze Jr is an extremely portable and affordable unit that features a 200W heater and 3-liter fluid tank. It generates 'faze' by using standard water-based fog fluid but dissipated using a high-power fan to create a haze-like effect that is ideal for enhancing the beams of a lightshow. Featuring ADJ's patent-pending rapid heater technology, the machine can be ready to produce haze in just 70 seconds and activated either using the trigger switch on the rear of the unit or the supplied Entour VT-1 wired remote.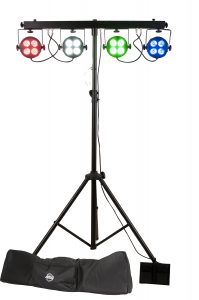 Ideal for mobile entertainers, the Starbar Wash is a complete four-head LED wash system that is supplied complete with a tripod stand, footswitch and protective bag. Each of its four par fixtures feature four 4W 4-in-1 RGBW LEDs and have a 25-degree beam angle that is ideal for illuminating either a stage or dancefloor. All four pars are pre-wired into the T-bar, which means only one power and DMX connection is required. The bar is also fitted with two additional fixing points on top which means that additional lighting fixtures, such as ADJ's Startec Mini Dekker, can be mounted to the bar and powered from its power output socket.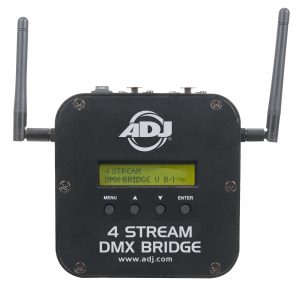 Having previously been distributed by sister company Elation Professional as the 4Cast DMX Bridge, NAMM 2019 will see the launch of the innovative 4 Stream DMX Bridge under the ADJ brand. The next step up from ADJ's popular Airstream DMX Bridge, the 4 Stream DMX Bridge is a 4-universe wireless device that seamlessly bridges WiFi, Art-Net, sACN and WiFLY (ADJ's wireless DMX solution) signals to wirelessly control DMX devices. It allows sophisticated lighting control direct from an iPad tablet using the 4 Stream DMX Bridge APP, which puts powerful scene programming tools at a user's finger tips. Ideal for event production applications, as well as permanent installation in bars, nightclubs and other entertainment venues, this compact unit allows for reliable wireless transmission in any situation where running physical data cables is unsightly or impractical. iPad sold separately.

Building on the success of the Airstream Wifi Pack, the new Airstream Wifi Barfrom ADJ is a wireless switch pack built into a lighting T-bar which can be controlled from the existing Airsteam Wifi iPhone or iPad APP. Featuring a solid metal construction and four fixing points for lighting fixtures, the unit has a central mounting point which allows it fit to the top – or part way down – a standard tripod stand. Offering four power outlets, the Airstream Wifi Bar creates a private standalone 2.4Ghz WiFi network, requiring no existing network infrastructure, and allows users to switch connected lighting fixture on/off manually or automatically directly from their iOS device. iPad, tripod stands and lighting fixtures are sold separately.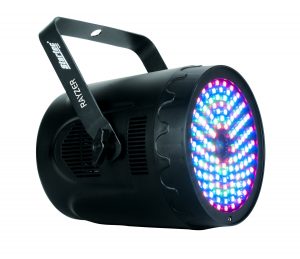 Expanding ADJ's Startec Series of affordable high-impact lighting fixtures, the new Rayzerbrings together two high-octane effects in one compact and easily portable unit. It combines a tri-color laser projector with a multi-zone RGB wash effect, which allows this one fixture to generate piercing midair beam effects for those 'reach for the sky' moments as well as vibrant washes that will fill a dancefloor with richly-saturated swathes of color. The fixture's laser aperture is located right at the center of its circular face and combines red, green and blue beams to create a wide variety of striking effects. When used with fog or haze, the beams will cut through the atmosphere creating impressive mid-air projections. But even in haze-free environments, the unit's complex geometric patterns can be used to add interest to the walls, ceiling or dancefloor of a venue.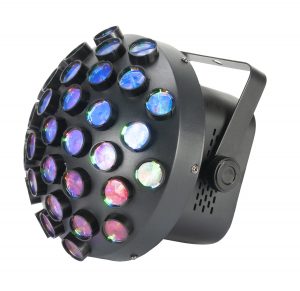 Another new addition to the Startec Series, the Contour is a compact lighting effect fixture that will make a big impact. The LED-powered unit blasts out a myriad of multi-colored beams that spread out over a wide area, making it ideal for filling any venue with vibrant color and energetic movement. Powered by 27 x 1.5W 3-in-1 RGB LEDs, which shine through 36 individual lenses, the output is similar to the classic 'fan style' effect. Each lens projects a line of bright light dots which move and change color to create an ever-changing lightshow.
"2018 was a fantastic year for ADJ that saw us bring to market a variety of innovative new products that were very well received by both established customers and those discovering the brand for the first time," comments ADJ USA's National Sales Manager, Alfred Gonzales. "This is set to continue in 2019 as well have lots more innovation in the pipeline and will start in January at NAMM when we'll be launching seven exciting new products."
These new units will be on display at NAMM 2019 alongside many of ADJ's other popular professional lighting, video and effects products. ADJ will be found at booth #11438 where friendly and knowledgeable members of staff will be on hand to provide demonstrations, answer questions and offer useful advice.
For more information Contact ADJ:
ADJ USA – Tel: 800-322-6337/+1-323-582-2650 • info@adj.com
ADJ Europe – Tel: +31 (0)45 546 85 00 • info@adjgroup.eu
ADJ UK – Tel: +44 (0)1257 476 010 • ukshowroom@adjgroup.eu
ADJ Mexico – Tel: +52 (728) 282 7070  • ventas@adj.com
Web: www.adj.com