Saddleback Church Adds High Resolution Video Displays for Services
March 13, 2013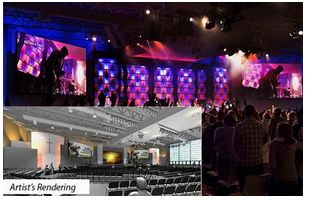 As part of its Decade of Destiny campaign, Saddleback Church, based in Lake Forest, Calif., has added high definition LED displays to its facility. The Decade of Destiny is the church's 10-year vision to help members in the areas of physical, financial, relational, emotional, mental, vocational and spiritual health.
The church leaders looked at different types of technology to help better showcase their services. The comprehensive technical evaluation ultimately led Saddleback to choose Daktronics, Inc. (Nasdaq – DAKT) of Brookings, S.D., to design and manufacture two LED video displays for the stage area. These displays feature 4 mm line spacing, one of the tightest resolution displays in the industry.
"We went through a thorough evaluation of possible technologies and displays before coming to the conclusion that an LED solution would work best. Ultimately we determined Daktronics could provide us with the best LED solution for our needs," said Dave Arnold, Pastor, Director of Strategic Initiatives. "After visiting Daktronics' facilities, I was impressed with their production capacity and their strong commitment to their products and technology as a whole. Daktronics is an all-around strong company, has wonderful people, and excellent service and local support. We are extremely happy with the results of this installation and our relationship with Daktronics."
The pair of displays measure 14 feet high and 24 feet wide to provide all attendees a clear view of the message provided. Throughout the week, Saddleback offers five services and a number of different events including concerts, workshops and other studies and seminars at its main campus.
We are proud to be selected by the Saddleback Church and we look forward to providing a dynamic addition to the presentation. We also look forward to a long term relationship supported by provision of local technical services directly from Daktronics Anaheim office," said Peter Dunkle, Daktronics Sales.
The ultimate indoor display solution, Daktronics 4 mm LED video displays combine advanced contrast levels with 3-in-1 LED pixels for a premium display solution. Ideal for applications requiring extremely close viewing distances. Daktronics LED video and messaging display technology offers a long lifetime with minimal maintenance and low power consumption, providing value and excitement for years to come.
"We appreciate the partnership and are committed to serve Saddleback Church while providing a quality solution," said Daktronics Region Manager Robin Hall. "The incredible image quality on the displays will provide the church with the opportunity to create an engaging experience for its message."
For more information, visit http://www.daktronics.com