Point Source Audio SERIES8 Microphones Chosen by Chase Oaks Texas Mega-Church
Audio engineer and leadership team select PSA's low-profile mics after extensive evaluation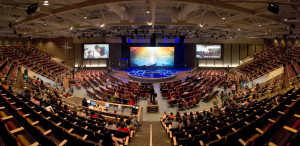 Point Source Audio (PSA), an innovator of the original and one-of-a-kind "Unbreakable Boom" miniature microphones, announced that its SERIES8 miniature microphones have been adopted by the three campuses of Chase Oaks Church of Plano, Texas—serving greater Plano's population of 720,000.
SERIES8 headset mics are well-suited to the church community, particularly those with large congregations and physical dimensions to match. Chase Oaks' expansive campuses made servicing their microphones a growing challenge and expense. "Our old headsets were continually snapping. It was very frustrating," recounts Chase Oak's Audio Engineer Kevin Sanchez before discovering Point Source Audio's SERIES8 and its unique "Unbreakable Boom". "The help I received from PSA's customer support CHAT just blew me away," Kevin added, "every question I asked came back with a 'yes' and a 'here's how you can do it.'"
The SERIES8 collection of headset, earworn and lavalier microphones is Point Source Audio's next generation of miniature microphones. Its flagship 360° bendable boom feature is one of four features the company touts to be unique in combination with their mics' IP57 waterproof rating against water, sweat and makeup; 148 dB max SPL; and interchangeable X-connectors for swapping wireless terminations.
Sanchez was wowed by Point Source Audio's miniature headset that was both bendable and waterproof. After purchasing the CO-8WD through his trusted dealer, Rat Sound Systems in Camarillo, California, he verified the boom didn't break after bending it 90° and after wearing for 30 minutes, it passed the comfort challenge. But the definitive factor for Sanchez and the leadership team was the headset mic's performance quality. "I was shocked at how much gain I could get before feedback and the clarity of the headset," remarked Sanchez.
Chase Oaks Church joins other distinguished venues such as Universal Studios, the Kravis Center, and Shiki Theater Company Tokyo to have compared and chosen Point Source Audio's SERIES8 microphone. With an MSRP starting at $389, Point Source Audio's SERIES8 miniature microphones are available for purchase at a number of resellers and distributors worldwide. More information about Point Source Audio's various audio solutions can be found by visiting www.point-sourceaudio.com.