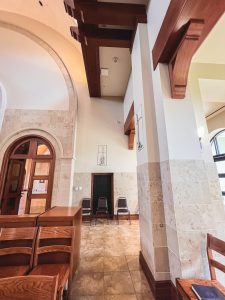 Wouldn't it be nice if RF antennas could be as invisible as the signals they capture? With its Architectural series antennas, RF Venue®, a global leader in essential RF accessories for wireless audio, has achieved that goal, while still delivering renowned antenna performance for both wireless microphone and wireless IEM systems.
"Our engineers have performed magic with the Architectural series antennas," says RF Venue Chief Innovation Officer Chris Regan. "They made the antennas disappear! But it's science, not illusion." The patented cross-polarized technologies of RF Venue's dual-diversity Diversity Fin Antenna for wireless mics and the proven design of the circularly polarized CP Beam Antenna for wireless IEMs are folded into identical slim, compact Architectural series enclosures that can be ceiling- or wall-mounted and painted to match any interior. "The small footprint and thin profile of the Architectural series antennas facilitates placement for optimum RF line-of-sight," adds Regan, "while color matching the housings to their surroundings let them hide in plain sight. The combination of the CP Architectural Antenna and the Diversity Architectural Antenna delivers rock-solid installed wireless audio system performance where mics and IEMs are used together, and visually disappear where appearance is important."
"The benefits of RF Venue antenna technologies are easy to explain to potential customers, and the performance brings them back as repeat customers," shares RF Venue senior applications engineer Don Boomer. "That said, when discussing antenna options for fixed install, the best technical solution was not always aesthetically acceptable. Now we point to the Architectural Antenna housings and say, 'You know what the Diversity Fin and CP Beam antennas can do, how about if they looked like that?' and their eyes light up. It's been gratifying to watch how delighted our customers are to have these new tools available."
For example, Jessey Foster, a loyal customer of RF Venue for essential wireless audio solutions, and owner and lead AVL designer for business tech provider (and now RF Venue dealer) Uniti Designs, says that he anticipates the Architectural Series antennas will be the dominant antenna choice in his permanent installation projects in the future. "For two reasons," he explains. "Reason number one is that the architectural antennas are super flat. When you put them on a wall or you put them in a ceiling, they just disappear. In an install's black ceiling, I just painted the antenna black and you can't see it at all. So, as far as the client is concerned, there's no antenna on stage. That's huge."
Reason two for Foster is the one-two punch delivered when the Diversity Architectural and CP Architectural Antennas are used together: "I can have my IEM antenna and my wireless mic antenna as close as six feet apart – that's really close together. It's amazing what kind of coverage and clarity you get. My clients, some of whom have been doing this for years and know what IEMs are supposed to sound like, notice the difference in clarity. Almost every single time that I put RF Venue in a build for them, the first thing they say is, 'I've never heard it this clear in my ears before.' And the microphones just work all the time, solid."
The CP Architectural Antenna is available standalone and in 4 and 9 Channel Wireless In-Ear Monitor Upgrade Packs, which bundle the antenna with COMBINE4 or COMBINE8 antenna combiners and all needed cabling for a clean, easy setup. The Diversity Architectural Antenna is also available individually and in turnkey RF Venue 4 and 9 Channel Wireless Microphone Upgrade Packs that include antenna, an RF Venue DISTRO4 or DISTRO9 antenna distribution amplifier, and all cabling needed. The RF Venue Architectural Antennas and upgrade bundles work with wireless audio systems of any brand or model, and ship from stock.