Newly Re-Designed Stainless Steel Option
Old Pricing Until January 1st 2015!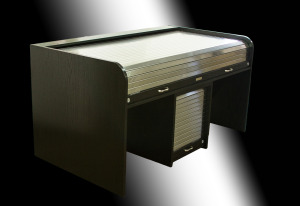 A newly redesigned Stainless Steel Rolltop Tambour option was announced by HSA "the Rolltop People" and is immediately available at the original option's 2014 pricing until January 1st 2015.
This upgrade to HSA's original stainless steel rolltop includes 33% thicker desk sidewalls, and adds a heavier front or lead tambour and Institutional Grade re-keyable core lock systems. HSA re-engineered this option after working with several consultants and architects to meet the requirements of Churches and Schools for more security, ease of maintenance and durability.
The company is also offering both the Institutional Lock System and the Extra Thick Sidewalls as separately available options providing designers, HSA dealers and their Church and School clients more choices in their HSA product's configuration.
HSA states that focusing on product engineering and refinement keeps their Rolltop Desk, Rack and Lectern line competitive, innovative and continually adding value for their customers.
For more information visit www.hsarolltops.com