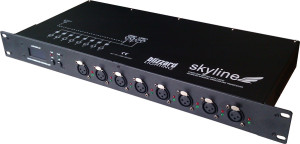 Lighting professionals & enthusiasts alike have yet another intriguing wireless DMX option to ponder as Blizzard Lighting announces the immediate availability of the Skyline™, their new 8-port, rack-mountable DMX splitter with built-in two-way 2.4GHz ISM wireless connectivity.
Just like Blizzard's Pipeline™ 8-way DMX distributor, the Skyline™ allows users a simple and efficient way to distribute and boost incoming DMX signals into each of its 8 separate electronically isolated, 3-pin DMX outputs. The electronically isolated plugs greatly decrease problems with ground loops and efficiently buffers, while magnifying the DMX signal, making it more accurate and reliable. Each output (located on the front of the unit) features its own separate pair of signal and power LED indicators, and an easy-to-use two-button LCD control panel menu is also located on the front of the unit, making set up an extremely simple operation.
But by far, the coolest feature of the Skyline™ which makes it worth its weight in gold is its built-in 2.4GHz ISM wireless transceiver, which can send or receive signal for up to 1000 feet (line-of-sight). It can easily sync up with another Skyline™ unit, or many other of Blizzard Lighting's wireless DMX products that are currently available and already in use worldwide such as their LightCaster™ transceiver units, wiCICLE™ plug-style transmitters, or even their Kontrol 5 Skywire™ and Kontrol 6 Skywire™ series DMX controllers with built-in wireless DMX transmitters.
And of course, it's also backed by Blizzard's 2-year warranty.
Retail price of the Skyline™ is $449.99, and available for immediate shipping.
Blizzard's website is located at: www.blizzardlighting.com