Clair Brothers C15 System Brings Power and Clarity to New Sanctuary in South Korea's Yeon Moo Dae Church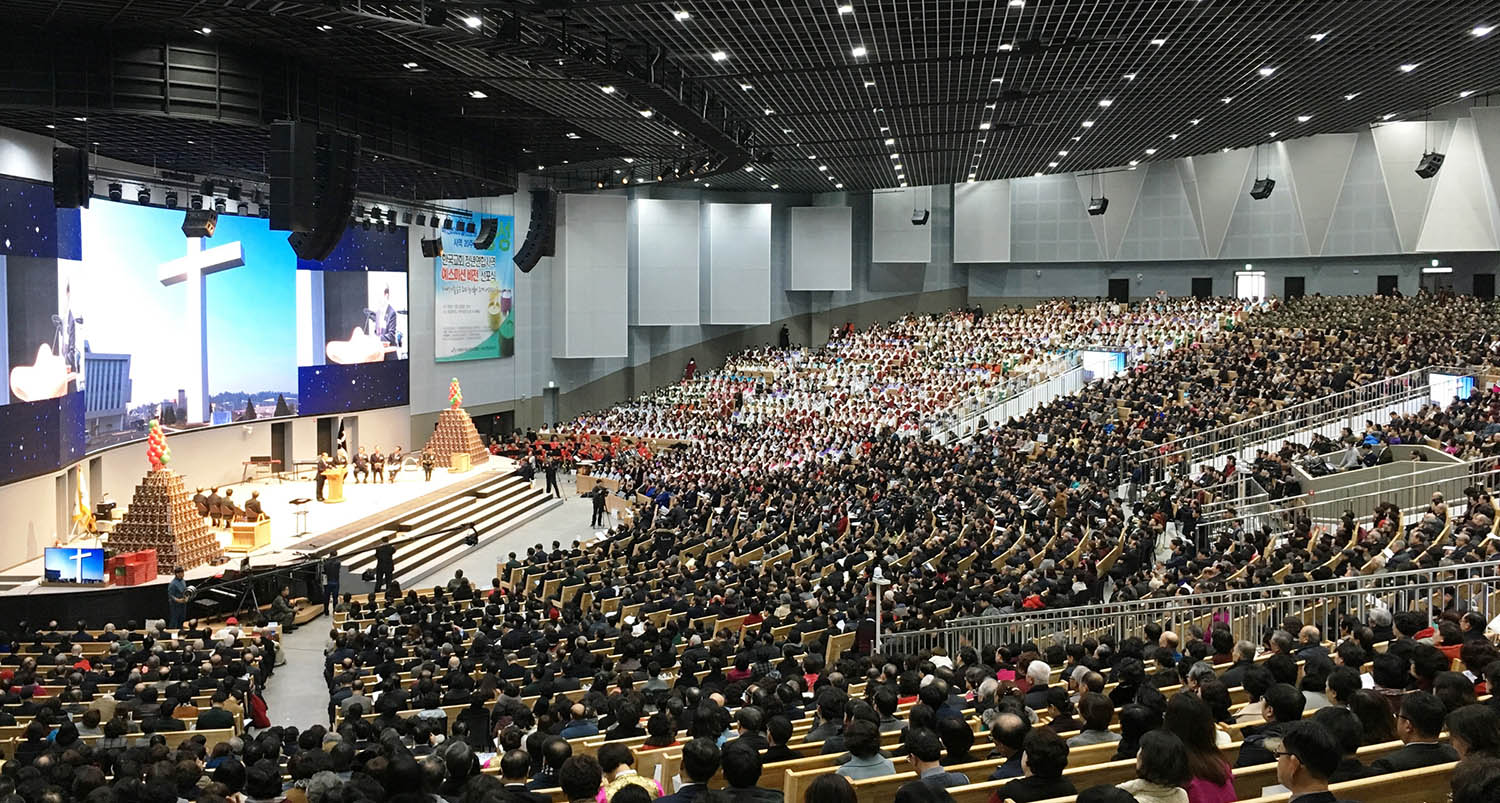 Yeon Moo Dae Church is a church housed within a Korean Army training center that draws from a unique mix of traditional and modern Christian influence. The construction of the church took ten years to complete as it relied upon singular donations from nearly 10,000 individuals, over 600 Christian community churches and just about 600 church-related organizations. Most recently, the church built a brand new sanctuary with a seating capacity that can welcome its 6,000-strong congregation. The room itself measures a generous 66-meters wide by 55-meters deep with a ceiling height of fifteen meters. The church committee knew well that such a big room required a big sound system, one that could cover the entire space with clarity and balance. After doing diligent research by visiting other large sanctuaries and listening to their sound systems, it was unanimously decided that Clair Brothers was the best brand for the job.
One of the locations the committee visited, the Joyful Church Training Center, has the Clair Brothers CAT215 loudspeaker system installed. Following discussions about which combination of speakers would be best for the specific space at Yeon Moo Dae, the group calculated, along with local consultants from Clair Brothers, that the C15 worked perfectly in this church's wide open space.
The decision was made to order and install sixteen powerful C15s along with a host of other Clair Brothers gear including twelve iS218 subs, forty kiTCurve12s for stage fills, outer fills and delays, eight 1AM+ and two 1.5AMs as stage monitors. The mixing console installed was the Solid State Logic L-200. J.J. Song – head of Korean business development at Clair Brothers – states that, "The selection of the kiTCurves was made because of their excellent mixture of sound alongside the C15 main system. This twelve-inch class of speakers delivers plenty of lows and unbelievable clarity for voice presence and music. The result here sounds wonderful." With regard to the installed video system, the new speaker cluster was set up without too much challenge in the effort to not impede the video screen during services. "The only minor challenge was that we weren't able to put the iS218 subs on the ground. As expected, the sub hang worked out quite well."
In addition to the sermons from the pastor, the new Yeon Moo Dae Clair Brothers system hosts lively musical productions, uplifting gospel performances along with important morale-boosting live events for the army trainees. Mr. Gyeong Tae Kim, technical director of the church, is excited to say that, "Everything is working great. The C15s and the iS218 flown subs are not only powerful but also deliver even coverage with amazingly high resolution." Confirming the success of the new installation, Army Chaplain and Lieutenant Colonel Soon Kyu Kim, states, "It makes me very happy when I see our congregation is happy. Now I know they can hear me very well!" He goes on to give special thanks to Mr. Sun Kyung Kim (engineer/project manager) at FONE SOUND, the official Clair Brothers dealer in Korea. He also recognizes Mr. In Young Yoon (product specialist & application engineer) from Clair Brothers Korea: "The professionalism and expertise on this installation was superb. I give great thanks to both of them for their hard work from day one of the project. Clair Brothers is clearly the right choice for us!"