Rock 'N' Roll Fantasy Camp Releases 2014-15 Schedule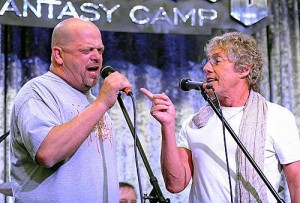 Lucky "weekend warrior" musicians and anyone who sings or has ever wanted to learn about songwriting will have the unique opportunity to meet and rock out with music legends including, Sammy Hagar, Roger Daltrey, Joe Perry, Cheap Trick and more during the new season of specialty camps announced today by Rock and Roll Fantasy Camp. The camps will take place in Las Vegas at the Mandalay Bay Hotel and Casino as well as RRFC's exclusive studios and at Foxwoods Resort in Conn.
Fantasy campers will also write, record and jam with rock star "counselors" including Lita Ford, Rudy Sarzo, Gary Hoey, Jaimoe of the Allman brothers, Simon Kirke of Bad Company, Rick Derringer and more on their way to performing live during the four-day camps on sale now at www.rockcamp.com.
The 2014-15 Rock and Roll Fantasy Camps will be held:
Oct. 16-19, 2014
Foxwoods Resort, Conn.
Roger Daltrey (The Who)
Note: Proceeds from this camp will benefit Teen Cancer America, a charity devoted to improving the lives of teenagers and young adults with cancer.
In addition to welcoming musicians of all levels, this camp will feature two special programs, a "Vocalist Fantasy Camp" as well as a "Songwriting Fantasy Camp." The Vocalist Fantasy Camp features Oscar-Winner Darlene Love and special guest Roger Daltrey and is perfect for anyone who loves to sing. Participation requires no prior experience playing an instrument and focuses entirely on lead and background vocals.
The Songwriting Camp focuses on teaching campers about songwriting and the music industry. This camp will cover the business side of songwriting including publishing, ASCAP and BMI, how to protect your original material, splitting credits with co-writers and more.
Nov. 6-9, 2014
Foxwoods Resort, Conn.
Special "Producer's Fantasy Camp" featuring legendary GRAMMY-winning producers:
Al Schmitt
Bill Syzmczyk Elliot Scheiner Tony Visconti
Jan. 15-18, 2015
Foxwoods Resort, Conn.
Joe Perry (Aerosmith)
Steve Morse (Deep Purple) Lou Gramm (Foreigner) Bumblefoot (Guns and Roses)
Feb. 12-15, 2015
Mandalay Bay and RRFC Studios, Las Vegas
Sammy Hagar Pat Travers
March 5-8, 2015
Foxwoods Resort, Conn.
Cheap Trick Blue Oyster Cult
March 26-29, 2015
Mandalay Bay and RRFC Studios, Las Vegas
.38 Special
Molly Hatchet
Black Oak Arkansas
Rock and Roll Fantasy Camp's multi-day camps were created for musicians of all levels who play drums, keyboard, guitar, bass, horns and/or sing. RRFC provides all instruments and backline and all campers are encouraged to bring their own instruments if desired. For 18 years, fantasy campers have given the RRFC experience rave reviews.
"Rock and Roll Fantasy Camp is an awesome, life changing experience that every music lover and musician needs to check off their bucket list," said first-time camper Paul C.
"Holy crap, Rock and Roll Fantasy Camp was one of the most awesome experiences of my life," said Ryan L., a first-time camper. "I cannot wait to come back. I had more fun than I imagined!"
For more information, please visit www.RockCamp.com or find the company on Facebook and Twitter.