249 Reasons to Attend the Best Church Sound Training Available Anywhere
January 30, 2013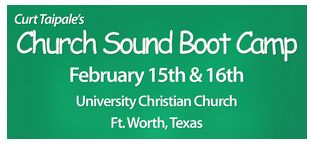 ChurchSoundcheck has always been about enabling Churches to achieve technical excellence. Our Church Sound Boot Camp event has gained much acclaim for the amount of information and training we can pack into a single weekend. We are pleased to be able to keep the cost very low, so that as many churches as possible can participate with as much of their team as possible.
This time around, well I can't even share this with you without tearing up. At this next Church Sound Boot Camp in Ft. Worth we are especially excited to be able to bless our churches even more by offering an absolutely free Shure Beta87A vocal microphone (a $249.00 value) to each church for each attendee they send (limit 4 per church).
That wasn't a typo. Be one of the first 100 people to register for our Church Sound Boot Camp in Ft. Worth, come out and join us for the class, and we'll send you home with a Certificate of Achievement and a brand new Shure Beta87A!
Our heartfelt thanks go to our friend Robert Bernecker of SEFI Consulting for his gracious sponsorship and support of what we know will be our best Church Sound Boot Camp ever!
"I heartily endorse and recommend Curt's Church Sound Boot Camp. There is no one better qualified to add to your knowledge and skills than Curt, and there is no faster way to increase your abilities than attending these two information-packed sessions in just a single weekend. SEFI is honored to be able to partner with Curt and ChurchSoundcheck in providing this irresistible opportunity to every ministry in this area, and I am certain the event will be a great blessing to all who make the effort to attend. You will raise your skill level, meet new friends who share your interest in Church sound, and walk out with a top notch microphone to boot." – Robert Bernecker, SEFI Consulting
Let's see, you invest $95 for the registration fee, you go home with the knowledge it has taken me a lifetime to learn, and a brand new Shure Beta87A in your hands. With that kind of math, seats will go fast!
So clear your schedules and be certain not to miss this one! The workshop is set for February 15th & 16th. That's just three weeks away. Hurry, we can only offer a free microphone to the FIRST 100 WHO REGISTER.
Workshop details are online at www.churchsoundbootcamp.com. I'll post additional confirmation of this special one time offer on the website in the next 24 hours.
Be Blessed!
Curt & Jeanna Taipale
Founders of the CSC website & Discussion Group
twitter.com/CurtTaipale
www.linkedin.com/Curt Taipale
www.facebook.com/Curt Taipale
www.churchsoundcheck.com
www.taipalemedia.com